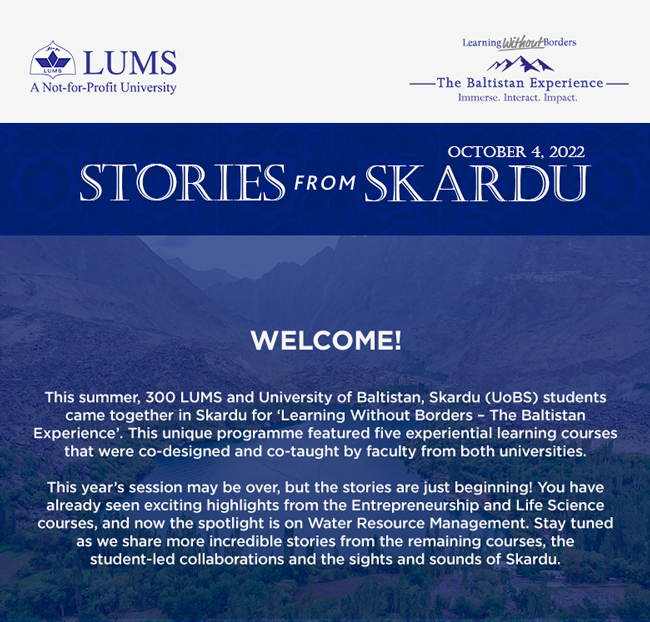 In the Spotlight: SCI 204 Water Resource Management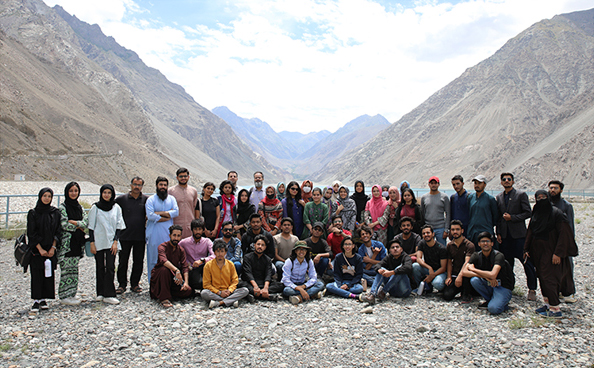 As the nation grapples with a water crisis, managing this valuable resource is the need of the hour. While in Skardu, having experienced water shortages themselves, students and faculty gained a new appreciation for sustainable water resource management in the wake of climate and socio-economic changes.
This course was designed and carried out in close collaboration with the Centre for Water Informatics and Technology (WIT) at LUMS. Several faculty members and Teaching Assistants (TAs) hailed from WIT. The Centre sponsored 15 LUMS students to take part in LUMSxUoBS this summer.
Over four weeks, SCI 204 used the region as a living lab to focus on irrigation in high-mountain regions, hydro-disasters, land/water management, and water quality. It gave students the opportunity to understand complex systems in a localised setting. Students scouted the city to collect water samples, conduct surveys, analyse water and soil samples, and then worked with each other to make recommendations for possible solutions.
"I strongly believe that a course like this has the potential to play an important role, as Skardu is at the centre of a water and energy crisis. We took the students to field trips where they could observe the impact of the water issues we were talking about."
Dr. Salar Ali, Assistant Professor, UoBS
"It has been an eye-opening experience. I was pleasantly surprised by the welcoming nature of the locals, particularly in terms of sharing their knowledge and being open to hearing about potential solutions for different water issues."
Dr. Jawairia Ahmad, Adjunct Faculty, LUMS
"I thought I had mastered the art of teaching such classes but this experience challenged me and showed me that I still have a lot to learn. I have come to understand that empathy, compassion and kindness are bigger skillsets that the student seek and I have learnt that I can play my role in passing those on."
Dr. Fozia Parveen, Assistant Professor, The Aga Khan University
Former Adjunct Faculty, LUMS
"Students from both universities worked together and brought complementary skills and strengths. I too have learned a lot; it has been a very humbling experience. It made me realise the value of learning from nature, and from the communities, experts and people who live in Skardu. I must also commend the great efforts by our TAs – Samar Farrukh and Muhammad Sohail – who went above and beyond to help make this course a success."
Dr. Abubakr Muhammad, Associate Professor, LUMS
Here's What Our Young Scientists have to Say
"This was a great learning experience. Working on different projects made us aware of water issues in our area that we didn't previously know of. One of the highlights was getting the opportunity to interact and learn from different people through the surveys we conducted. I look forward to participating in more programmes like this."
Hakeema Batool
BS '26, UoBS
"No account of my experience can forego a mention of the brilliant and dedicated instructors from both universities who co-taught this course. By taking personal ownership in our research projects, they were able to point us in the right direction and also facilitate intra-region mobility so that we could collect robust and useful data."
Taha Cheema
BS '25, LUMS
The Winning Poster and Postcards
Each group was required to create a poster that showcased their learning. Here is the winning entry.
| | |
| --- | --- |
| Rehan Choudhry (LUMS), Muhammad Haleem (LUMS), Syed Zair (UoBS), and Memoona Khan (UoBS) observed that pesticides and fertilizers have only recently been adopted in Skardu. The group wanted to raise awareness in the Balti community that although these chemicals may lead to higher yields, they can be harmful in the long run. They focused their project on finding the effects of fertilizers and pesticides on soil and water and the resulting consequences of these effects on soil, human life, aquatic life and the environment. | |
Students also designed postcards individually to highlight their experiences. Here is the winning entry.
| | |
| --- | --- |
| Muhammad Asim (LUMS) used his drawing skills to map out the core concepts he learnt during the course. From the hydrological cycle to water saving sustainable irrigation, the colourful drawings also show how the field trips gave him the opportunity to observe those concepts practically as well. | |
Photo of the Day

One tap at a time!



Abbad Ali (LUMS), Saif Ur Rehman (LUMS), M. Jahangir Khan (UoBS) and M. Muzaffar Abbas (UoBS), observed over 20 running freshwater pipelines like the one seen in the photo throughout Skardu. They realised that these 'untapped' pipes flow continuously and lead to a lot of water wastage. In some cases, these pipes have even been continuously running for years! They launched a campaign to raise awareness about water conservation, and even worked with local plumbers to install taps to reduce wastage.
Bakshis (Thank You) for reading this issue of Stories from Skardu, an initiative by the Communications Team at the Office of Advancement.

Learn more about this journey by following us on






For feedback and suggestions,
email us at communications@lums.edu.pk