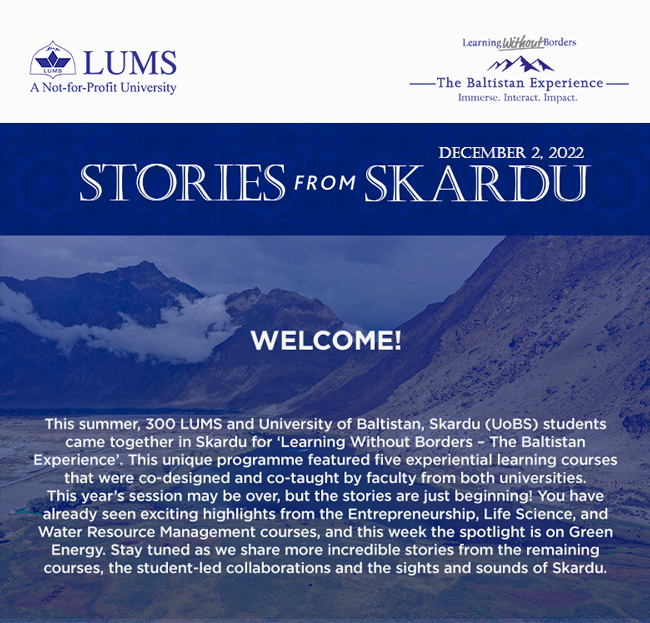 In the Spotlight
Green Energy - Powered by LUMSxUoBS!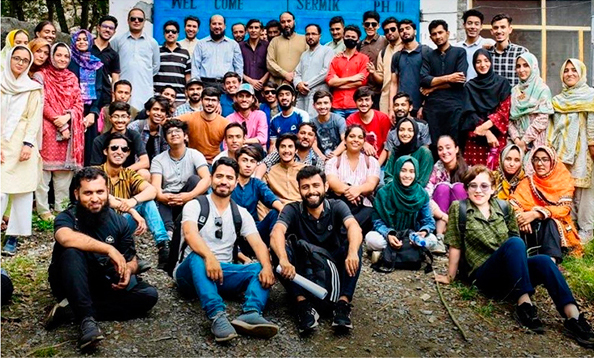 Can waste be turned into fuel? Can the solutions to electricity shortages also be the key to reducing climate change? These are just some of the questions our students taking the Green Energy course tried to explore while in Skardu.
Over four weeks, they researched the energy landscape in the Baltistan region, as well as the availability and potential for different kinds of energy, namely: hydro, solar, wind, biomass, and municipal waste. Fieldwork consisted of visiting different plants and villages, and interviewing locals.
Through these visits and conversations, students also developed an understanding of the various difficulties in the region - for example, the mountainous terrain makes it difficult for solar panels to be installed. Additionally, the winter sun's angle is not conducive to producing energy.
Students even calculated the total energy demand in the region and worked in groups to explore low-cost and sustainable alternatives. They discovered that electric transport is immensely viable there. Due to low electricity tariffs, electric bikes can be a very cheap and green alternative. Students were even able to conduct a field trial to identify key design modifications for local conditions.
This month-long study gave the students an opportunity to deep dive into how energy and climate challenges can be addressed through innovative solutions and community efforts.
"There are some learnings that would never have happened for me without this programme. Some findings – such as energy conservation projects - were induced by the environment but are equally applicable in Lahore or other cities. This experience has added multiple dimensions to my thought process."
Mr. Nauman Zaffar
Professor, LUMS
"I personally had so many learnings from this experience. I was particularly struck by the unique technique that Baltis use for glacier grafting – a process of creating new glaciers to increase water supply. It opened up so many new doors for knowledge and exploration."
Dr. Naveed Arshad
Associate Professor, LUMS
"It was an amazing experience for both sides; for UoBS and for LUMS. I believe that with collaborative courses like this, we can work together to resolve a lot of issues."
Dr. Zakir Hussain
Assistant Professor, UoBS
"My knowledge about the technical side - such as energy capacity and potential - was limited and has expanded through this course. We all know about the electricity shortage in Pakistan, but through this course, I came to realise that there are areas that have abundant electricity, which can be used efficiently. So, for me, apart from cultural learnings, there were a lot of professional learnings too."
Fayez Mufti
BS '14, LUMS
"This course was very beneficial for me; it not only increased my knowledge but also improved my personality. The course made me aware that my hometown, Shigar, is blessed with many resources that I didn't know about. I realised that I can do many things for my town, where people live with limited resources. I am very thankful to all the faculty members and fellow students for their cooperation."
Aqeela Maryam
BS '25, UoBS
The Winning Poster and Postcards
Each group was required to create a poster that showcased their learning. Here is the winning entry.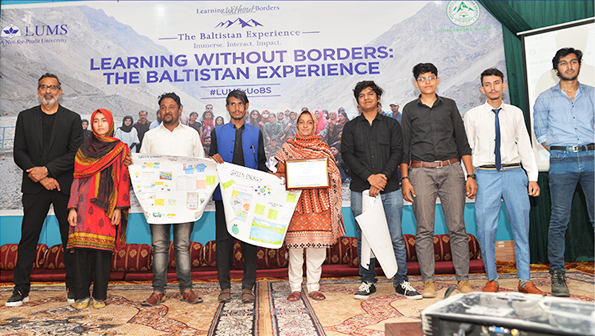 For their project, Muhammad Huzaifa Rashid (LUMS), Salman Baig (LUMS), Hassan Mujtaba (LUMS), Ali Raza (LUMS), Ashir Habib (LUMS), Fayez Mufti (LUMS), Syed Ahmed (UoBS), Nasir Hussain (UoBS), Mahnoor Fatima (UoBS), Mamoona Batool (UoBS), and Nadia Batool (UoBS), focused on municipal waste. They realised that little to no information was available about how municipal solid waste is handled in Skardu. Their posters highlight the different site visits they undertook to dumping sites, as well as their research and findings.
Students also designed postcards individually to highlight their experiences. Here are the winning entries.
| | |
| --- | --- |
| | Tayyaba Noureen (LUMS) decided to depict her experience in Skardu on her postcard. At the centre, she chose to feature a windmill, as her class project revolved around wind and solar energy. She also included drawings of the sites visited, and notes that reflected the different challenges and wonderful experiences she had. |
| | |
| --- | --- |
| Zarina Batool (UoBS) wanted to highlight the different natural sources of energy available in her hometown. Her drawings showcase all her learnings from the course. | |
Pictures of the Day
Life-changing impact beyond the classroom
A casual conversation with a local revealed that even life-saving procedures come to a standstill in Skardu during electricity outages. A team of LUMS and UoBS academics, doctors, and well-wishers teamed up to install backup power supply to an operating theatre at DHQ Hospital, Skardu, to ensure uninterrupted power supply during surgeries. Pictured here are the team members behind the project, while installations were underway at the hospital.
A furry friend!
Our students loved the opportunity to interact with nature in Skardu. Pictured here is Zaryab Ali Khan, BSc '23, LUMS, pausing his field activity to offer his new sidekicks a drink.
Bakshis (Thank You) for reading this issue of Stories from Skardu, an initiative by the Communications Team at the Office of Advancement.

Learn more about this journey by following us on






For feedback and suggestions,
email us at communications@lums.edu.pk