Dr. Salman N. Arshad received BS in Metallurgy and Materials Engineering from GIK Institute of Engineering Sciences and Technology, Pakistan, and then moved to South Korea for Masters in Materials Science and Engineering from Korea Advanced Institute of Science and Technology (KAIST). At KAIST he developed novel bottom-up methods to synthesize carbon nanotubes reinforced metal and ceramic nanocomposite materials with enhanced mechanical and multifunctional properties.
After working for one year as Research Associate at GIK Institute where he taught materials engineering courses and developed laboratory courses, Dr. Arshad went to USA where he received Masters in Aerospace Engineering and PhD in Materials Science and Engineering from University of Illinois at Urbana-Champaign. At UIUC, he developed optimized polymer and carbon nanofibers with modulated surfaces for enhanced strengthening and toughening for structural composite materials. He also worked on developing bulk nanostructured alloys using high temperature severe plastic deformation with grain and second phase precipitate sizes on the order of 10 nanometer.
Dr. Arshad's research focuses on the design and synthesis of nanofibers and nanocomposites for applications in energy and environment (see figure). His research work has been published in high quality peer-reviewed journals such as Advanced Materials, Carbon, Polymer, Scripta Materialia, Acta Materialia, Journal of Materials Research, Scientific Reports and RSC Advances. He also earned a US Patent and has more than 1500 citations to date (Google Scholar).
Dr. Arshad is currently working as Associate Professor (tenured) in the Department of Chemistry & Chemical Engineering.
For more details please visit his Research group webpage!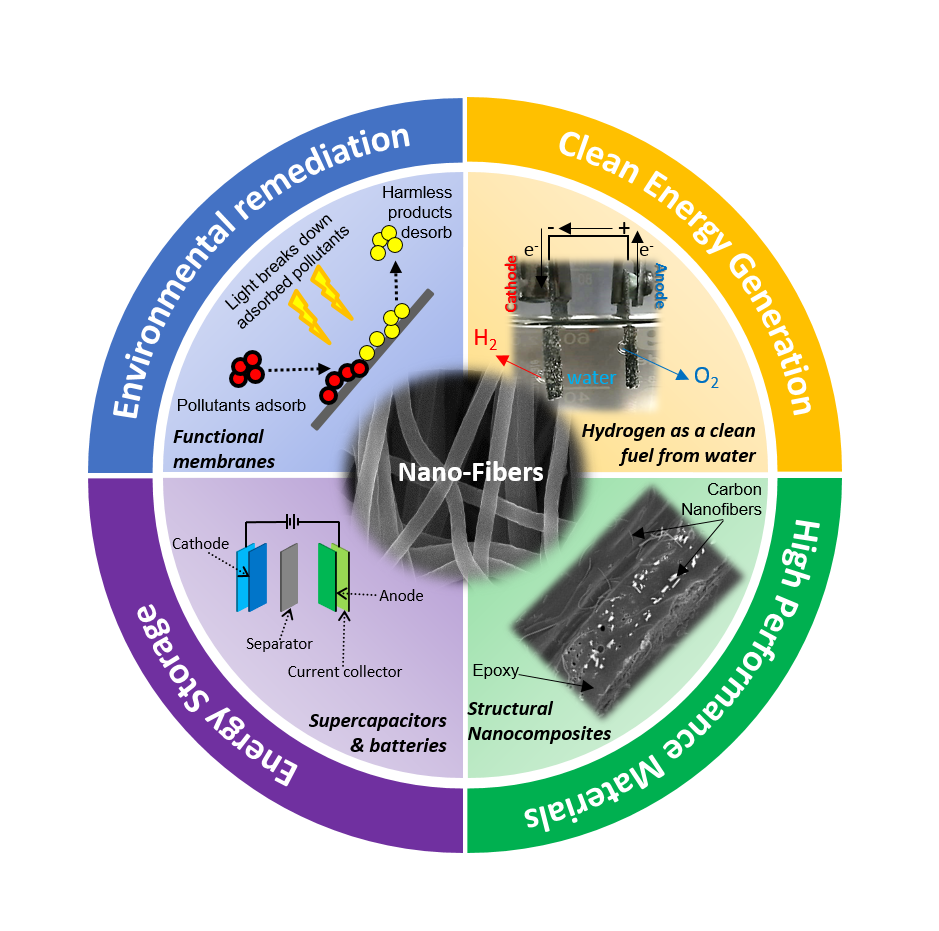 Contact:
Office: 9-435A (4th floor)
Department of Chemistry and Chemical Engineering
SBA School of Science and Engineering
Lahore University of Management Sciences
Opposite Sector-U, DHA, Lahore 54792, Pakistan.
Tel: +92 42 3560 8478
| Title | Publication | Author | Year |
| --- | --- | --- | --- |
| Differential carbonization-shrinkage induced hierarchically rough PAN/PDMS nanofiber composite membrane for robust multimodal superhydrophobic applications | Journal of Science: Advanced Materials and Devices | | 2023 |
| Growth of carbon nanotubes over carbon nanofibers catalyzed by bimetallic alloy nanoparticles as a bifunctional electrode for Zn-air batteries | RSC Advances | | 2023 |
| Nano-Silica Bubbled Structure Based Durable and Flexible Superhydrophobic Electrospun Nanofibrous Membrane for Extensive Functional Applications | Nanomaterials | | 2023 |
| Removal of ceftriaxone sodium antibiotic from pharmaceutical wastewater using an activated carbon based TiO<inf>2</inf> composite: Adsorption and photocatalytic degradation evaluation | Chemosphere | | 2023 |
| Development of Sustainable Hydrophilic Azadirachta indica Loaded PVA Nanomembranes for Cosmetic Facemask Applications | Membranes | | 2023 |
| Amorphous to Crystalline Ni<inf>3</inf>S<inf>2</inf> Nanostructures Anchored on N-Doped Carbon Nanofibers for Electrochemical Splitting of Water | ACS Applied Nano Materials | | 2022 |
| The role of interface on dynamic mechanical properties, dielectric performance, conductivity, and thermal stability of electrospun carbon nanofibers reinforced epoxy | Polymer Composites | | 2021 |
| Development of optimized triaxially electrospun titania nanofiber-in-nanotube core-shell structure | Journal of Applied Polymer Science | | 2021 |
| Triaxial electrospun mixed-phased TiO<inf>2</inf> nanofiber-in-nanotube structure with enhanced photocatalytic activity | Microporous and Mesoporous Materials | | 2021 |
| Personalized cooling system using phase change materials | Key Engineering Materials | | 2021 |
| P-doped TiO<inf>2</inf> Nanofibers Decorated with Ag Nanoparticles for Enhanced Photocatalytic Activity under Simulated Solar Light | ChemistrySelect | | 2020 |
| Encapsulation of Fe/Fe<inf>3</inf>O<inf>4</inf> in carbon nanotubes grown over carbon nanofibers for high performance supercapacitor electrodes | Synthetic Metals | | 2020 |
| Synthesis, characterization and photocatalytic applications of s-doped graphitic carbon nitride nanocomposites with nickel doped zinc oxide nanoparticles | Digest Journal of Nanomaterials and Biostructures | | 2020 |
| Fabrication of cobalt doped titania for enhanced oxygen evolution reaction | Molecular Catalysis | | 2020 |
| A Facile Synthesis of FeCo Nanoparticles Encapsulated in Hierarchical N-Doped Carbon Nanotube/Nanofiber Hybrids for Overall Water Splitting | ChemCatChem | | 2020 |
| TiO<inf>2</inf> nanofibers embedded with g-C<inf>3</inf>N<inf>4</inf> nanosheets and decorated with Ag nanoparticles as Z-scheme photocatalysts for environmental remediation | Journal of Environmental Chemical Engineering | | 2019 |
| One-Pot Synthesis of Heterobimetallic Metal???Organic Frameworks (MOFs) for Multifunctional Catalysis | Chemistry - A European Journal | | 2019 |
| Nanostructured carbons containing FeNi/NiFe<inf>2</inf>O<inf>4</inf> supported over N-doped carbon nanofibers for oxygen reduction and evolution reactions | RSC Advances | | 2019 |
| Photo-reduction of heavy metal ions and photo-disinfection of pathogenic bacteria under simulated solar light using photosensitized TiO<inf>2</inf> nanofibers | RSC Advances | | 2018 |
| Photosensitization of TiO<inf>2</inf> nanofibers by Ag<inf>2</inf>S with the synergistic effect of excess surface Ti<sup>3+</sup> states for enhanced photocatalytic activity under simulated sunlight | Scientific Reports | | 2017 |
| Development and characterization of cobalt based nanostructured super hydrophobic coating | IOP Conference Series: Materials Science and Engineering | | 2016 |
| A simple UV-ozone surface treatment to enhance photocatalytic performance of TiO<inf>2</inf> loaded polymer nanofiber membranes | RSC Advances | | 2016 |
| Towards providing full spectrum antenatal health care in low and middle income countries | HEALTHINF 2016 - 9th International Conference on Health Informatics, Proceedings; Part of 9th International Joint Conference on Biomedical Engineering Systems and Technologies, BIOSTEC 2016 | | 2016 |
| Self-organization of Cu-Ag during controlled severe plastic deformation at high temperatures | Journal of Materials Research | | 2015 |
| Sliding wear-induced chemical nanolayering in Cu-Ag, and its implications for high wear resistance | Acta Materialia | | 2014 |