P@SHA & LUMS Partner to Meet Hyper-Growth in the IT Sector
Pakistan Software Houses Association (P@SHA) and LUMS have signed a wide-ranging MoU to strengthen industry-academia collaboration geared towards skill development, job placement, industry-driven curriculum, and research. 
While Pakistan has over 300,000 IT professionals and its universities are producing over 25,000 IT graduates annually, the industry struggles to recruit skilled graduates as IT companies hire only 10% of the applicants. The partnership with LUMS is a major step in addressing this gap through reskilling and upskilling initiatives by relevant stakeholders.
LUMS Alumnus Donates to the National Outreach Programme
Mr. Faisal Sabir Raja (MBA 2002) has established the 'Justice Raja Muhammad Sabir Scholarship' at LUMS in honour of his late father, who was a passionate philanthropist and dedicated 30 years to his law practice at the Supreme Court and High Court of Pakistan. The fund will sponsor one National Outreach Programme (NOP) scholar at the Shaikh Ahmad Hassan School of Law (SAHSOL).
World Mental Health Day Observed in Webinar
The Office of Human Resources organised the first-of-its-kind webinar to commemorate World Mental Health Day, observed every year on October 10. The theme for 2022 was "Make mental health and well-being for all a global priority". Guest speakers included Dr. Sarah Alam, Co-founder & Chief Medical Officer at Tibbi, Ms. Sophiya Anjum from Office of the Dean at Mushtaq Ahmad Gurmani School of Humanities and Social Sciences, and Ms. Ayesha Zafar Sehgol, Inclusion Specialist at Office of Accessibility and Inclusion, LUMS. 
Educative Conducts Guidance Session for LUMS Students
The Career Services Office (CSO) at LUMS invited Educative on October 4, 2022, to guide LUMS students on how to choose a career path aligned with their values. Educative helps developers and their teams become more productive. Ms. Ayla Amir, Talent Management Leader, was present to advise students on how to set their goals as they enter the professional world. 
US Ambassador Visits LUMS to Discuss the Future of the Electric Vehicle Industry
His Excellency, Mr. Donald Blome, US Ambassador to Pakistan, visited LUMS with US Consul General in Lahore, Mr. William Makaneole for the launch of the report, Pakistan Electricity Outlook 2022. He was welcomed by the LUMS leadership including Mr. Abdul Razak Dawood, Pro Chancellor, Mr. Shahid Hussain, Rector, and Dr. Tariq Jadoon, Interim Provost. 
CSO Holds Information Session with Elliot School of International Affairs
On September 22, the Career Services Office (CSO) at LUMS, in collaboration with The George Washington University's Elliott School of International Affairs, held a virtual information session to learn about graduate programness in Washington, DC.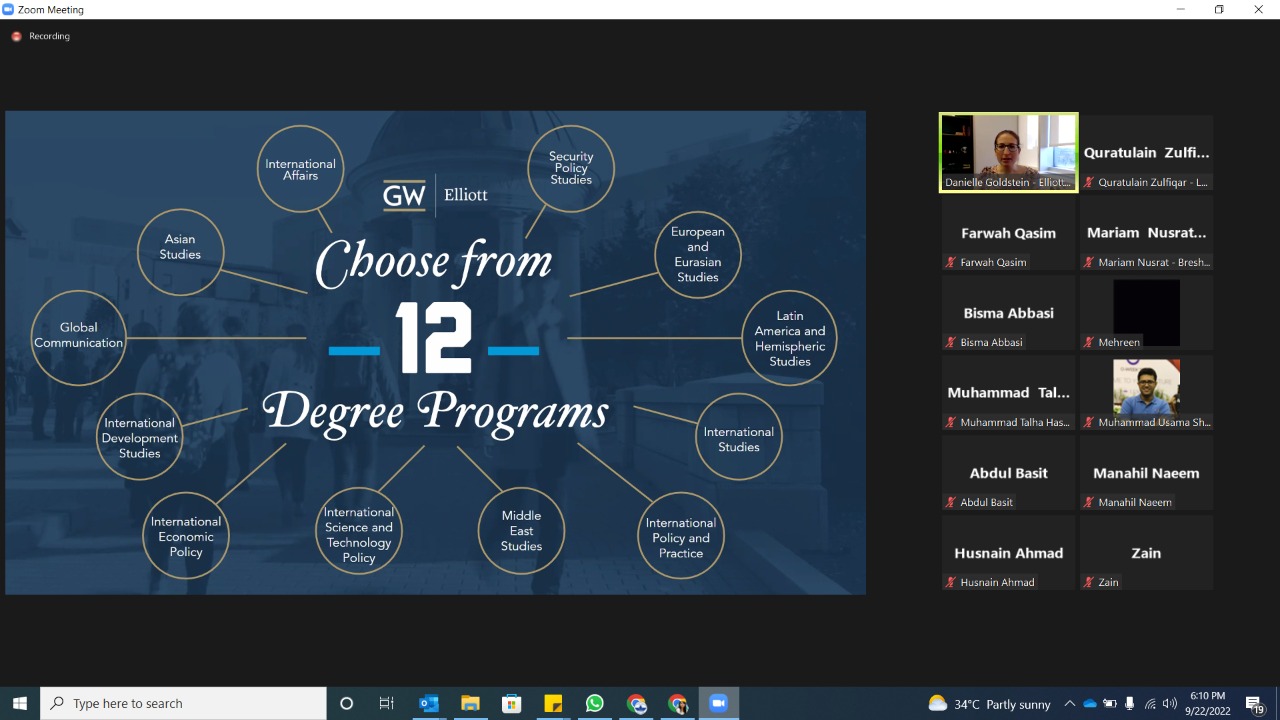 SDSB Luminites Association Welcomes Newly Elected Board of Directors and Council Members
Members of the LUMS Suleman Dawood School of Business (SDSB) Luminites Association came together on September 14, 2022 at their alma mater. The evening was an opportunity to reflect and celebrate the work done by the outgoing president and board members in addition to welcoming the newly elected board for 2022-2024. 
German Ambassador Visits LUMS to Discuss Avenues of Collaboration
His Excellency Mr. Alfred Grannas, the German Ambassador to Pakistan, visited LUMS on September 21, to discuss opportunities of collaboration with German universities in the coming year. He was accompanied by Ms. Dorota M. Berezicki, Head of Communications and Cultural Affairs, German Embassy Islamabad.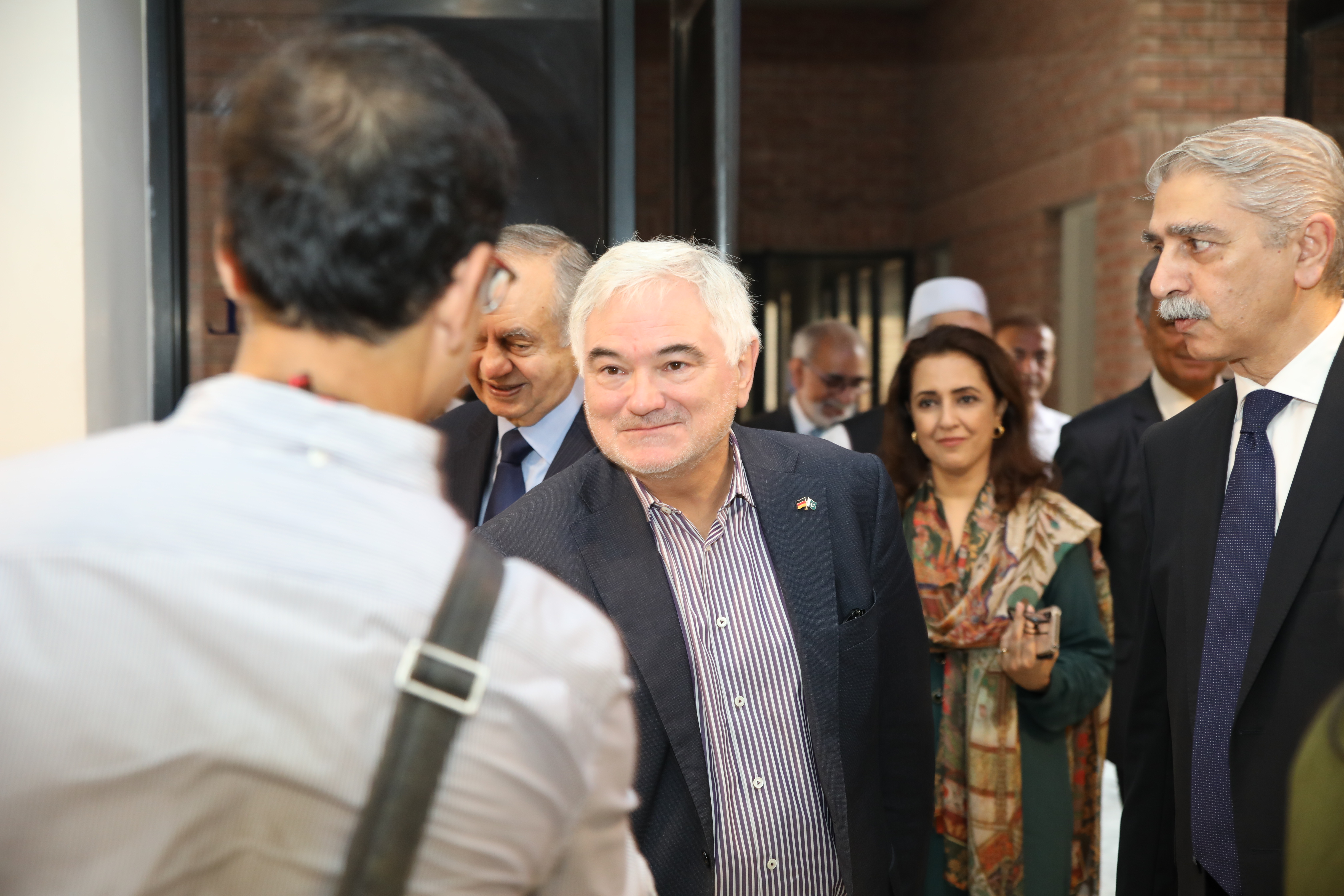 NOP Summer Coaching Session 2022 Comes to an End
The wheels were set in motion as the summer dawned for another exciting National Outreach Programme (NOP) Summer Coaching Session. After a two-year online stint, NOP Summer Coaching Session (SCS) 2022 started with the same zeal and with amplified energy this year. This year's coaching session was filled with new experiences for the participants and those administering the entire session.
LUMS Welcomes Students for Orientation 2022
Orientation at LUMS is always an exciting time in a new academic year. New students are inducted into a vibrant community of current students, alumni, professors, and staff during a week of activities and events planned to help them feel right at home on campus that continues for the remainder of the term.