LUMS Wins THE Awards Asia 2022 in the Excellence and Innovation in the Arts Category
NIC at LUMS Celebrates the Graduation of its Eight Cohort
The landscape of entrepreneurship and the scope of innovative start-ups was the topic of discussion at the graduation of the National Incubation Centre (NIC) Lahore's eighth cohort. The event brought together LUMS leadership and the NIC community as well as industry and government partners. Present at the ceremony to congratulate the graduates and hear first-hand about their start-up ideas was Chief Guest for the ceremony, Federal Minister for IT and Telecommunication, Mr. Syed Amin Ul Haque. 
Pakistan Tobacco Company Holds Information Session for 'Battle of Minds' 2022
Pakistan Tobacco Company (PTC) held an Information Session at LUMS on May 12, 2022. Students from across all disciplines, as well as alumni, participated in this exciting session.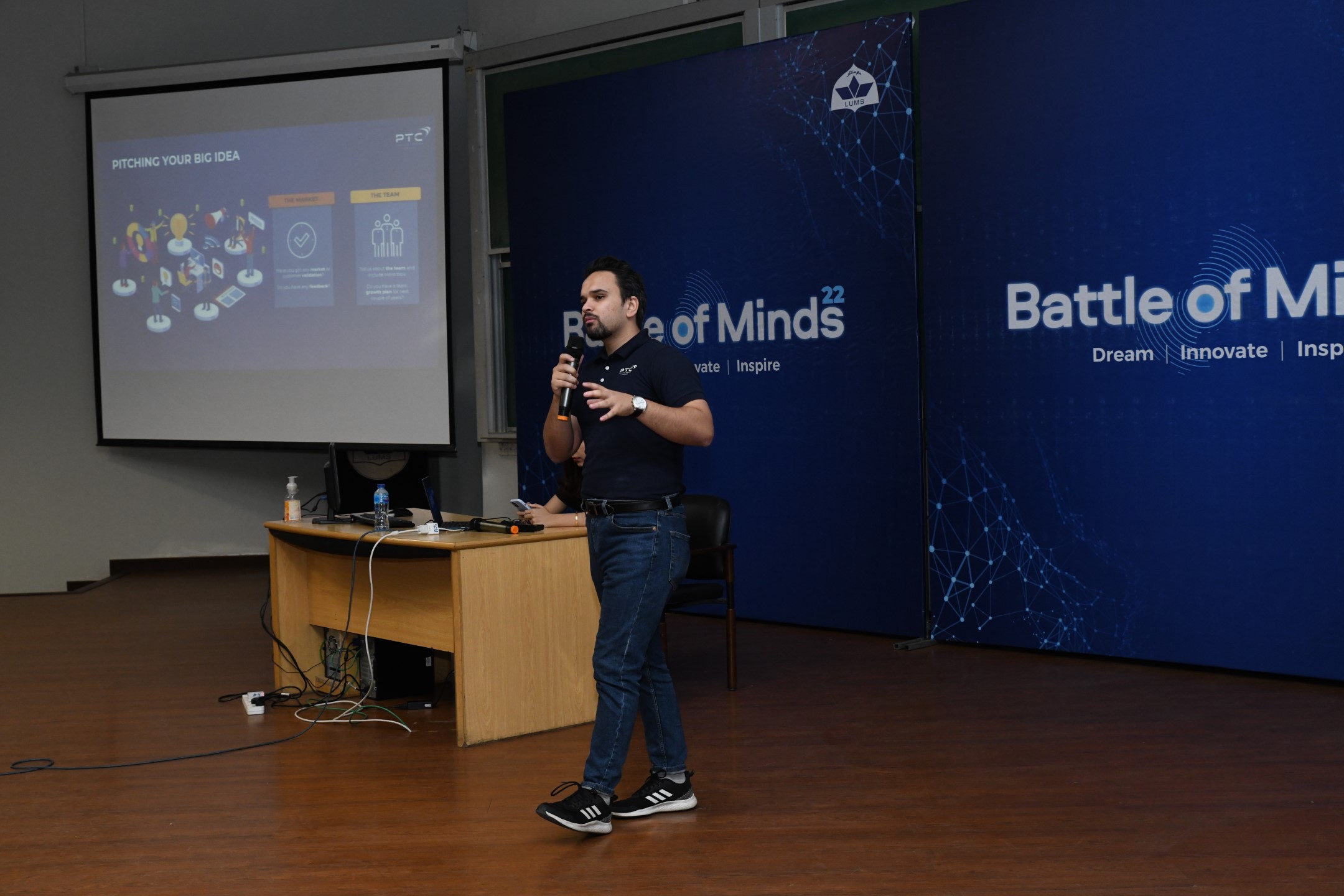 GFC Fans Sign MoU to Support the National Outreach Programme
GFC Fans has extended its support by signing an agreement to sponsor the education of one National Outreach Programme (NOP) scholar at LUMS. A ceremony was held on May 23, 2022, where Dr. Arshad Ahmad, Vice Chancellor, LUMS and Mr. Mohammad Ilyas, CEO, GFC Fans, signed the agreement.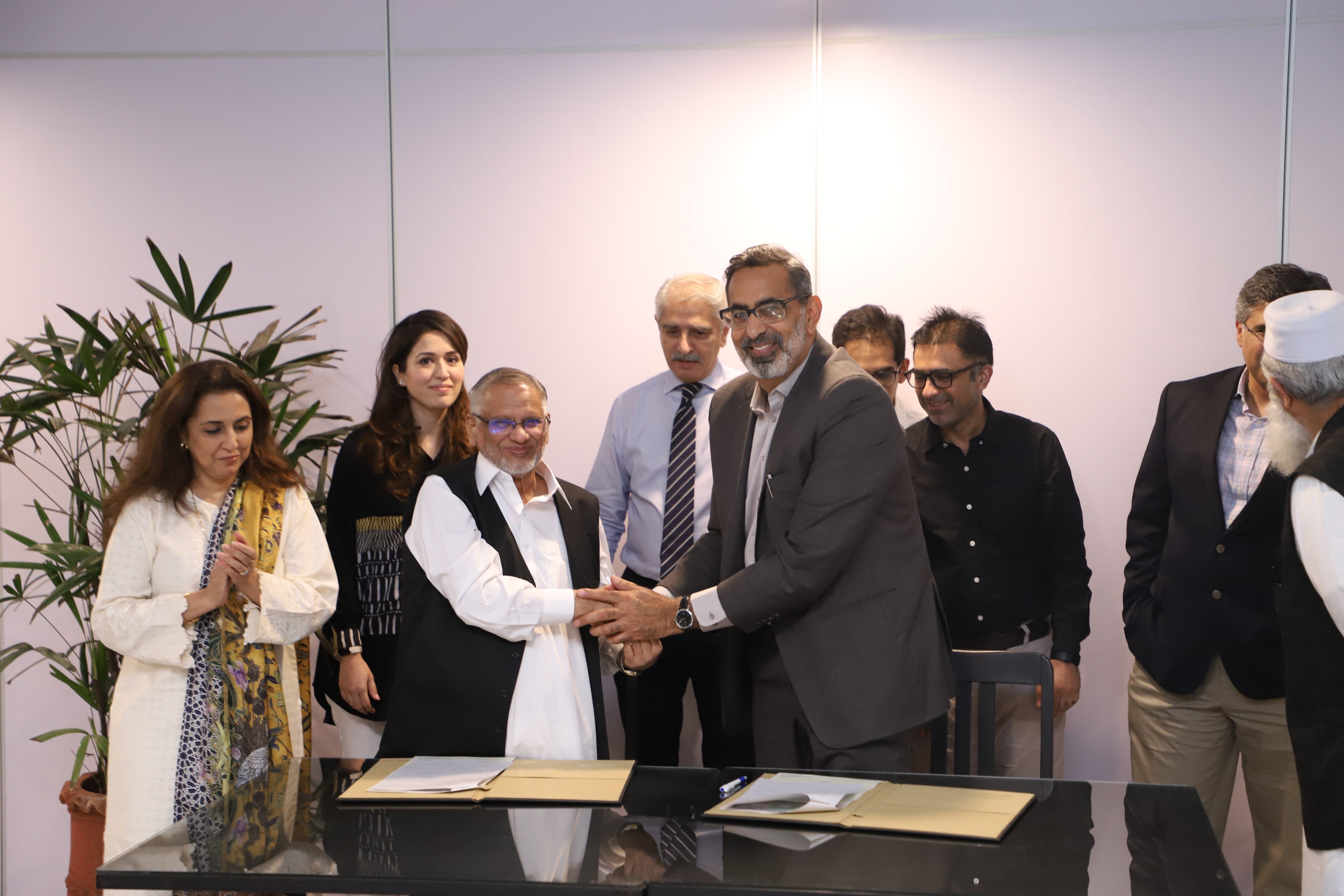 Orange Tree Foundation Visits LUMS
Representatives of the Orange Tree Foundation (OTF) visited LUMS on June 1, to discuss avenues of collaboration and ways to provide financial assistance to disadvantaged students studying at the University. The firm's Chief Executive Officer, Mr. Omer Mateen Allahwala was joined by Member of the Board and Head of Donor Compliance and Reporting, Ms. Sabah Paracha, and Senior Manager, Marketing and Partnerships, Ms. Sanam Haji. They met with Interim Provost, Dr. Tariq Jadoon and Director, Office of Advancement, Ms. Nuzhat Kamran. 
LUMS Community Celebrates University's 35th Anniversary
On May 20, 2022, LUMS leadership, faculty and staff gathered to commemorate the University's 35th anniversary. This exciting evening was the perfect opportunity for the community to come together, reminisce, and celebrate their achievements. 
LUMS Proposes to Strengthen Industry-academia Partnerships
A series of events to engage with industry were lately hosted by LUMS in Karachi, Islamabad and Lahore. These provided an opportunity for the University's leadership and corporate leaders to connect with each other and discuss prospective future collaborations. Members representing LUMS leadership included Pro Chancellor, Mr. Abdul Razak Dawood, Rector, Mr. Shahid Hussain, Vice Chancellor, Dr. Arshad Ahmad, Members of the Management Committee, Mr. Osman Khalid Waheed and Mr. Faisal Dawood and Director of Advancement, Ms. Nuzhat Kamran. 
Special Leaders at LUMS Session Held with the Masterminds Behind the Pakistan Pavilion at Dubai Expo 2020
The LUMS community was in for a treat with the latest Leaders at LUMS session held at the University on May 19, 2022. 'Leaders at LUMS: Pakistan Pavilion Special' brought together the masterminds behind the award-winning Pavilion at the Dubai Expo 2020 including Mr. Shahid Abdullah, Principal and founding partner of Arshad Shahid Abdulla (Pvt.) Ltd; Ms. Noorjehan Bilgrami, artist, designer and educationist, as well as the founding member of the Indus Valley School of Art and Architecture; Mr. Rashid Rana, award-winning artist and Mr. Abdul Razak Dawood, Pro-Chancellor, LUMS.
How Small Universities Make a Big Difference; LUMS Vice Chancellor Delivers Talk for IFC's Education Webinar Series
On May 19, 2022, Dr. Arshad Ahmad, Vice Chancellor, LUMS, participated in IFC's Education webinar series, 'Lightning Talks on Topics of Importance in Education'. IFC, a member of the World Bank Group, is the largest global development institution focused on the private sector in developing countries. This webinar series brings together global decision-makers who are paving new directions for education in emerging markets, and addresses topics in private education, with a focus on digitalisation. 
Celebrating Teaching Excellence at LUMS
Extraordinary teachers may be hard to find elsewhere, but not at LUMS. The University recently announced the five winners of the Vice Chancellor's Awards for Teaching Excellence. These individuals include Drs.