LUMS Live Session 76: State Capture, Political Distortions and Development
Thu, Jun 17 2021 to Thu, Jun 17 2021
During this LUMS Live session, Dr. Leonard Wantchekon will be examining the mechanisms of state capture in low-income countries and discussing how these mechanisms contribute to the breakdown of democratic institutions. Dr. Wantchekon is a Professor of Politics and International Affairs at Princeton University and the President and Founder of the African School of Economics. His research interests include political economy, economic history and development economics. 
Date: Thursday, June 17, 2021
Time: 5:30 pm (PKT)
LUMS Live 75: Pakistan's Divergent Fertility Transition
Thu, Jun 10 2021 to Thu, Jun 10 2021
Dr. Zeba Sathar, Director of Population Council, Pakistan, will be examining the divergence in Pakistan's fertility transition from other countries in South Asia. She will examine the causes that explain this divergence and its implications for citizen welfare.  Hosted in collaboration with the Mahbub ul Haq Research Centre as part of their Mahbub ul Haq Distinguished Lectures 2021, the session will be moderated by Dr. Hadia Majid and Ms. Maha Rehman. 
Date: Thursday, June 10, 2021
Time: 4:00 pm (PKT)
De-stress rather than Distress: A Workshop on Stress Management
Fri, Jun 04 2021 to Fri, Jun 04 2021
This workshop will help you understand, identify, manage, and reduce the sources of stress in your life. You will learn the practical skills to harness and alter your thoughts, and consequently increase your productivity, boost self-morale and improve your overall well-being. Mark your calendars! 
Date: June 4, 2021
Time: 2:00 PM (PKT)
To register for the workshop, please click here. 
WIT Virtual Seminar - Wetlands: Understanding the Wealth of Humankind
Wed, Jun 02 2021 to Wed, Jun 02 2021
The 'Wetlands: Understanding the Wealth of Humankind' virtual seminar is organised by Centre for Water Informatics and Technology (WIT) as part of its ongoing Aab Beeti series.
LUMS Live Session 73: The Impact of Natural Disasters on Student Learning in Pakistan
Thu, May 20 2021 to Thu, May 20 2021
Professor Tahir Andrabi, Stedman-Sumner Professor of Economics at Pomona College, will analyse the impact of the 2005 Earthquake in Pakistan on the recovery of student learning outcomes. He will examine the implications of these findings for the risks posed by the COVID-19 pandemic to student learning outcomes. Dr. Andrabi has published extensively in major economics and education journals including the American Economic Review and Review of Economics and Statistics. His research interests include the economics of education and development economics.
Bykea Virtual Recruitment Drive 2021
Thu, May 20 2021 to Thu, May 20 2021
Whether you are a business graduate or a computer science major, Bykea has job opportunities for you! During the information session, Bykea will share their journey, discuss the impact they have made in Pakistan, and talk about how you can get involved. You will also get a chance to have conversations with the the company's leadership, including the Head of People, Chief Product Officer and Director Engineering, as they discuss all that Bykea has to offer.  
Careaxiom Virtual Recruitment Drive 2021
Tue, May 25 2021 to Tue, May 25 2021
Headquartered in Chicago, Careaxiom provides web and mobile based solutions to improve care coordination for seniors living in the US. Their Software As A Service (SaaS)  based healthcare communication platform allows for a seamless exchange of information between care providers, such as doctors or nurses, seniors, and their families to facilitate timely care decisions.
Conference on Dignity and Inclusion
Fri, May 21 2021 to Sat, May 22 2021
The conference is spread across two days and will discuss several themes surrounding dignity rights and inclusion.
Date: May 21 - May 22, 2021
Time: 2:00 - 8:00 pm (both days)
Venue: Online
Registration:
To register, please click here.
Schedule:
Outfitters Virtual Recruitment Drive
Fri, Apr 23 2021 to Fri, Apr 23 2021
Outfitters is a parent company of Pakistan's leading fashion brands Outfitters and Ethnic with Omni channel presence, with more than 100 stores across 20 cities.
Date: Monday, April 26, 2021
Time: 3:00 pm
For the session link, please contact Kinza Tariq at kinza.tariq@lums.edu.pk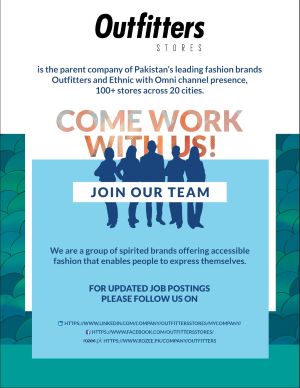 xiQ Virtual Recruitment Drive 2021
Fri, Apr 23 2021 to Fri, Apr 23 2021
xiQ is a leading and award winning AI-powered platform that unifies sales and marketing functions in one SaaS platform, with the explicit goal of driving revenue growth. Ranked number one by G2, content marketing companies like Dell, Nutanix, AWS, NTT Data, SF 49ers and many others are referenceable customers of xiQ. The company utilises next generation AI technology and entails excellent personal income growth opportunities. 
The current open positions at xiQ are as follows: