Conference on Dignity and Inclusion
Fri, May 21 2021 to Sat, May 22 2021
The conference is spread across two days and will discuss several themes surrounding dignity rights and inclusion.
Date: May 21 - May 22, 2021
Time: 2:00 - 8:00 pm (both days)
Venue: Online
Registration:
To register, please click here.
Schedule:
Outfitters Virtual Recruitment Drive
Fri, Apr 23 2021 to Fri, Apr 23 2021
Outfitters is a parent company of Pakistan's leading fashion brands Outfitters and Ethnic with Omni channel presence, with more than 100 stores across 20 cities.
Date: Monday, April 26, 2021
Time: 3:00 pm
For the session link, please contact Kinza Tariq at kinza.tariq@lums.edu.pk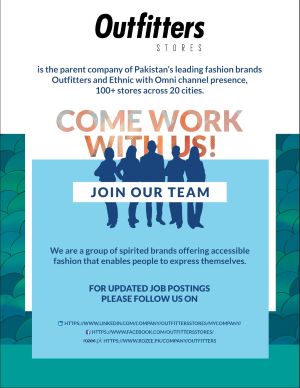 xiQ Virtual Recruitment Drive 2021
Fri, Apr 23 2021 to Fri, Apr 23 2021
xiQ is a leading and award winning AI-powered platform that unifies sales and marketing functions in one SaaS platform, with the explicit goal of driving revenue growth. Ranked number one by G2, content marketing companies like Dell, Nutanix, AWS, NTT Data, SF 49ers and many others are referenceable customers of xiQ. The company utilises next generation AI technology and entails excellent personal income growth opportunities. 
The current open positions at xiQ are as follows:
Bazaar Technologies Virtual Recruitment Drive 2021
Sat, Apr 24 2021 to Sat, Apr 24 2021
Bazaar Technologies is looking for passionate, hardworking, and compassionate individuals to be part of their team. Join this session to learn more about the firm and startup culture in Pakistan. You will also get a chance to interact with Bazaar's co-founders, Saad Jangda and Hamza Jawaid, as well as LUMS alumni who work at the company. 
Date: Saturday, April 24, 2021
Time: 3:00 pm (PKT)
Venue: Zoom
Noon – The Social Learning Platform Virtual Campus Drive 2021
Thu, Apr 22 2021 to Thu, Apr 22 2021
Noon is one of the world's fastest growing EdTech companies with an active user base of 10 million students. It aims to build the largest social learning platform to serve more than 50 million students globally by 2023. The company currently operates in 8 countries with primary focus on Middle East and Asia and plans to go global over the course of time. In Pakistan, Noon is the largest EdTech company with a user base of 1 million students.
Tapal Tea Virtual Recruitment Drive 2021
Thu, Apr 29 2021 to Thu, Apr 29 2021
In business since 1947, Tapal Tea is a Pakistani tea company based in Karachi, Pakistan, and is the most prominent tea company in the country. They are known for their famous tea brands, such as Family Mixture, Danedar, Taizdum and Mezban, to name only a few.
Tapal Tea is conducting a virtual campus drive primarily for students doing Bachelor's or Master's in Management Science, Computer Science or Accounting. Mark your calendars!
Date: Thursday, April 29, 2021
Time: 3:00 pm (PKT)
Venue: Zoom
Acasus Recruitment Drive 2021
Wed, Apr 21 2021 to Wed, Apr 21 2021
Acasus will be conducting a virtual recruitment drive (via zoom) as per the schedule below:
Date: Wednesday, April 21, 2021
Timings: 3:00 pm
Zoom Details
Meeting ID: 755 840 2726 
Password: 725575
Target Audience: BSc, BS and MS (All programmes and majors, students graduating in 2021)
Attend the Byonyks Virtual Campus Drive 2021
Tue, Apr 20 2021 to Tue, Apr 20 2021
Founded by Harvard and MIT graduates, Byonyks is a revolutionary biomedical engineering start-up from Florida with its first target market in Pakistan. It aims to engineer and market state-of-the-art medical devices that will revolutionise healthcare therapy for millions of people across the world. 
The recruitment session will shed light on innovation in the healthcare sector, and provide information on how you can become a part of this revolutionary company. 
Join SWGI for a Panel Discussion on 'Exploring Feminism and Fun through Film'
Tue, Apr 20 2021 to Tue, Apr 20 2021
Saida Waheed Gender Initiative (SWGI) is organising a virtual film screening and panel discussion event 'Exploring Feminism and Fun through Film'. 
Date: Tuesday, April 20, 2021
Time: 6 pm (PKT)
The event will be live streamed on Facebook. Please ask your questions in the comment section of the live stream. 
We look at two amazing short films exploring themes around gender, space, and fun.
Understanding the Black Dog, Depression: A Webinar by Counselling & Psychological Services at LUMS
Fri, Apr 23 2021 to Fri, Apr 23 2021
The webinar will also highlight current evidence-based strategies and interventions being used in the clinical world to manage the symptoms of depression, and how to develop coping skills. It will also provide a holistic perspective to depression and help you acquire the necessary know-how to deal with the symptoms of mild depression on your own and also become a support for your loved ones going through a similar situation.  
Date: April 23, 2021
Time: 3:00-4:00 pm