Annual Syeda Mubarak Begum Urdu-Farsi Conference

Tuti-e Hind: Amir Khusrau Dihlavi & the Persianate World
طوطی ہند: امیر خسرو دہلوی اور جہانِ فارسی

Keynote Speech:
Amir Khusrau's Poetry as World Literature by Dr. Sunil Sharma, Boston University
Moderator: Dr. Maryam Wasif Khan, LUMS

March 3, 2023 to March 4, 2023
A-13, NIB Auditorium, Academic Block, LUMS
The second Syeda Mubarak Begum Urdu-Farsi conference will celebrate the persona and poetry of Khusrau that despite being rooted in the Indo-Persian literary landscape remain widely celebrated across Iran, Afghanistan and Central Asia. Leading Khusrau scholars from the region and beyond will discuss Khusrau and the influence of his legacy on the poetic traditions in their countries today, as well as within the Indian subcontinent.
Amir Khusrau is considered to be one of the most significant poets of the Indo-Persian world. Born in thirteenth-century Delhi, Khusrau came of age when the Persians dominated the elite realms of the court and the government. Though Persian was his favoured language, he was an eloquent voice in subcontinental languages such as Hindavi, Brij Bhasha and Kharri Boli – all of which were later foundational for the language we know as modern Urdu. Khusrau blended the elite register with the quotidian, making Persian an essential part of the subcontinent and its cultural aesthetics.
Khusrau was a master of at least three genres of subcontinental poetry. His Persian lyric poems that followed the style of Sa'di Shirazi, the famed Iranian poet and Khusrau's contemporary, became the prototype of Persian ghazal in the centuries to come. Khusrau's historical masnavis, such as Miftah ul Futuh, Deval Rani Khidr Khan and Nuh Sipihr, were followed by the later poets in their versified court histories. And his Khamsa (a collection of five masnavis), written in response to Nizami Ganjavi's Khamsa, made him a master storyteller as he versified the stories of Layla-Majnun, Shirin-Khusrau, Behram Gur (the Sassanid Persian king) in Hasht Bihisht, Alexander in Aina e Sikandari and the secrets of divine in Matla ul Anvar.   
CONFERENCE SCHEDULE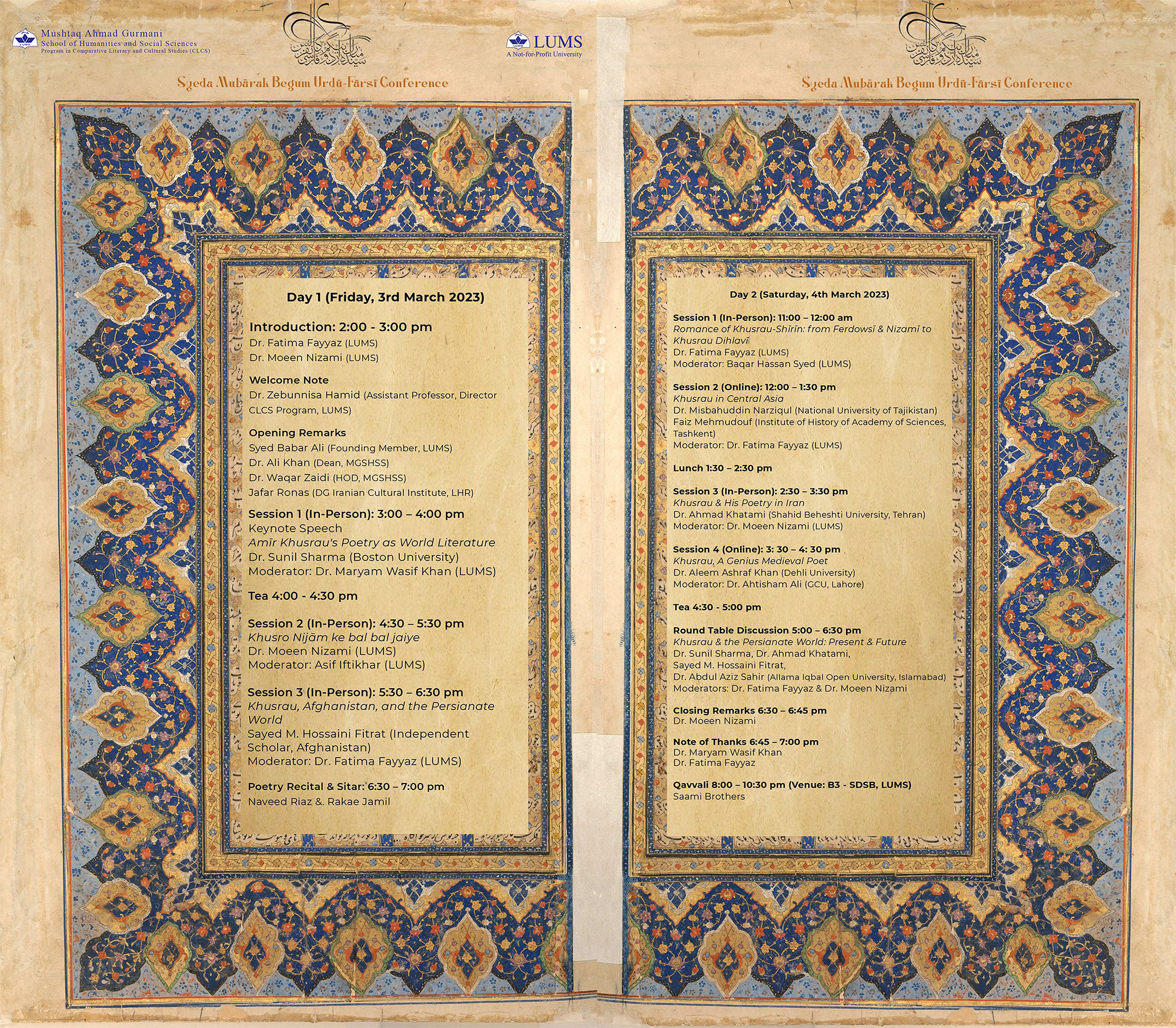 For details, please contact,
Fahid Ahmad  
Event coordinator MGSHSS, LUMS    
Email: fahid.ahmad@lums.edu.pk