Baradari Café by LUMS Alum Mr. Luqman Ali Afzal Inaugurated on Campus
The Baradari Café, conceptualized by Luqman Ali Afzal (BSc 2002), CEO and Founder, The Monal Group, was launched at LUMS on October 14, 2021 during an exciting inauguration ceremony. The event was attended by the Monal team, including Mr. Afzal, his family and the senior management of the firm. Representing LUMS were Syed Babar Ali, Founding Pro Chancellor; Dr. Arshad Ahmad, Vice Chancellor; Dr. Farhaq Haq, Provost, Ms. Nuzhat Kamran, Director, Office of Advancement; School Deans and members of the senior administration. 
The Café, for whose interior Mr. Afzal has made a generous donation, is planned to be run through a student-university partnership that will provide learning and internship opportunities to the students on campus. Every semester, a group of students will be hired to run the place, giving them first-hand experience of the food industry. 
Mr. Afzal is the first Pakistani to be awarded the President's Pride of Performance award in the entrepreneurship category. His entrepreneurship experience started two decades ago through his experience in managing the operations of the Khoka at LUMS, a small cafeteria that provides snacks to the community. He is now an owner of multiple restaurants, including The Monal, which has expanded from a restaurant into a catering entity and now also includes two marquee halls. The amusement project at Lake View Park in Islamabad is also operated under The Monal Group.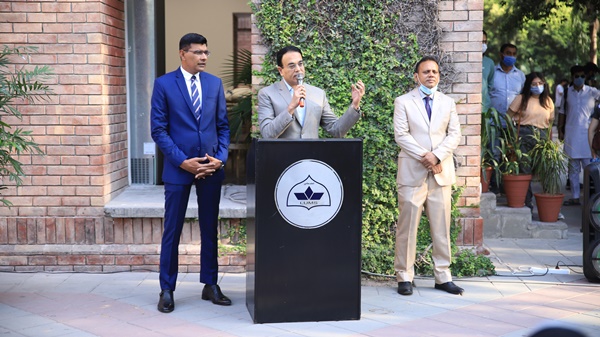 Speaking about his motivation behind setting up Baradari Café, Mr. Afzal credited Syed Babar Ali and said, "He has always taught me that success is not defined by money, but by giving back to the same community that gave you the initial resources and success. This café will be a hospitality school, which will offer internships and classes to all those students who are in the food industry and help them attain the same success as I have today."
The café will also host industry experts who will be invited for interactive discussions with LUMS students on various topics related to the food industry. Syed Babar Ali spoke about Mr. Afzal's entrepreneurial spirit and said, "I first got to know Luqman through a LUMS alumni get-together in Islamabad where I asked him about what inspired him to become an entrepreneur in the food industry, to which he replied 'The Khoka'. We are very grateful to him for his generosity and take a lot of pride in our alumni for undertaking initiatives such as these."
Dr. Arshad Ahmad expressed his gratitude towards Mr. Afzal and said, "I would like to thank Luqman, his family and the Monal team for their generosity. While Monal is known for their excellent food and great service, they are also consistently giving back to the community through initiatives in education and healthcare. Pakistanis are famous for their hospitality but Luqman takes this to another level. This café will serve as a learning opportunity for our students and we would like to continue Luqman's legacy by supporting this initiative in every way possible."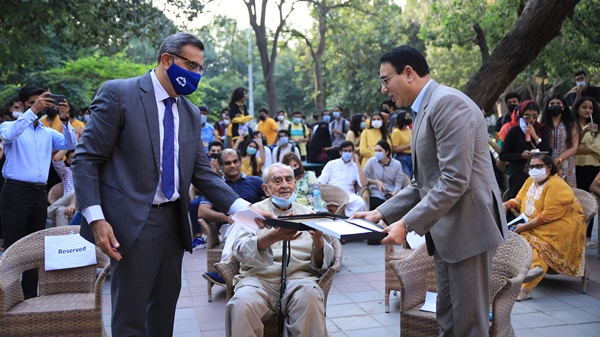 Towards the end of the event, a souvenir was gifted to Mr. Afzal in recognition of his generous contribution towards LUMS. The event was followed by three lectures related to the food industry, which were attended by numerous students on the LUMS campus, as well as a live cooking class by the Monal team.