CEO of Total Parco Pakistan Limited, Visits LUMS to Discuss Future Collaborations
The Chief Executive Officer of Total Parco Pakistan Limited (TPPL), Mr. Mehmet Celepoglu, visited LUMS on March 22, 2021, to meet the University's senior management and discuss possible opportunities for collaboration. 
Mr. Celepoglu was joined by the TPPL Human Resources Team—Ms. Ayesha Javaid, Manager, Talent Development, and Mr. Faraz Atif, Assistant Manager, Recruitment. Representing LUMS were Mr. Shahid Hussain, Rector; Dr. Arshad Ahmad, Vice Chancellor; Mr. Osman Khalid Waheed, President, Ferozsons Laboratories Limited and member, LUMS Board of Trustees and Ms. Nuzhat Kamran, Director, Advancement. LUMS science and engineering faculty were also present at the meeting. These faculty members included Dr. Abubakr, Director, Centre for Water Informatics & Technology (WIT); Dr. Qasim Imtiaz, Assistant Professor, Syed Babar Ali School of Science and Engineering (SBASSE) and Dr. Naveed Arshad, Associate Professor, Department of Computer Science, SBASSE. Mr. Saleem Ahmad, Chairman, National Incubation Centre at LUMS, Lahore (NICL) also joined the meeting virtually.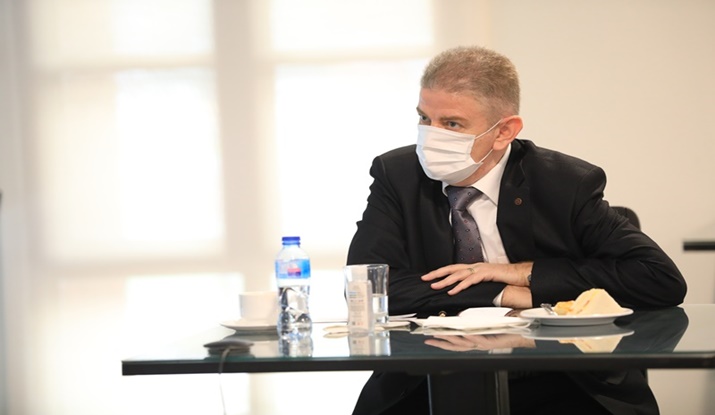 Total Parco Pakistan Limited is the second-largest oil marketing company in Pakistan. It has a strong retail network with about 800 active service-stations, a strong lubricants distribution channel, B2B commercial sales, fuel cards, special fluids and solar energy solutions across the country. Their Corporate Social Responsibility Team is committed to developing and uplifting local economies through investing in youth inclusion and education, climate, road safety and cultural dialogue and heritage. 
Mr. Celepoglu said that he wished to recruit Management Trainee Officers from LUMS. "In March 2019, after the collapse of the oil prices, we needed to look into the future of the company. We realised that we wanted to build on our human resources by recruiting high calibre Management Trainee Officers as one of our objectives for the end of 2021," he said. He also expressed the desire to accelerate the digital transformation of TPPL by recruiting a digital manager, as well as build a mutual partnership with the Rausing Executive Development Centre for trainings of the organisation's employees.
Vice Chancellor, LUMS, Dr. Ahmad spoke about the initiatives that LUMS has undertaken to create an impact in the country. "As a private university, we have to be open to taking risks, as well as finding partners who can work with us to create a multiplier effect. We would like to build industry-level partnerships that last over time in strategic initiatives. Furthermore, we would like a partner who is a relevant fit for us in terms of their industry, the university and the policy-level changes that happen beyond."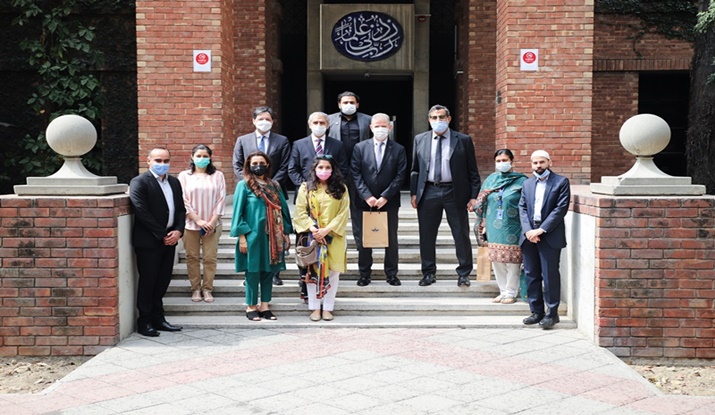 The discussion then shifted to how LUMS was filling in the gaps in the educational sector of Pakistan. According to Mr. Hussain, the University's objective is to do work that is impactful all over the country. "We aim to train people and to be a part of the broader mission to inculcate a research culture within LUMS. We would be happy to discover areas of collaboration with Total Parco."
The guests were taken on a tour of the NICL; in the past, TPPL has funded three young entrepreneurs from Pakistan in the 2018 NIC Start-up Challenge. Chairman, NICL, Mr. Ahmad gave an overview of the ambit of the Centre. "The NICL hopes to serve as the playground for talent all over Pakistan, looking to resolve some of the problems faced by the country. These areas include culture, education, environment, financial inclusion and healthcare. We hope to join partnerships with corporates such as yourself to come up with solutions to these problems."
Later Dr. Abubakr gave a brief overview of WIT, as well as some of the technologies the Centre is using to conserve water. He spoke about how the Centre is working to serve various industries and offering digital solutions for farmers to conserve water, as well as minimise the use of fertilisers and pesticides.
Towards the end of the meeting, Dr. Arshad thanked Mr. Celepoglu and presented him Founding Pro Chancellor, Syed Babar Ali's autobiography.