Female Staff Members from Across LUMS Attend a Safe Space Conversation
An all-women Safe Space conversation was co-organised by Ms. Angbeen Mirza, Director Office of Accessibility and Inclusion and Ms. Aymen Abdullah, Head of Talent Management, Human Resources, for the female staff members at LUMS on March 9, 2022. The purpose of the session was to have an open conversation on what challenges women face in their workspaces. 
The Safe Space conversation, conducted at the Executive Dining Hall at LUMS, was designed to encourage female staff colleagues to share their experiences regarding matters of gender discrimination as well as inclusivity, both within the workplace and generally. The session provided an environment for the female staff members to discuss their experiences at LUMS, share the challenges they encounter, and subsequently offer suggestions on what could be done at an individual and organizational level to improve current gender relations and interactions.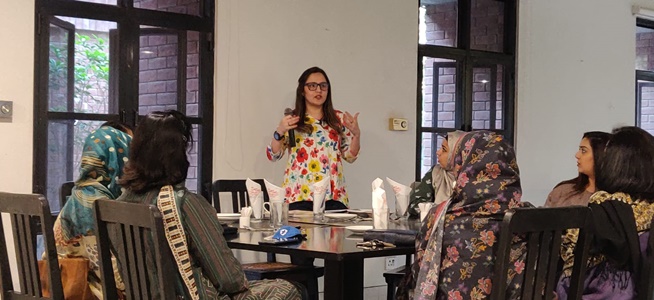 This session was held in the spirit of International Women's Day with the theme of opening up in safe spaces, which led to many women sharing their experiences of discrimination and bias throughout their life. This discussion also included an activity called "Gender Light Bulb," wherein all the attendees were asked to share memories of events that made them realise they were being treated differently because of their gender. 
The participants remained engaged throughout the activity. Female staff members were also very happy to be a part of the Safe Space conversation and requested for an increase in the frequency of such events. Towards the end, tea and refreshments were served to all the participants. Both the offices hope that this will be the start of a sustainable collaboration to push for more diversity and inclusion at LUMS.