A First for LUMS Advancement of Education in the Asia-Pacific Region
The Council for Advancement and Support of Education (CASE) has awarded the Asia-Pacific Leadership Award to Dr. Arshad Ahmad, Vice Chancellor of LUMS. Dr. Ahmad is the first recipient from a South Asian university to receive the award in recognition of his efforts to promote education and institutional advancement. 
Mr. Shahid Hussain, Rector of LUMS, noted, "Over the years, LUMS has emerged as a model for how a small, young university located in a country without the historic advantages of prosperity, can make a substantial, positive impact on a wide range of complex, interconnected global challenges."
Dr. Ahmad added, "The gifts of LUMS include its exceptionally talented students across Pakistan, and the extraordinary faculty and staff who teach and support them. The CASE Leadership Award will always belong to LUMS, and I'm privileged to be part of the community that is one of the best-kept secrets of the Global South."  
Since joining LUMS in 2018, Dr. Ahmad has strengthened the University's unique perspective of Learning without Borders to transcend academic, geographic, and socio-economic boundaries to advance quality higher education in the region.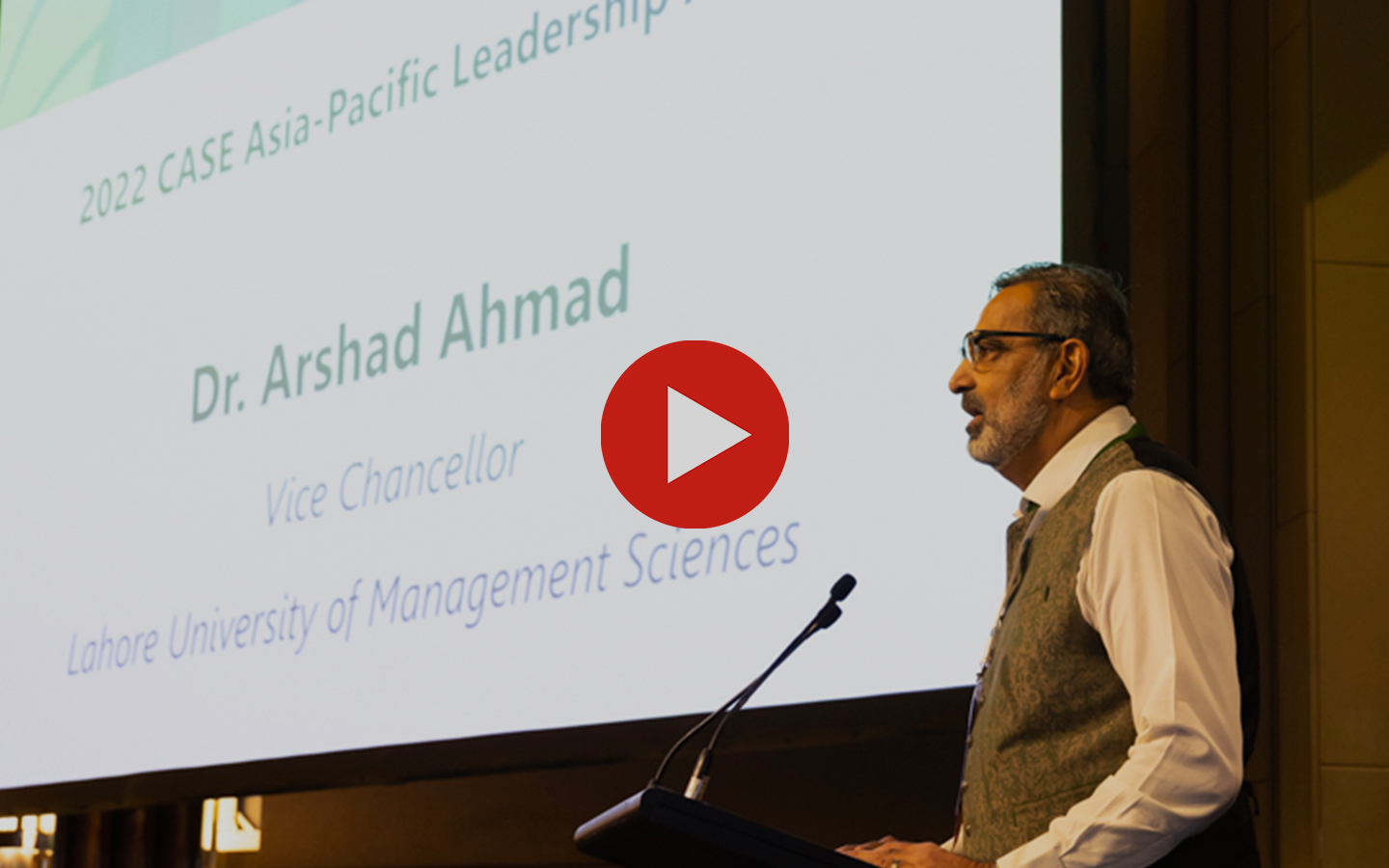 Watch Dr. Ahmad's speech
Dr. Ahmad's drive to bring people together and transcend traditional silos in LUMS' governance and core academic work has formed the basis for many significant institutional advancements. He commented, "To truly make a difference to our students, our communities, and the region, we must look at the challenges before us as opportunities that lead to new ways of thinking, learning, and working together."  
Over his tenure, this approach has had a significant impact. By combining LUMS Alumni Relations, Marketing, Development, and Communications under the Office of Advancement, donations and new grants to the University have tripled, and alumni contributions have doubled. Dr. Ahmad also championed the 50% scholarship for women enrolled in graduate programmes at the Suleman Dawood School of Business, which resulted in a 35% increase in women's enrolment within graduate programmes. These efforts have also resulted in more financial support for students coming from disadvantaged areas through LUMS' signature National Outreach Programme.
Today, LUMS promotes a transdisciplinary approach to research and teaching that encourages cross-appointments across Schools and Centres at LUMS and strengthens faculty and student collaborations across different fields. New experiential learning programmes such as the Baltistan Experience have expanded immersive learning opportunities at LUMS. Dr. Ahmad spearheaded this new programme in 2022 by engaging hundreds of students for a month-long experiential learning partnership in Skardu. This summer, in the month of July, 50 students from the Computer Science department will lead 25 IT boot camps in high schools across Gilgit. Together, students and faculty from LUMS and communities in Gilgit-Baltistan will engage in several field-based courses that respond to major challenges with local and global impact. 
Dr. Ahmad has also initiated the LUMS Learning Institute to support faculty development, pedagogical partnerships with students, and the integration of educational technologies to enhance learning and teaching. Following the pandemic, LUMS became a recognised leader in Pakistan in providing support for effective hybrid and online learning. The recent creation of LUMSx, the University's new online platform, opens new possibilities for the University to amplify access, relevance, and collaboration.
Dr. Ahmad's unwavering commitment to LUMS and to the advancement of quality higher education in the region will be long-lasting. He has played a pivotal role in supporting and advancing LUMS across all aspects of its work, its outreach, and its impact in the region and beyond. This award celebrates his dedication to exceptional quality higher education and signals the extraordinary progress that the LUMS community has achieved to make a difference in the Global South. The award ceremony took place during the CASE Asia-Pacific Advancement Conference and was followed by Dr. Ahmad's participation in the President's Panel held in Melbourne on May 17, 2023.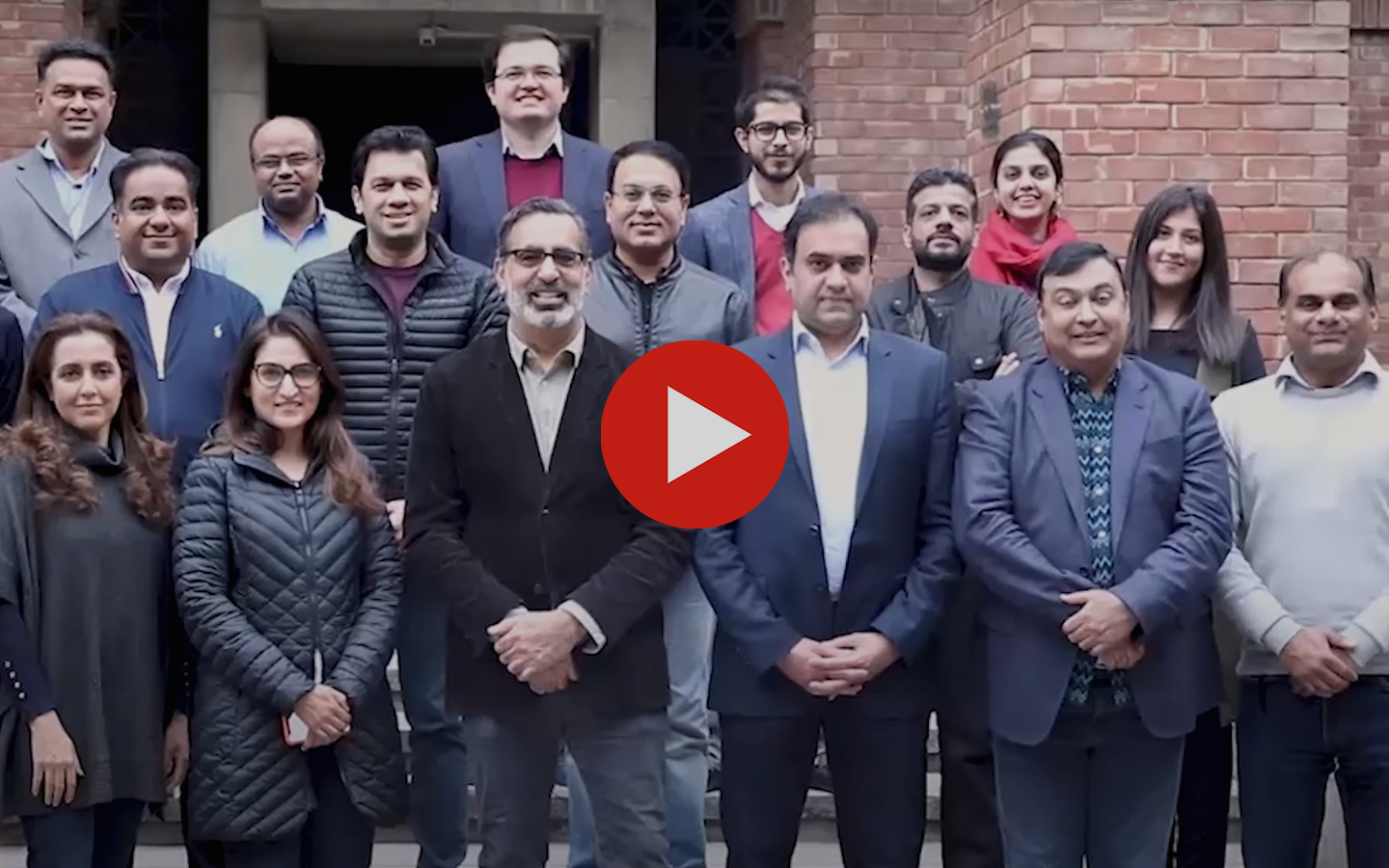 Watch the inspiring impact Dr. Ahmad has had on the LUMS community