GFC Fans Sign MoU to Support the National Outreach Programme
GFC Fans has extended its support by signing an agreement to sponsor the education of one National Outreach Programme (NOP) scholar at LUMS. A ceremony was held on May 23, 2022, where Dr. Arshad Ahmad, Vice Chancellor, LUMS and Mr. Mohammad Ilyas, CEO, GFC Fans, signed the agreement.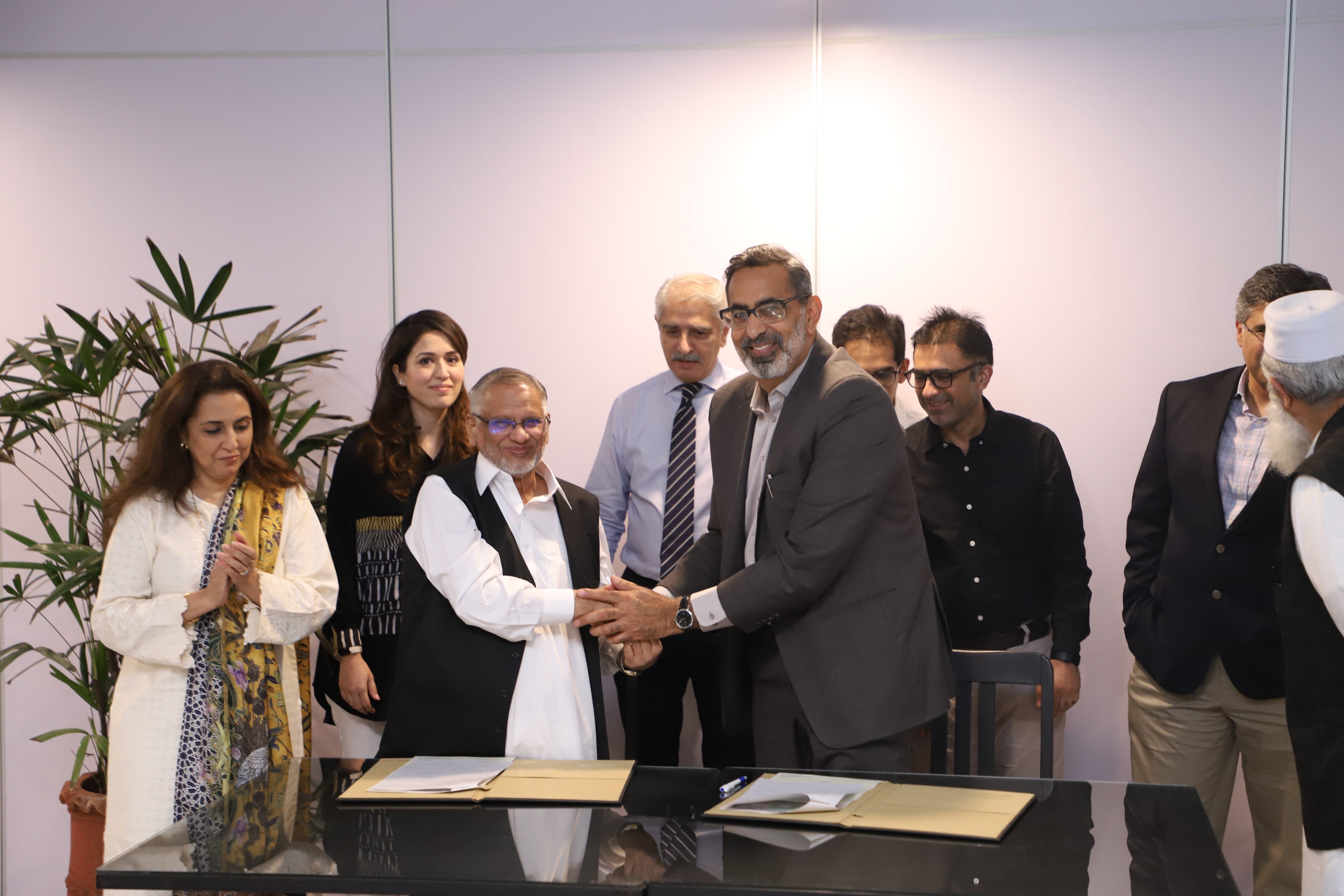 Also present were Mr. Nabeel Ilyas (MBA '06), Chief Operating Officer, GFC Fans; Mr. Mobin Ilyas (MBA '13), Director Production and R&D, GFC; Mr. Khurram Ilyas (BSc '97), Chief Technology Officer, Techlogix, and Dr. Fazilda Nabeel (BSc '06), Punjab Coordinator, UN. Representing LUMS were Mr. Shahid Hussain, Rector; Dr. Tariq Jadoon, Interim Provost, and Ms. Nuzhat Kamran, Director, Office of Advancement.
As one of the largest manufacturers of quality electric fans in Pakistan, GFC Fans has been exporting its products annually to over 30 countries globally. They are continuously investing in research and development within the fan manufacturing industry in Pakistan and working towards innovation in new directions.
Dr. Ahmad lauded their support towards the NOP and stated that it is the generosity of such partners that the University continues to provide inclusive, accessible education to talented students in Pakistan. He said, "Providing students with accessible opportunities has to be our priority at LUMS as a part of our 'Learning Without Borders' philosophy. Through the support of our industry partners, we will continue to provide these students with a chance to achieve their goals and dreams."
To provide a holistic overview of the many initiatives at LUMS, Ms. Kamran gave a brief presentation and highlighted the key statistics of the University. She spoke about the impact of NOP, and said, "Its impact extends beyond the students to their families and communities. Our scholars strive to achieve academic excellence against all odds and the transformation which they undergo after joining LUMS launches them on a trajectory of success and excellence."
Mr. Ilyas spoke about the motivation towards giving to LUMS. "GFC Fans is keen to collaborate with LUMS in its efforts towards improving student diversity through support of the NOP. We hope that this is the start of a thriving industry-academia collaboration that not only contributes to the field of education, but also to state-of-the-art research and entrepreneurship," he said.
He also appreciated LUMS for its efforts to provide world-class education to Pakistani students and the confidence that the institution continues to ingrain in them.
Initiated in 2001, the NOP furthers the University's longstanding vision of providing premium education to talented students across the country, regardless of their financial circumstances. The Programme won the global Council for Advancement and Support of Education (CASE) Platinum Award 2021 in the 'Best Practices in Diversity, Equity, and Inclusion' category. The CASE Platinum Awards recognise world-class programmes and practices in educational advancement.