Lake City Holdings and LUMS Strengthen Ties with an MoU
The Lake City Holdings and LUMS signed an MoU on October 27, 2022 at the Lake City Golf and Country Club to support the University's National Outreach Programme (NOP). At the ceremony, Dr. Gohar Ejaz, CEO, Lake City - an avid supporter of inclusive education, a prominent entrepreneur and industrialist, and awardee of Sitara-e-Imtiaz and Shaan-e-Pakistan - announced the generous contribution under which NOP scholars will be awarded a 140% scholarship for the current academic year of their undergraduate studies at LUMS. Dr. Ejaz's contribution to the NOP dates back to 2017. To date, he has upheld the undergraduate education of 23 students. The formal agreement was signed by Dr. Arshad Ahmad, Vice Chancellor, LUMS and Mr. Javaid Iqbal, Chairman, Lake City Holdings.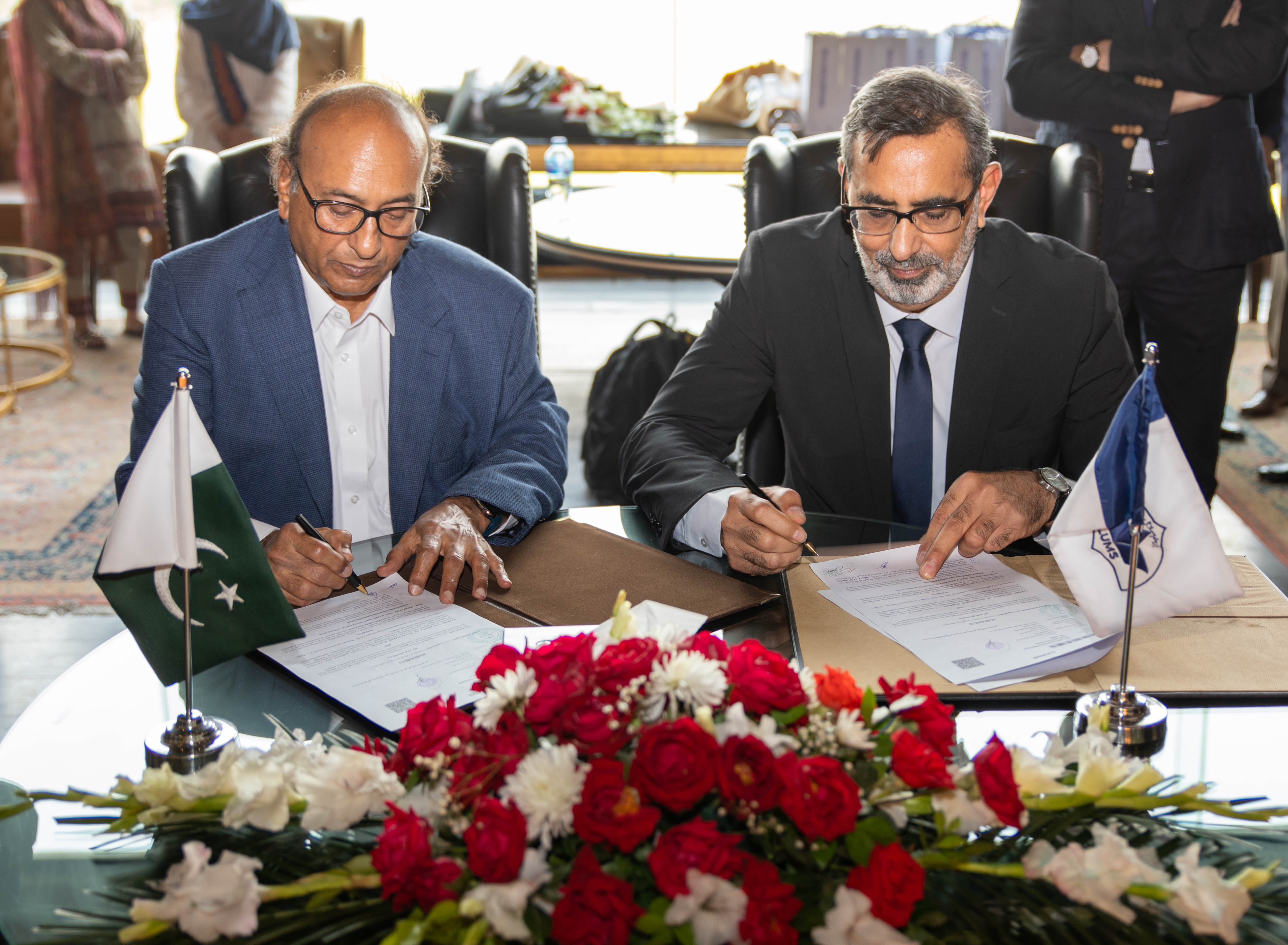 LUMS senior leadership including, Mr. Shahid Hussain, Rector; Dr. Tariq Jadoon, Vice Provost; Mr. Zunair Zafar, Chief Financial Officer and Ms. Nuzhat Kamran, Director, Office of Advancement attended the event. Also present at the occasion were notable guests like Mr. Sultan Gohar, Director, Lake City Holdings; Mr. Farooq Naseem, Chairman and CEO, DWP Group and Mr. Fawad Mukhtar, CEO, Fatima Group.
Mr. Hussain commended Dr. Ejaz for being a consistent advocate of accessible education through the years. "We are grateful to Lake City Holdings for supporting the NOP scholarship, an initiative that is very important to LUMS. The goal is to ensure that talented and deserving people should not face any disadvantage. This Programme has created examples of success from towns and villages in remote areas. NOP scholars are filled with a passion to give back to the community after they graduate. One-third of our student body is on some form of financial aid and the support of our patrons such as Dr. Gohar Ejaz has been instrumental in helping these students fulfil their dreams."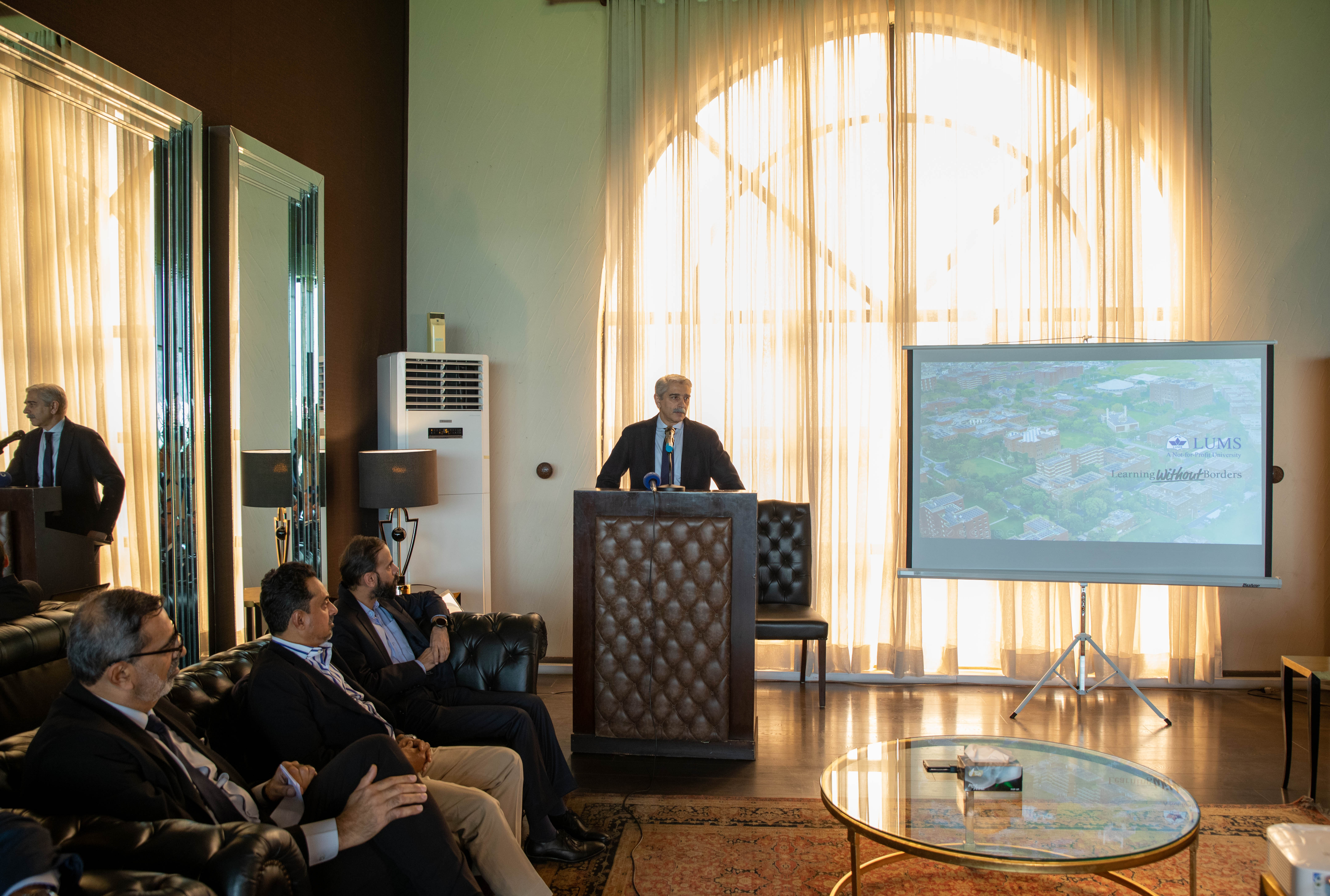 During the ceremony, Dr. Ahmad shared an overview of the NOP and key initiatives undertaken by LUMS. Expressing his appreciation, he said "Dr. Ejaz is one of our most generous donors. The spirit with which he supports LUMS deserves to be celebrated. He has consistently contributed towards our common goal of nurturing LUMS students and helping them cross boundaries that have never been crossed before." 
Dr. Ahmad also emphasised areas where LUMS can make a difference through its research centres, "LUMS has dedicated centres working to address today's most pressing issues, including climate change, energy, water, and gender equity. As a community, we all have to think of the distance between the challenges and the opportunities, and how to reduce this distance. For example, Pakistan's Electric Vehicle Policy was designed at the LUMS Energy Institute and adopted by the federal government."
Addressing the gathering, Dr. Ejaz shared how educational opportunities were life-changing for his family and how this deeply motivates him to help talented students achieve their dreams and ambitions. "This is the sixth year of our partnership with LUMS for the National Outreach Programme; a Programme very close to my heart. It is an honour for Lake City Holdings to be associated with this Programme and support talented, meritorious students."