LUMS Alumni Tune In from Around the World for Homecoming 2021
At LUMS, Homecoming is always the biggest celebration of the year. It is a longstanding tradition where Luminites have the opportunity to reunite, catch up with friends, and reconnect with their alma mater. This year, for the first time in the University's history, this three-day event took place virtually. This reimagined experience kicked-off on Thursday, April 8, 2021, and alumni from across the country and around the globe were able to tune in and connect from the comfort and safety of their homes.
From a virtual campus tour to candid conversations with LUMS leadership, prominent alumni as well as notable personalities in cricket, music, and more; the variety of sessions ensured that there was something for everyone.

Explore some of the most exciting sessions from Homecoming 2021 below:

A Trip Down Memory Lane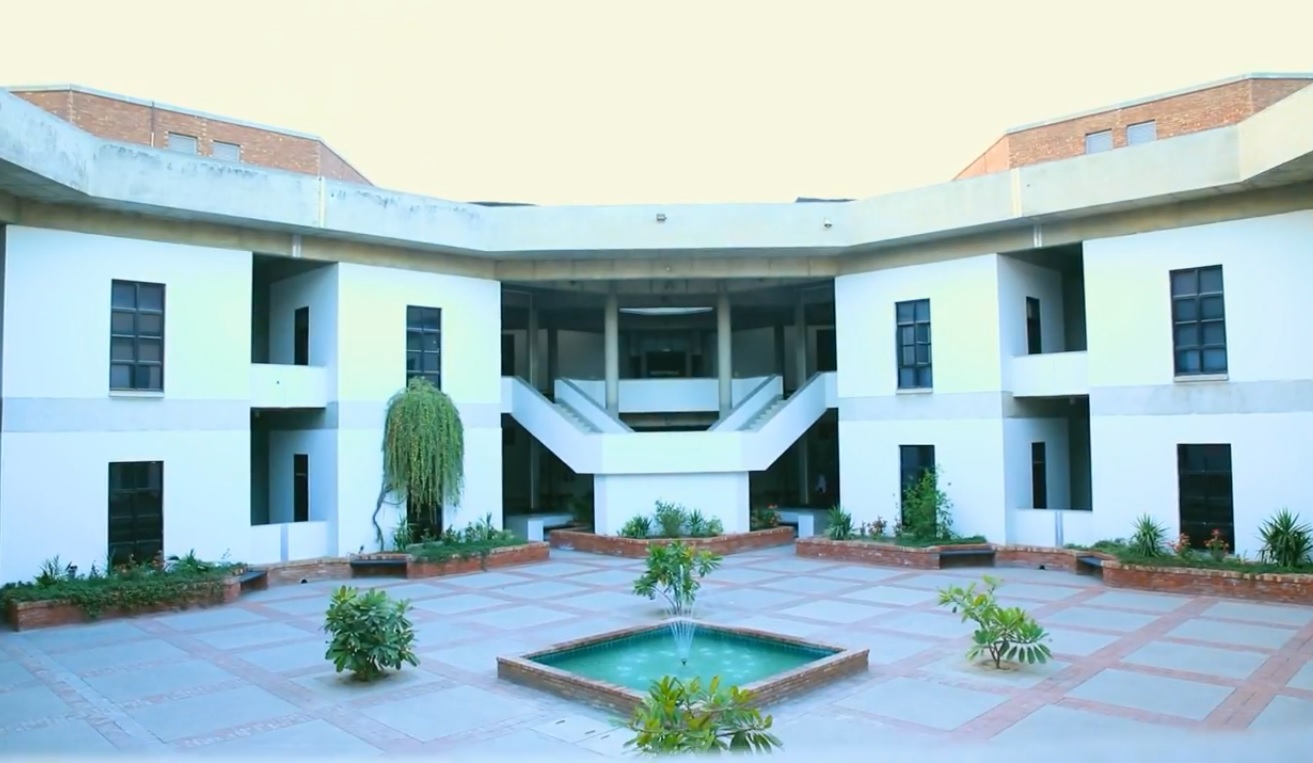 Nuzhat Kamran, Director, Office of Advancement, (and a LUMS alum herself!), commenced the session by extending a warm welcome to alumni, and invited them to enjoy a virtual tour of their university. Viewers had the opportunity to take a nostalgic look at their home away from home, tour popular haunts, and explore all the new spaces on campus.

The History of Pakistan through Cricket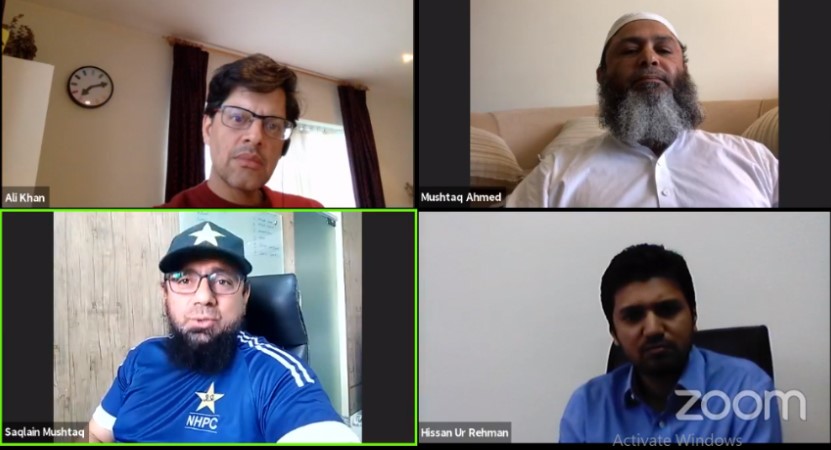 One of the most popular sessions of the day was a live discussion on cricket with world-famous stars of the game, Mushtaq Ahmed and Saqlain Mushtaq. Dr. Ali Khan, Dean of the Mushtaq Ahmad Gurmani School of Humanities and Social Sciences, and a cricket enthusiast who has also written a book on the game, also participated in the session that was moderated by LUMS graduate, Hissan Ur Rehman (BSc 2008). 
The session was an inspiring discussion on the importance of inculcating the sportsman spirit in youth and how believing in one's abilities and staying focused on your goals, makes one succeed in life.
Former leg spinner, Pakistan Cricket Team, Mushtaq Ahmed shared the journey of his entry into cricket. He said that results are achieved by getting out of your comfort zones. "Leave your friends and attend that class or practice session, this will make you successful!" he advised youth.
Back to the Classroom!

Alumni had the opportunity sit it in their favourite class and relive their days as a LUMS student. Seven different classes from across different disciplines were scheduled over the course of the day, and over 200 alumni registered to attend. 'Personal Effectiveness' with Dr. Adnan Zahid, Assistant Professor, Suleman Dawood School of Business (SDSB), and 'Professional Communication Skills' with Dr. Aamna Khalid, Associate Professor, Mushtaq Ahmad Gurmani School of Humanities and Social Sciences (MGSHSS) were some of the most sought-after sessions. 
Other courses included 'Agribusiness and Value Chain Management' with Dr. Syed Zahoor Hassan, Professor, SDSB; 'The Word and the World' with Dr. Furrukh A Khan, Associate Professor, MGSHSS; 'Deviance and Social Control' with Dr. Amen Jaffer, Assistant Professor, MGSHSS; 'Introduction to the Arts in Education' with Dr. Razia Iram Sadik, Associate Professor, Syed Ahsan Ali and Syed Maratib Ali School of Education and 'Introduction to Legal Reasoning' with Hiba Akbar, Teaching Fellow, Shaikh Ahmad Hassan School of Law. 
Fireside Chat with LUMS Leadership
 


The Fireside Chat with LUMS Leadership offered attendees the rare opportunity to witness a candid conversation with the University's senior members. Moderated by Adeel Hashmi, the session featured Vice Chancellor, Dr. Arshad Ahmad; Rector, Shahid Hussain and Management Committee Member, Osman Khalid Waheed. 

LUMS alumnus, Ali Farid Khwaja, President of the LUMS UK alumni chapter, and Saman Qureshi, member of the Karachi alumni group, were also part of the session to ask questions regarding the trajectory of the University.

Dr. Ahmad stressed on the need for LUMS to foster a culture of entrepreneurship and spawn successful mindsets. He outlined several initiatives at LUMS where this agenda is being actively pursued. "At the National Incubation Centre, we are deep diving in certain areas such as fintech, agritech and the environment, so that ideas come to life in the form of start-ups and accelerators. Other centres at LUMS are also dealing with national issues like water, energy, learning, and big data and the interaction between them will encourage entrepreneurship in the country." 
LUMS Live Session 72: Polarized Democracies: Causes and Consequences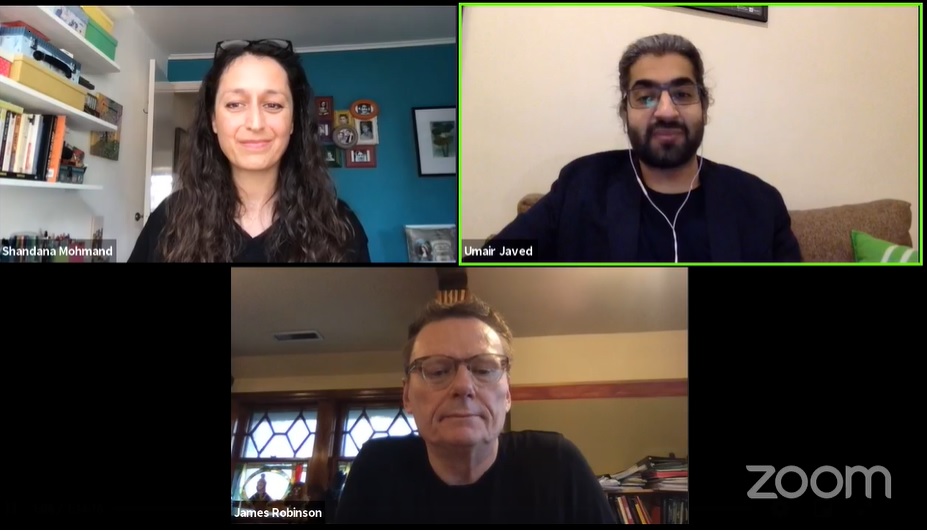 Alumni were also treated to a special session of LUMS Live, a webinar series where eminent panelists come together to discuss pressing topics and issues. Session 72 featured renowned social scientist, Dr. James Robinson, who discussed in detail the social and economic changes that have caused polarization to increase in democratic politics in the 21st century. 

The session was moderated by Dr. Shandana Khan Mohmand, Research Fellow and lead of the Governance cluster at the Institute of Development Studies at the University of Sussex and Dr. Umair Javed, Assistant Professor of Political Sociology at LUMS and a fellow of the Mahbub ul Haq Research Centre.

Dr. Robinson spoke about how societies should react towards the concept of liberty. He shared, "In liberty, societies have to be strong, and they have to be organised. Because things like liberty are taken, not granted."

My Journey with Music: In Conversation with Ali Hamza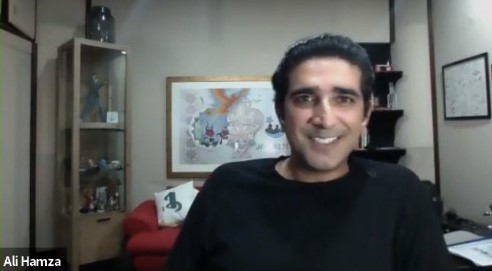 One of the University's star alumni is musician, Ali Hamza (BSc 2000). Mr. Hamza took part in a lively discussion with Adeel Hashmi about his journey with music. During the session, he shared why he took up music as a career, how his band, Noori, came about and his experiences doing gigs around the country.

He also reminisced about his time at LUMS and talked about his role in establishing the Music Society at LUMS. Commenting on the significance of such societies, he said, "It is very important for this space to be a place where people can discover their creative ability, practice their skills, and enhance their creative spectrum."
Attendees were even treated to a special live performance of Mr. Hamza's hit, Tinak Dhin. 


To share their experiences from the University's early days and to discuss the milestones it has achieved, Dr. Arshad Ahmad sat down with the founders of LUMS, Syed Babar Ali, Abdul Razak Dawood, Dr. Parvez Hassan, and Shahid Hussain to reflect on the University's journey. Over 800 attendees from around the globe tuned in to this live event.

The founders explained how they had a common vision to make a world-class educational experience accessible to students, regardless of financial circumstances. They also believed that there should be a strong focus on merit, the quality of the programmes, and the excellence of faculty. By keeping these common goals in mind, the founders were able to make decisions based on what would be best for LUMS, and they stayed aligned with each other in the process.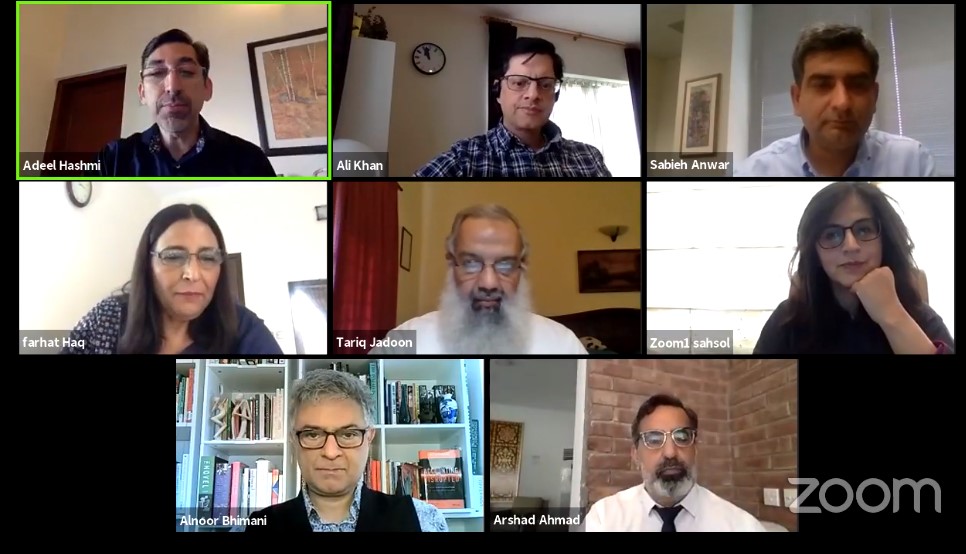 In the "What's New at LUMS" session, Vice Chancellor, Dr. Arshad Ahmad; Provost, Dr. Farhat Haq; Vice Provost, Dr. Tariq Jadoon, and the Deans of the Schools at LUMS shared exciting developments at the University and the ways in which it is creating impact in the region through research and innovation.

During the session, the 'Learning Without Borders' agenda at LUMS was introduced to the alumni. Examples were also shared about how LUMS is working towards achieving national and global impact by bringing together the intellectual capital at the University to do policy-relevant research. This cutting edge work is being done in diverse areas such as climate change, economies, education, and even politics, to address real-world problems. Also, new degree programmes have been introduced at LUMS to train specialists and future leaders in diverse areas such as supply chain and retail management, healthcare as well as accounting and analytics. 
Vice Chancellor's Alumni Achievement Awards 2020 Ceremony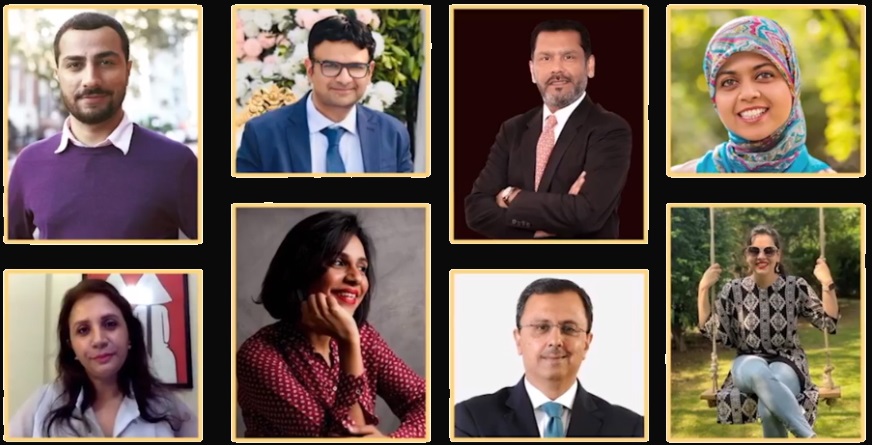 Eight dynamic alumni, across sectors and industries, at home and abroad, were selected for the Vice Chancellor's Alumni Achievement Awards 2020. The winners, announced on the second day of Homecoming 2021, were congratulated by Vice Chancellor, LUMS, Dr. Arshad Ahmad; Rector, Shahid Hussain, and Director, Office of Advancement, Nuzhat Kamran at a special ceremony.
 
The winners are: Dr. Muneeb Ali (BSc 2003); Aysha Baqir (MBA 1998); Dr. Fahad Rafique Dogar (BSc 2005); Dr. Ammara Maqsood (BSc 2005); Tauseef H. Farooqui (MBA 1996); Yousaf Hussain (MBA 1994); Sabeen Ihsan (BSc 2006); and Angbeen Atif Mirza (BA-LL.B 2008). 

Global Innovations by Pakistanis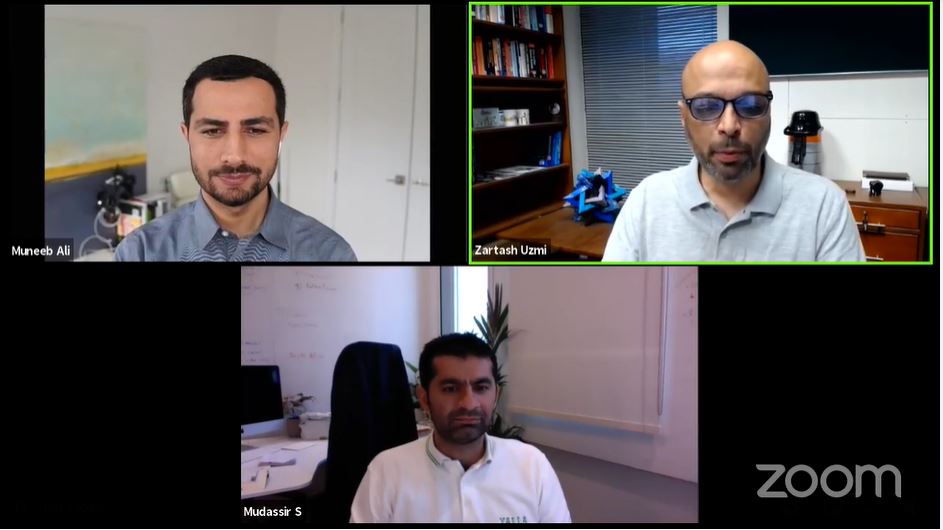 As part of this session, Pakistani star entrepreneurs, Mudassir Sheikha, Founder, Careem and Dr. Muneeb Ali, Founder, Stacks and CEO, Hiro, reflected on the growth of their companies and the importance of innovative business practices.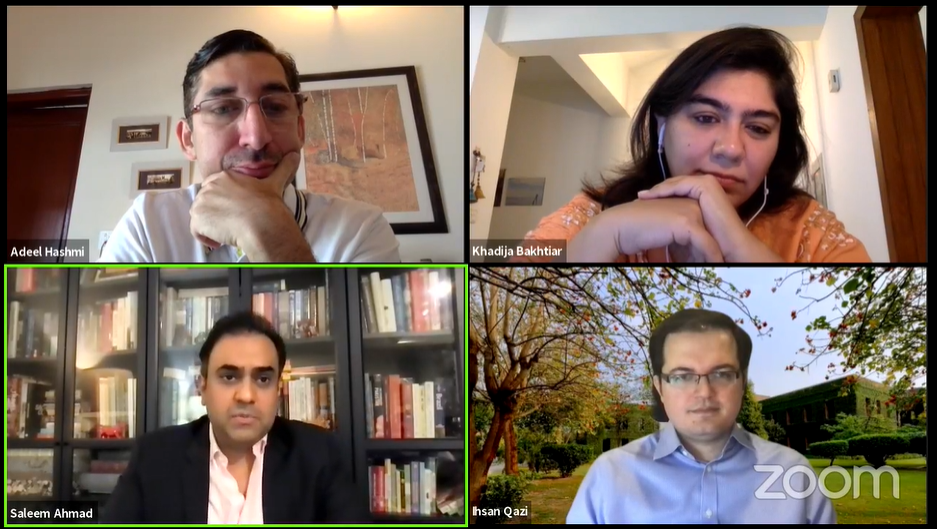 Amongst the many interesting sessions planned to celebrate Homecoming 2021, 'Alumni on Alumni' brought together a globally recognised finance professional in NYC, a social entrepreneur working on educational inequity in Pakistan, and an award-winning computer scientist. Moderated by Adeel Hashmi, Saleem Ahmad, MBA 1996; Khadija Bakhtiar, BSc 2007 and Dr. Ihsan Ayyub Qazi, BSc 2005 chatted about their professional experiences and shared valuable insight into their respective journeys. 
During the session, Ms. Bakhtiar shared how 'Teach for America' inspired her to establish 'Teach for Pakistan', while Mr. Ahmad talked about the past-paced life of a finance professional which entails working 20 hours a day, 7 days a week! Meanwhile, Dr. Qazi discussed his trajectory with LUMS and how it inspired him to take up teaching as a profession.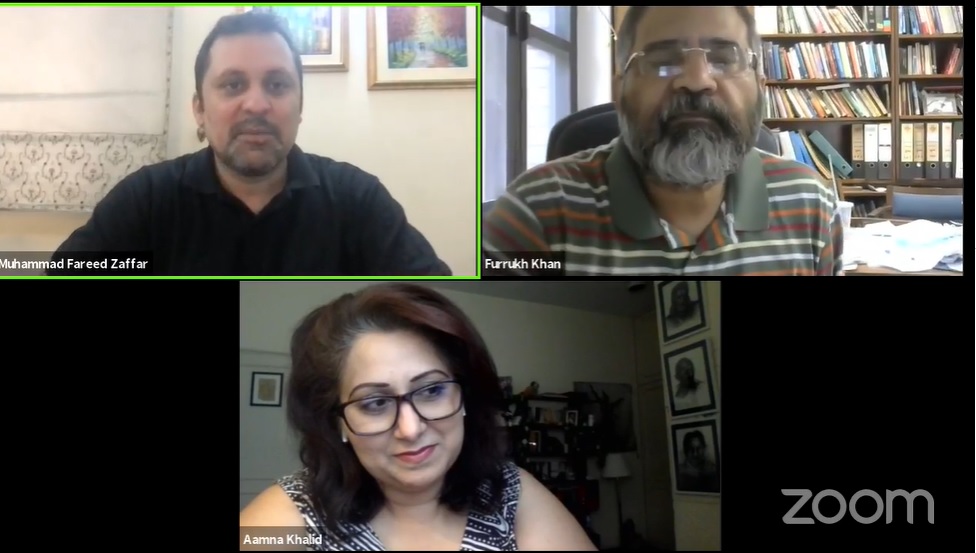 One of the highlights of Homecoming 2021 was that alumni had the opportunity to catch up with some of their favourite instructors. During the Gup Shup with Faculty session, attendees were able to witness a light-hearted and candid conversation with Dr. Furrukh Khan, Associate Professor, Mushtaq Ahmad Gurmani School of Humanities and Social Sciences (MGSHSS); Dr. Muhammad Fareed Zaffar, Associate Professor, Syed Babar Ali School of Science and Engineering, and Dr. Aamna Khalid, Assistant Professor (MGSHSS).

The session was also a chance for alumni to interact with faculty in a non-academic setting and hear about their personal stories and anecdotes. Over the course of an hour, the instructors shared how they came to know about LUMS, what continues to draw them to the University, and how they feel connected to all their students – past or present. The instructors cautioned students to not worry about their GPA, but rather use their university years to broaden their horizons and participate in things that they enjoy and find challenging. The session was very interactive, and alumni were able to share their comments and have their questions answered.

The instructors also encouraged alumni to reconnect with their alma mater and invited them to use their experiences and learnings to keep inspiring current students at LUMS.

Breakthrough Innovations at LUMS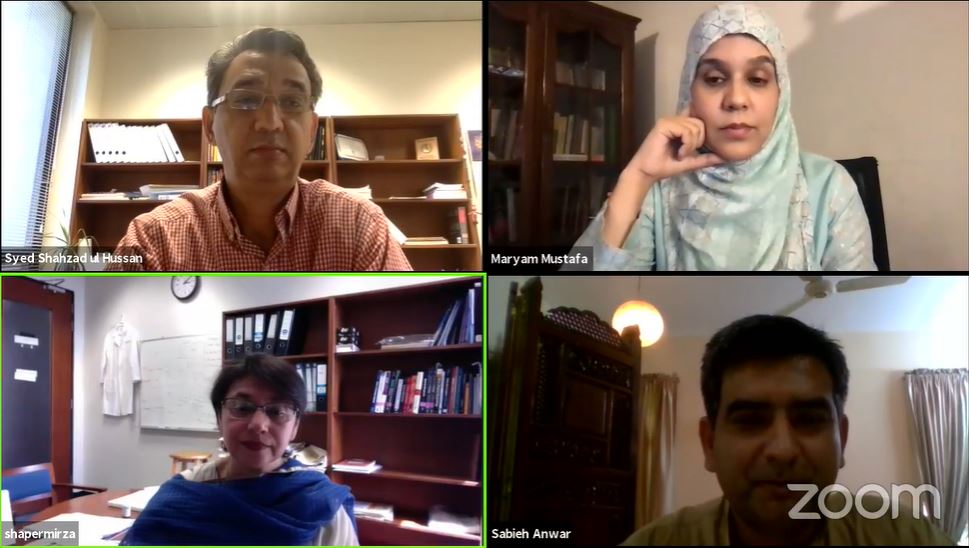 From using artificial intelligence to identifying potential drugs to target the Coronavirus to conducting research on misinformation in low digital literacy populations, this session covered the latest research breakthroughs conducted by faculty and students at LUMS. 
20 & 30-Year Reunions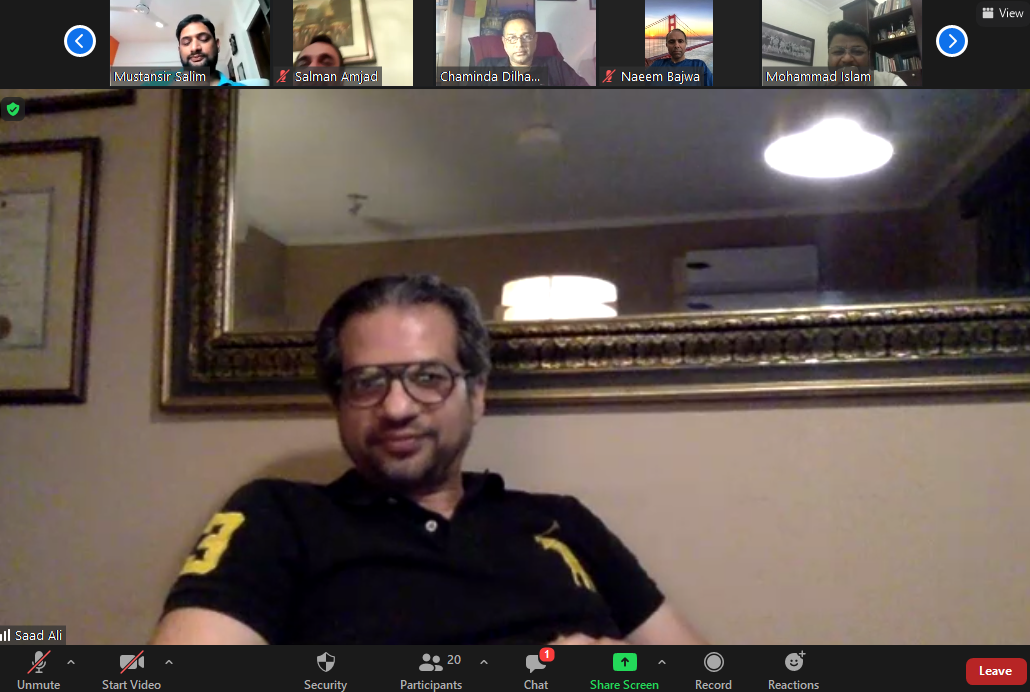 During current times, it is more important than ever to share meaningful online experiences with friends, family and community. The 20 and 30 Year Reunions during Homecoming 2021 provided just that—an opportunity for alumni to reconnect and celebrate decades of friendship. Alumni from MBA 1991 and MBA 2001 joined in their respective sessions from across the globe to reminisce and nurture the bond that they created during their time at LUMS. The events kicked off with a warm welcome for the alumni, and a personal video message from Founding Pro-Chancellor, LUMS, Syed Babar Ali. 
The alumni talked about their journeys after graduation, shared slideshows consisting of old class photos, and reconnected with former faculty members.  They also enthusiastically participated in a casual 'Alumni Gup Shup' session; catching up with old class fellows and reliving shared memories. The session concluded with ending notes from the respective class representatives, rekindling the sense of belonging within the alumni.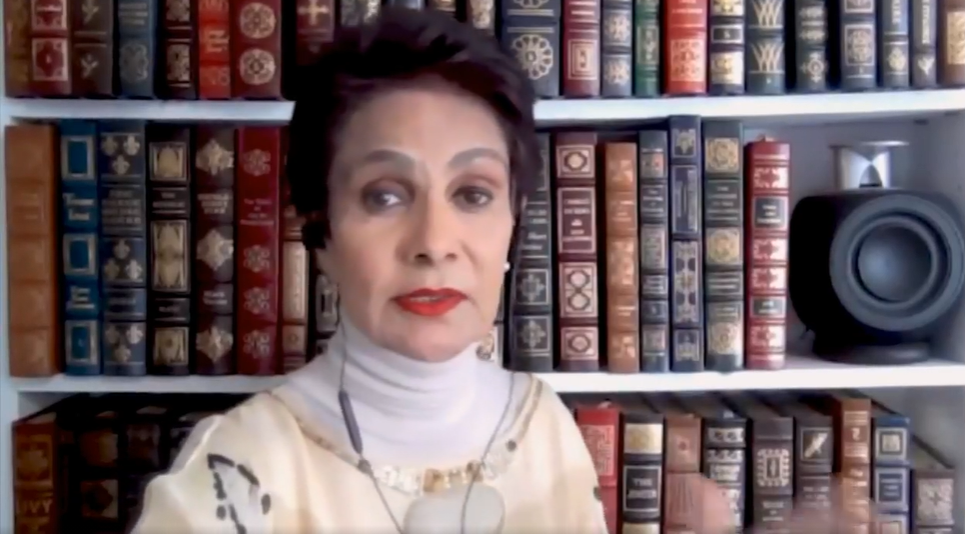 As homecoming festivities came to an end, alumni were treated to a fascinating reading of Faiz Ahmad Faiz's poetry by Dr. Azra Raza. Dr. Raza is a medical doctor, renowned oncologist, and Director of the MDS Centre at Columbia University, but it is her passion for Urdu literature and a deep understanding of poetry that made the last session of homecoming, Getting "LIT" with Faiz, thoroughly captivating.

Dr. Raza took the audience through Faiz Ahmed Faiz's poem 'kai bar is ka daman bhar diya husn-e-do-alam se,' breaking down each couplet and each word to help viewers understand the depth and complexity packed into each part of the poem. She also shared experiences and anecdotes from her life to illustrate how extremely moving poetry can be for everyone, no matter where they come from. Dr. Raza ended the session by encouraging alumni to take heart from the words of legendary poets like Faiz Ahmad Faiz and Ghalib, and to continue searching and striving for their true purpose in life.

To view the complete sessions, visit our Facebook page.