LUMS Announced Global and Asia-Pacific CASE Winner
Strengthening its international recognition, LUMS won three awards announced by the Council for Advancement and Support of Education (CASE). LUMS is the Global and Best of Asia-Pacific winner for the CASE 2022 Circle of Excellence award in the Special Events: Online Commencements category for its 'Commencement 2020 – The Future Awaits'. 
Two additional initiatives, 'Give a Day to LUMS' and 'Fostering and advancing women leaders in business' have also being awarded the Best of Asia-Pacific in the regional round in the Fundraising - Targeted Campaigns and Appeals and Leadership - Diversity, Equity, and Inclusion Initiatives categories, respectively. Both were showcased at the 2022 Best of CASE Asia-Pacific Region Awards Gallery. 
The awardees will be acknowledged at the upcoming CASE Asia-Pacific Advancement Conference in Melbourne, Australia on May 15-18, 2023. "LUMS is honoured to be recognised at the global stage, and is equally eager to participate in solving global challenges that face the country, the region and the world," said Dr. Arshad Ahmad, Vice Chancellor, LUMS. 
This recognition marks the fifth international award that LUMS has won during the past two years. Earlier in 2021-22, the University won the Times Higher Education (THE) Awards Asia 2022 in the Excellence and Innovation in the Arts category, and last July, it won the CASE Platinum Award for its National Outreach Programme.

CASE's Circle of Excellence Awards recognize educational advancement worldwide whose entries  are selected for overall quality, innovation, use of resources and the impact on the institution, its external and internal communities, such as alumni, parents, students, faculty, and staff. 
 
About the Entries
 
The Future Awaits

LUMS has been selected for this prestigious award from over 4,500 entries submitted from 636 institutions in 30 countries. Held in July 2020 at the height of the pandemic, the online convocation ceremony celebrated the Class of 2020 under the theme, 'The Future Awaits'. It brought the community together, in the truest senses of the word - nearly 40% of the content was created, performed, and shared by students, student societies, alumni and graduating class. 
Commencement 2020 was a first of its kind ceremony where, from the comfort of their homes, joined by families, peers, faculty, and the LUMS community from across the world, the Class of 2020 celebrated a milestone achievement. The live session, broadcast live on Facebook, garnered over 1,000 live views and has a whopping 2.6 million views to date.
The Judges commented, "Great perspective from student/graduate generated content. It did feel like it was all about them rather than formal speeches and the same old formula for a graduation. Simplified and dignified. This commencement felt personal and more like a warm welcome than a formal commencement. I find it so impressive that even with the distance, it felt probably more genuine than it would have in person. Just from reading their statements, it feels like this was a turning point for their perspective and will likely create better in-person commencements in the future. Very impressed that the planning only took four weeks and that within that timeframe they were able to gather 40% of content from students, alumni, etc."
Fostering and advancing women leaders in business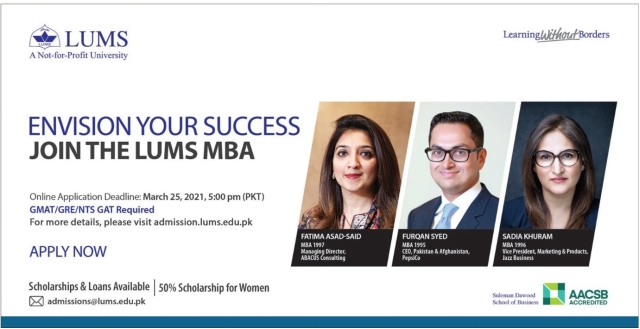 A recent initiative, the 50% tuition fee scholarship for all women admitted to all of its graduate programmes at the Suleman Dawood School of Business (SDSB) at LUMS is a success story all. This scholarship empowers women to participate in business education of the highest quality, and stands to have a significant economic and social impact. The scholarship also opens up options for organisations to hire more qualified women, where currently in Pakistan, only a mere 5% of senior managerial positions are held by women. The School itself is Pakistan's only Association to Advance Collegiate Schools of Business (AACSB) accredited business school and the only one in the world offering such a scholarship. 
Earlier in 2022, AACSB which is the world's largest business education alliance, also featured SDSB in its Innovations That Inspire member spotlight programme. SDSB became one of 24 business schools worldwide to receive this honourable recognition this year for its Women's Scholarship Initiative.
Give a Day to LUMS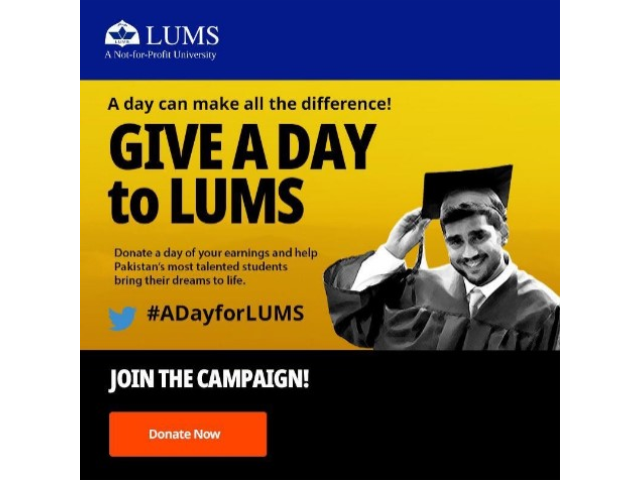 Give a Day to LUMS (GADTL), brainchild of Founding Pro Chancellor, Syed Babar Ali, and spear headed by the Office of Advancement at LUMS, was a targeted campaign that not only focused alumni attention on simply giving back to their alma but about giving deserving others the opportunity to benefit from the same transformative LUMS experience that alumni have already had. 
At LUMS, one in three students receives some form of financial support that makes the University's mission of making education accessible to all, regardless of financial circumstances. The GADTL campaign was launched through various channels including a dedicated webpage, and campaign videos featuring the university's leadership which were circulated through social media. Customised emails, mobilization of alumni through chapter heads across the world and several other initiatives led to the total donations from alumni being raised to 23% within 4 months. Later in the campaign, a Telethon was held with live participation of 32 alumni, which reached a total viewership of 123.5K that help raise 42% of the overall funds pledged.