LUMS Community Celebrates University's 35th Anniversary
On May 20, 2022, LUMS leadership, faculty and staff gathered to commemorate the University's 35th anniversary. This exciting evening was the perfect opportunity for the community to come together, reminisce, and celebrate their achievements. 
Jointly organised by the Human Resources department and the Office of Advancement, the event recognised outstanding faculty and staff members for teaching and service excellence, as well as emeritus faculty for their exemplary contributions to LUMS. It also featured a lucky draw, generously sponsored by Pepsi, L'Oréal and Zephyr through the support of alums, Saad Munawar Khan (MBA '06), Senior Director Franchise and Key Accounts, PepsiCo; Junaid Murtaza (BSc '08), Country Managing Director, L'Oréal Pakistan; Alyshan Parvez (BSc '19), Brand Manager, L'Oréal Pakistan, and Mussaid Hanif (MBA '88), CEO, Zephyr.
Ms. Nuzhat Kamran, Director, Office of Advancement, and a graduate of the University's first MBA batch, extended a warm welcome to the attendees. "Congratulations to everyone for 35 years of excellence of this great university! I have always been drawn to this institution, and have marvelled at how it has forged ahead, blazing new travels in uncharted territory. The University's entire journey makes me very proud," she said.
In his address, Dr. Arshad Ahmad, Vice Chancellor, LUMS, acknowledged the University's founders for their vision of creating a world-class institution that forwards accessible education. He also shared highlights of some of the University's endeavours and major accomplishments over the past few years. Commending the efforts of the entire LUMS community, he said, "These incredible achievements are only possible because of the dedication and forward-looking perspectives of our staff, faculty, administrators, and students."
Sharing the direction and priorities for the coming decades, Dr. Ahmad added, "As we look to the future, we remain committed to strengthening our research intensity and teaching excellence, governance, interdisciplinarity, platform learning and above all, student experience."
He then presented the awards to the recipients of the Vice Chancellor's Award for Teaching Excellence. Ms. Angbeen Mirza and Drs. Zubair Khalid, Ali Raza, Muhammad Tariq, and Momin Ayub Uppal from the inaugural cohort of 2020-21. This year's cohort included Drs. Haniya Azam, Imran Cheema, Muhammad Hamad Alizai, Rahman Shah Zaib Saleem, and Syed Zahid Ali.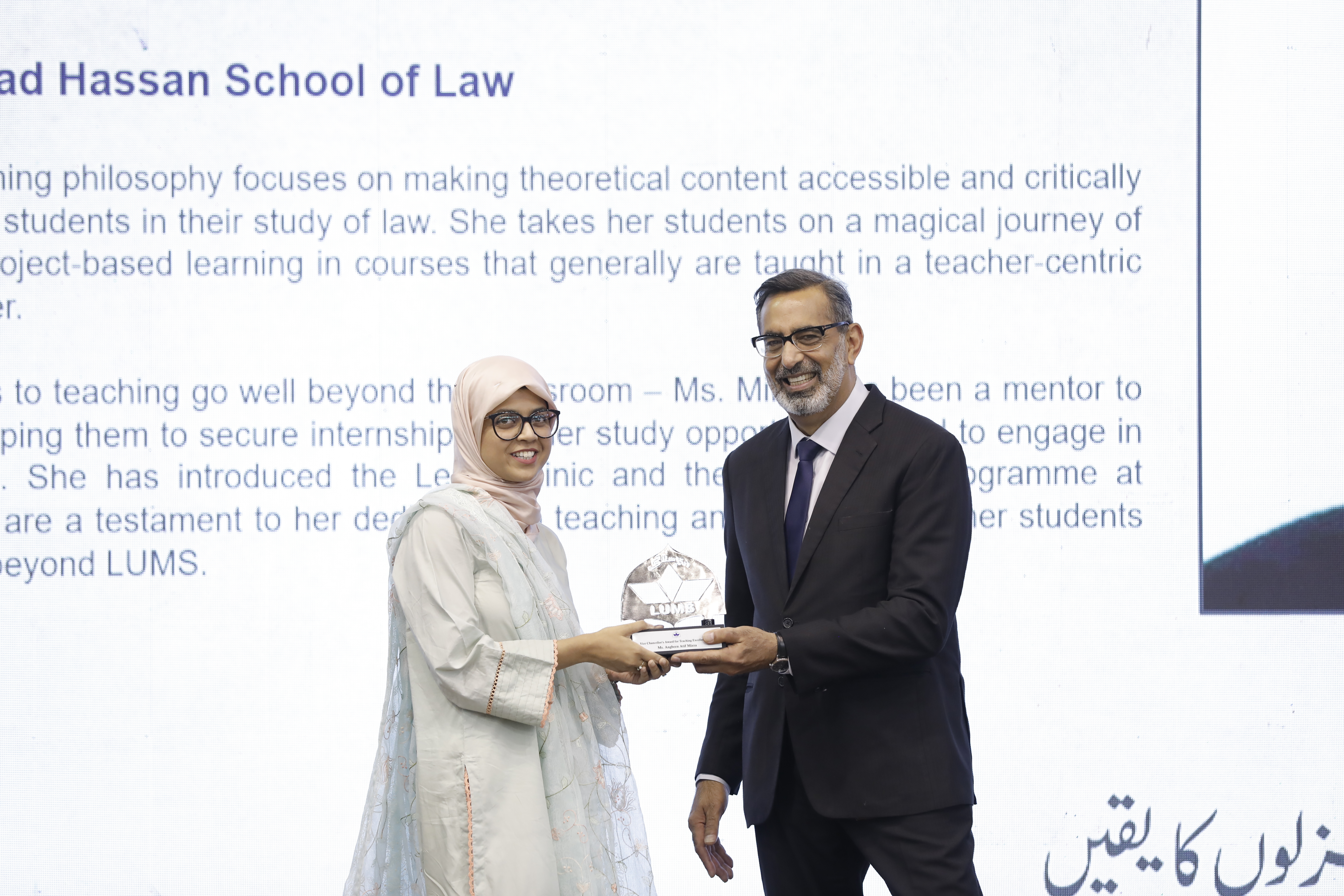 Ms. Angbeen Mirza accepting the Award for Teaching Excellence from Dr. Arshad Ahmad, Vice Chancellor
Dr. Haniya Azam, speaking on behalf of all the Teaching Excellence Award winners, appreciated the initiation of such awards as they recognise and celebrate the teaching profession.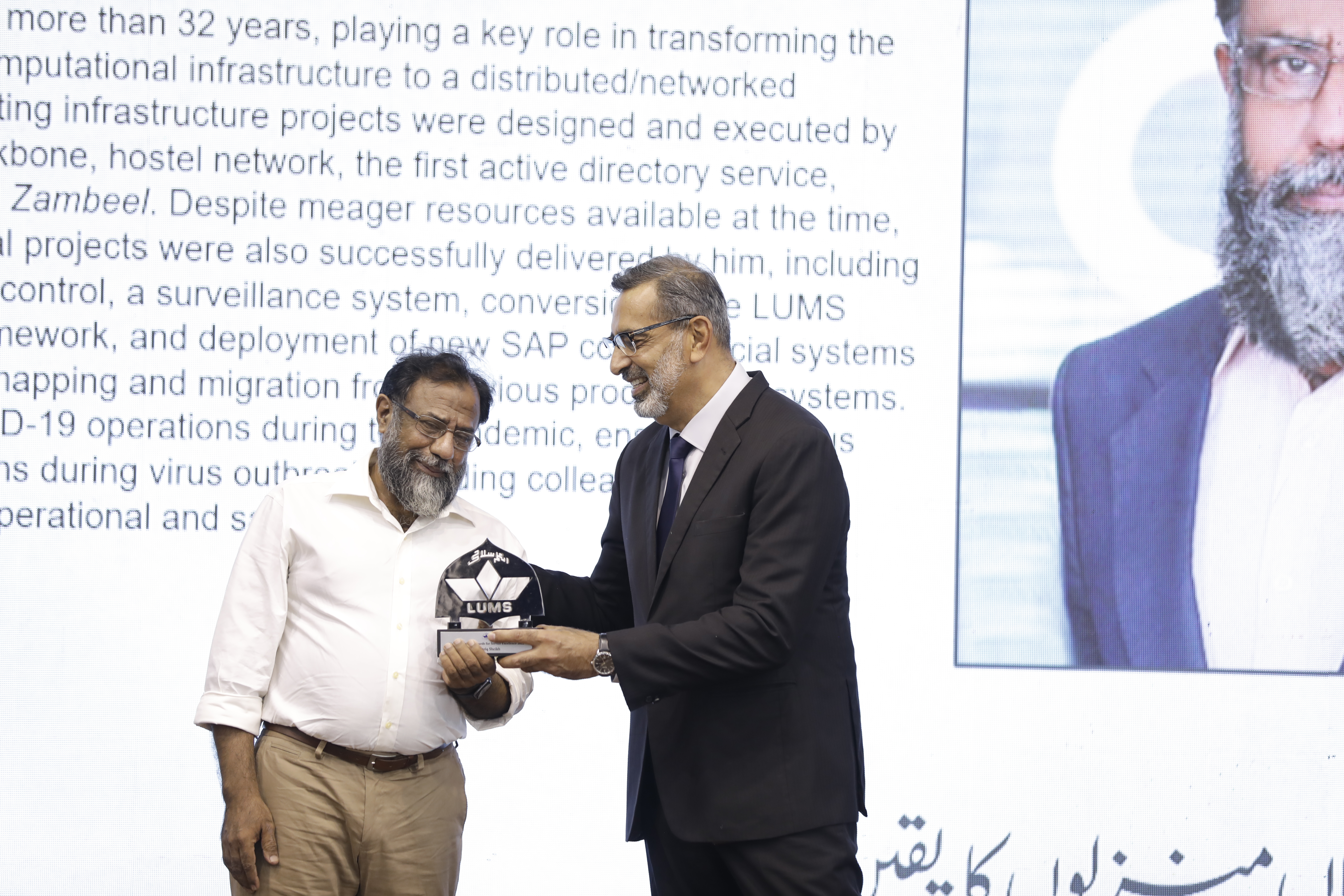 Mr. Tariq Sheikh accepting the award
Ms. Natasha Sohail Barlas, Mr. Muhammad Umar Brar, Mr. Muhammad Faisal Haroon, Ms. Shandana Mehdi, Mr. Hafiz Muhammad Rizwan and Mr. Tariq Sheikh were also recognised as Winners of the inaugural Vice Chancellor's Awards for Service Excellence. Speaking on behalf of all the Service Excellence Award winners, Mr. Sheikh reflected on his over 30-year career with LUMS and the lessons he has learnt. 
Six LUMS faculty members, Drs. Anjum Nasim, Anwar Khurshid, Jamshed H. Hasan Khan, Ehsan Ul Haque and Syed Zahoor Hassan, who were conferred the 'Professor Emeritus' title for their exemplary service and contributions to the University, were also recognised at the event and presented with shields.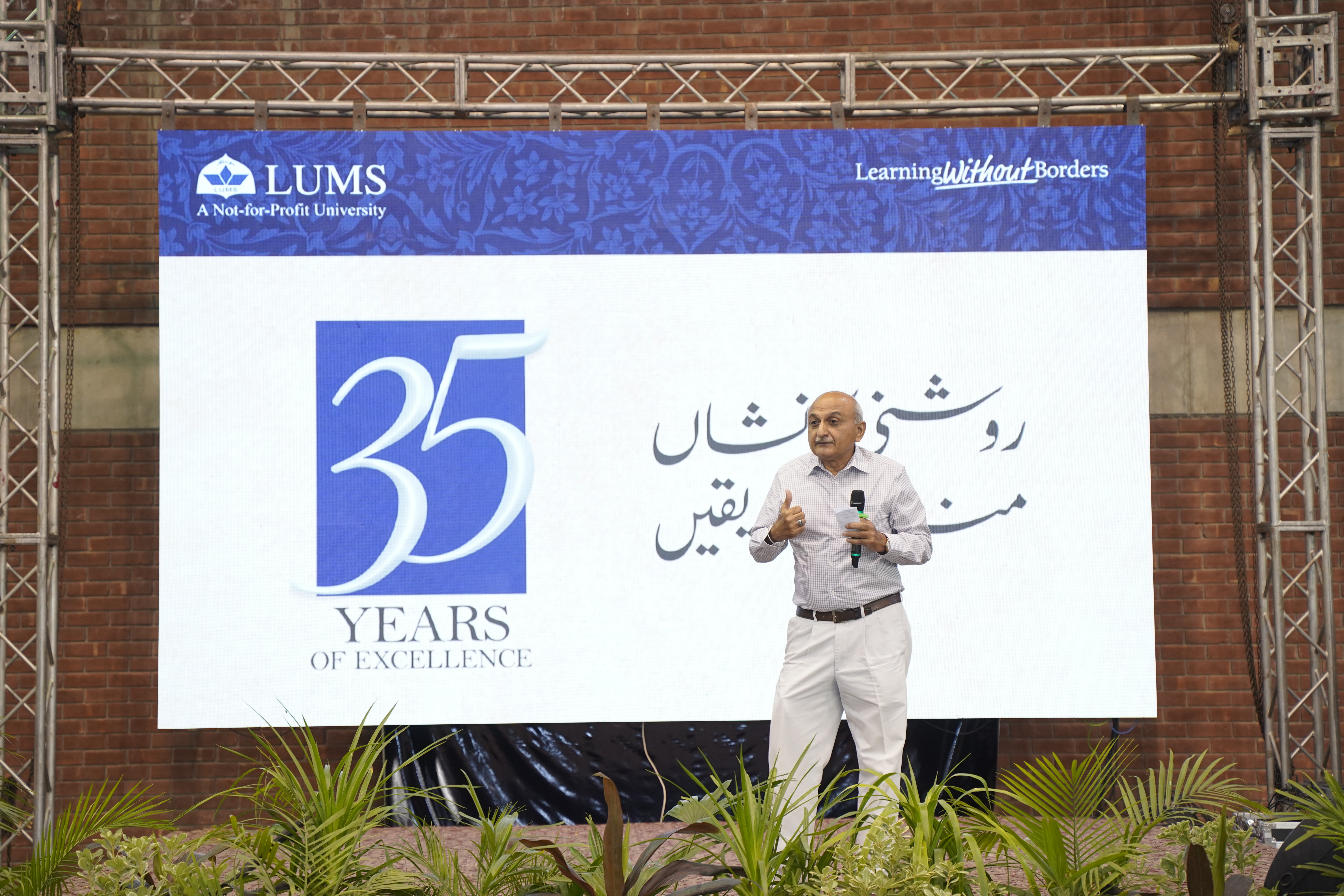 Professor Emeritus, Dr. Zahoor Hassan
Dr. Zahoor Hassan represented the cohort and shared a few words, "I first came in contact with the LUMS administration in 1986 when I attended a marketing class. Once I left that class, it was clear in my mind that I want to be a part of this effort. We have come a long way. Our culture and values have enabled us to get this far. The challenges today are bigger, but so are the opportunities," he said. 
In honour of Dr. Ahmad being named the AIB International Educator of the Year, Rector, Mr. Shahid Hussain, presented him with an award and said, "This award is a great recognition for Dr. Ahmad's career. I thank him for what he has done for LUMS and continues to do; his ideas and vision to take this university forward are reflected in a lot of what is going on at LUMS today."
While addressing the audience, Mr. Abdul Razak Dawood, Pro Chancellor, reflected on the LUMS journey and said, "It is a pleasure to have a gathering like this. 35 years on, we are still going strong and growing in terms of strength, diversity, courses, and academic excellence. I would like to thank the Vice Chancellor, and the support staff and faculty, who are the stalwarts of this institution."
He added that the University's founders had set a strong vision for LUMS and set the bar high for its success. "Let us honour them by keeping the same spirit, same values, and the same pursuit of excellence for decades and decades," he said.