LUMS Creative Writing Students Make Extraordinary Journeys
It is perhaps a fact not well known but practically every year several LUMS undergraduates are admitted to top journalism and writing programmes in North American universities. This year, five LUMS undergraduates will join MFA and MA programmes in creative writing and journalism in various North American universities. These include: 
    Usama M. Lali, MFA in Creative Writing, University of Washington 
    Younis Azeem, MFA in Creative Writing, The New School (Fulbright)
    Mahnoor Azeem, MFA in Illustration, Savannah College of Art and Design (Fulbright)
    Aliya F. Sheikh, MA in Cultural Reporting and Criticism, New York University 
    Asna Nusrat, MFA in Creative Writing, Emerson College
 
For the last ten years, the Department of Humanities and Social Sciences at the Mushtaq Ahmad Gurmani School of Humanities and Social Sciences (MGSHSS) has offered courses in creative writing. While some of these classes are taught by visiting faculty and writers, the majority of them have been taught by Bilal Tanweer, Associate Professor, Comparative Literary and Cultural Studies, who joined LUMS in 2010. 
"In my view, the continued success of our writing students is a testament to the talent of our students as well as to the work we do at the undergraduate level in MGSHSS. All these young people are gifted writers and compassionate thinkers. I have no doubt that they will have a significant impact on Pakistan's literary and intellectual landscape in years to come," said Professor Tanweer.
At the heart of the LUMS creative writing experience is the Fiction Writing Workshop. This is a semester-long workshop of twelve to fifteen writers who are selected on the basis of a writing sample. The purpose of the workshop is to enable students to write original fiction as well as learning to develop a strong critical understanding of the narrative form. The workshop also aims to create a writing fraternity in order to bond students together so they could continue to write and learn from each other after the workshop has ended.
Other students currently pursuing writing degrees in the US include: Rabia Saeed (UMass Amherst, MFA Creative Writing Program – full funding), Sara Saleem Khan (New York University, MA in Cultural Criticism and Reporting – full funding), Mahrukh Aamir (Boise College, MFA Creative Writing Program – full funding), Aiman Javed (University of Missouri-Columbia, MA Journalism – Fulbright scholarship), and Zain Humayun (MIT, MA Science Writing – full funding). 
LUMS and Bilal Tanweer celebrate the success of all these students and look forward to many more achievements in years to come.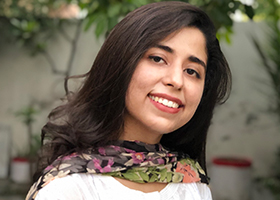 Mahnoor Azeem
Fulbright Scholar – Cohort of 2020
MFA Illustrations, Savannah College of Art and Design

"The discovery that I could write happened during Professor Bilal Tanweer's Fiction Writing Workshop. The workshop taught me an appreciation of the mundane, the art of 'remembering', and finding tales of courage in the lives of ordinary characters. This and my time at LUMS provided me with not only specialised training, but also mentors, spaces, and experiences vital for preparing me in whatever I choose to do next."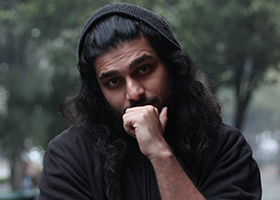 Younis B. Azeem
Fulbright Scholar – Cohort of 2020
Recipient of the Provost Scholarship at The New School
MFA Creative Writing, The New School

"I remain eternally indebted to the creative writing courses and Bilal Tanweer for any and all success that I enjoy today. It was his creative writing courses that refined my writing ability, and allowed me the courage to begin writing seriously. It was during one of his classes where I wrote the fiction pieces which would earn me a place at the MFA program at The New School, and it was his mentorship that allowed me to win the Fulbright Scholarship of 2020. I am infinitely richer for having taken the Creative Writing courses at LUMS, and shudder to think of a life in which I had opted for something other than that first course I took with Prof. Tanweer."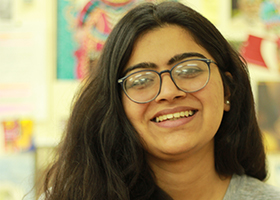 Aliya F. Shaikh
MA in Cultural Reporting and Criticism, New York University

"When I took the Fiction Writing Workshop in the fall of 2017, I learnt that I could write selflessly while still talking about things which mattered to me. Bilal Tanweer taught me that I should write from a place I know but I should never end with a place I know. I learnt that it was okay to write exactly about the things which inhabited my mind, only if I allowed myself courage to look beyond the biases and anxieties, I held so close to me."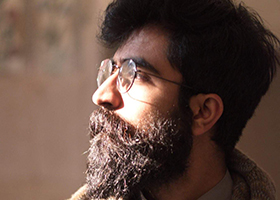 Usama M. Lali
Fully Funded University Scholarship
MFA Creative Writing, University of Washington, Seattle

"Throughout my four years at LUMS my favourite courses by far were always those related to the craft of creative writing. I grew as a writer in the two fiction writing workshops offered by the renowned authors and teachers, Bilal Tanweer and H M Naqvi, and through these courses I was also able to meet and get to know many students who were similarly interested in writing and formed a closely knit group of writers. In this way storytelling became an integral part of my learning experience at LUMS, which eventually helped me secure a fully funded MFA."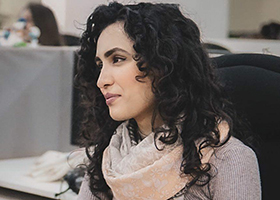 Asna Nusrat
Full Tuition Fellowship
MFA Creative Writing, Emerson College

"Bilal Tanweer offers many intensive creative writing courses that groom your writing profile. If you're serious about writing, you will find a place waiting for you in his classes. You not only engage with the literary underpinnings of creative writing but also go deep into the mechanics of fiction (also the name of one of Bilal Tanweer's courses). These courses resulted in me being offered a position in the MFA programme at Emerson College along with a Full Tuition Fellowship."