LUMS Hosts Launch Ceremony for Dr. Ishrat Husain's Biography
Banker. Economist. Educator. Author. Advisor. These are just a few of the roles Dr. Ishrat Husain has held in his illustrious career. A former Governor of the State Bank of Pakistan, and a recipient of the Nishan-e-Imtiaz, Dr. Husain has left his mark on several institutions. His new biography, Unravelling Gordian Knots: The Works and Worlds of Dr. Ishrat Husain, penned by Sibtain Naqvi, offers reflections on his life and accomplishments and was launched at an exciting ceremony at LUMS on June 6. An inspiring story, this novel is an eyewitness account of the key moments in Pakistan's history.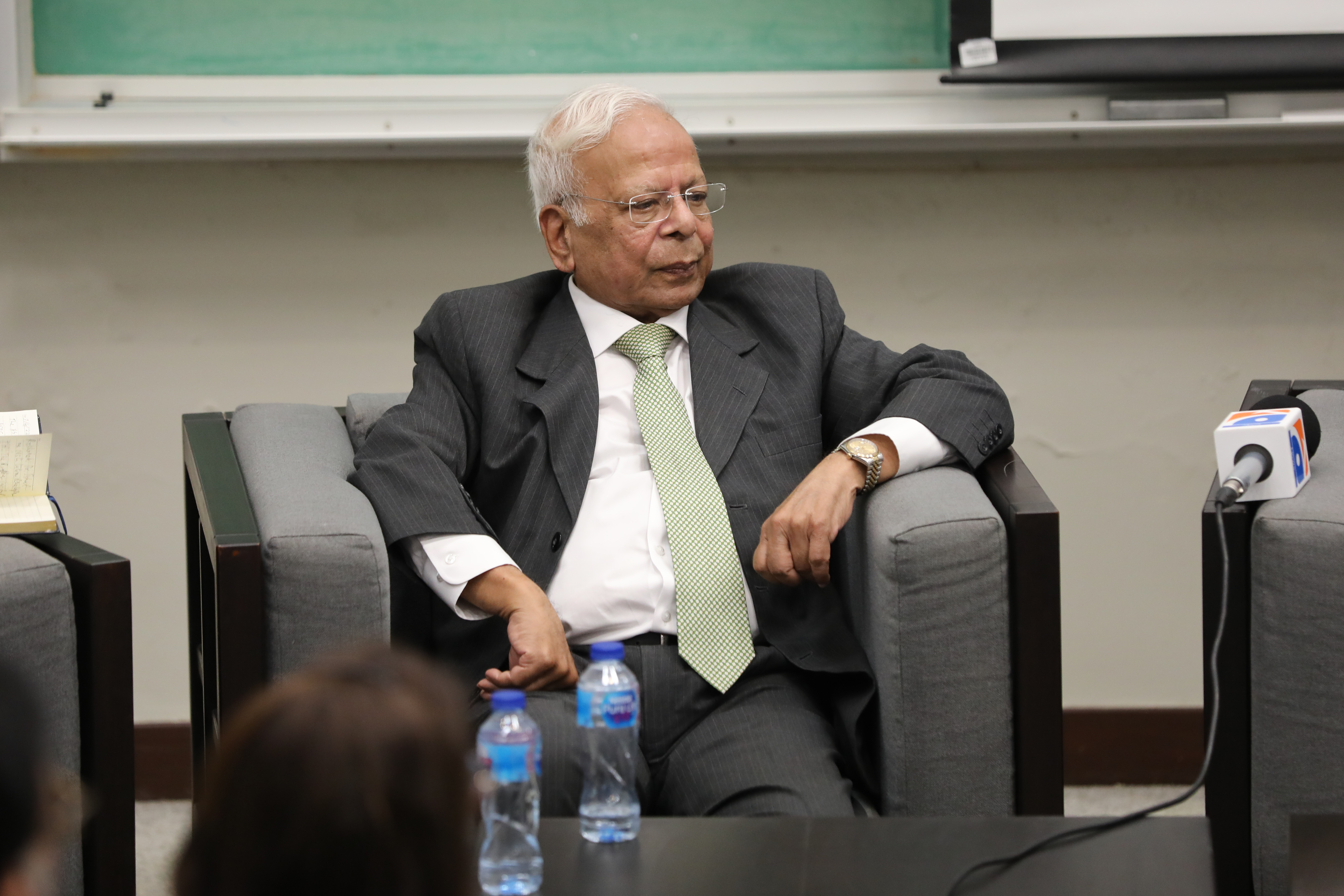 The launch ceremony featured a spirited panel discussion with Dr. Husain, Mr. Naqvi, as well as Mr. Shahid Hamid, Former Governor of Punjab, and Ms. Roshaneh Zaffar, Managing Director and Founder, Kashf Foundation. Members of LUMS' leadership were also present at the event, including Founding Pro Chancellor, Syed Babar Ali; Pro Chancellor, Mr. Abdul Razak Dawood, and Vice Chancellor, Dr. Arshad Ahmad. 
In his welcome note, Mr. Abdul Razak Dawood praised Dr. Husain and his legacy. "Today, the State Bank is still an institution that people trust and respect, and that is because of Dr. Husain's hard work. I wish there were many more Ishrat Husains!"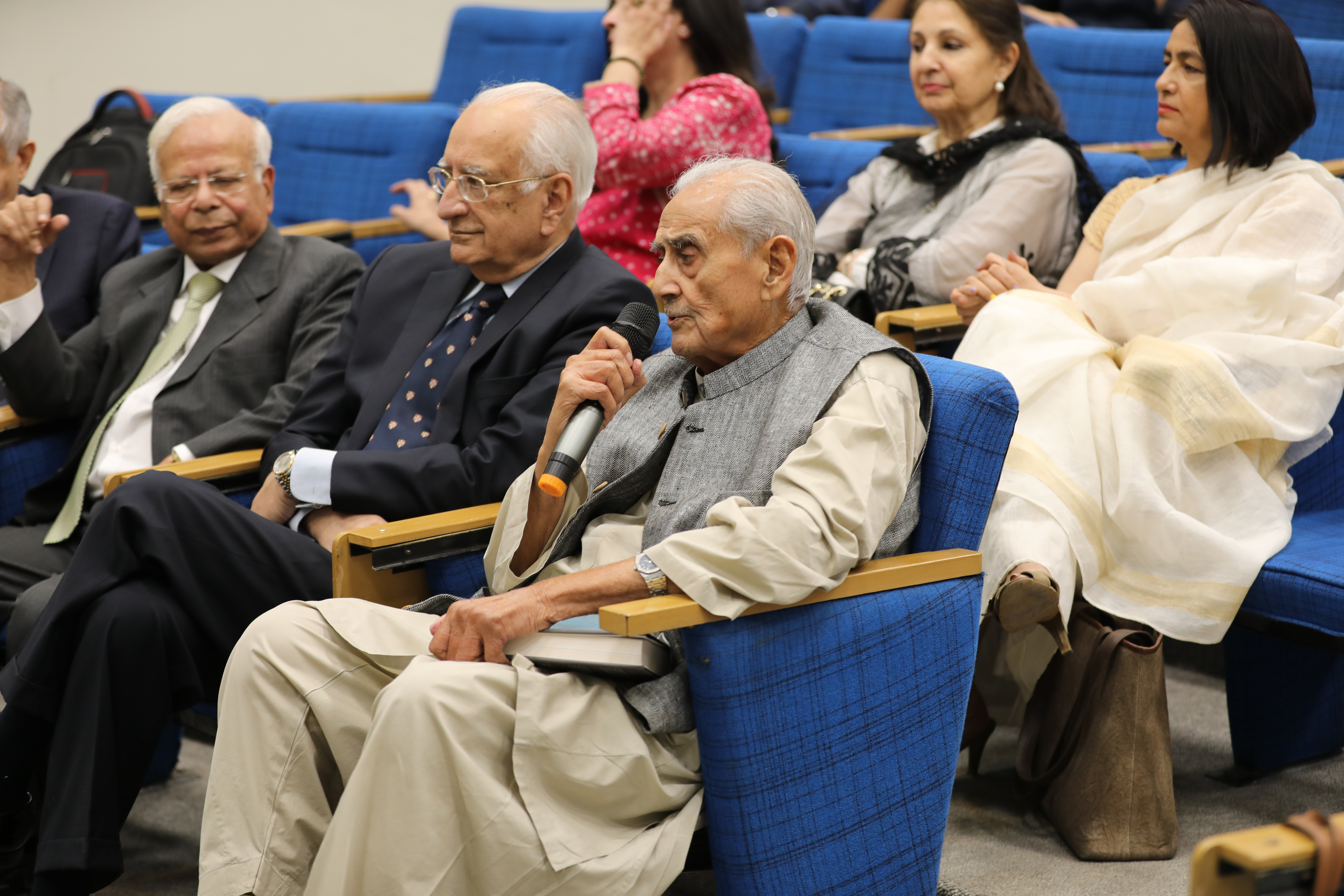 Syed Babar Ali echoed similar sentiments and said, "He is a living legend. He gave up the opportunity to be abroad and came back to serve the country. We are very grateful to him."
In his address, Dr. Ahmad highlighted that Dr. Husain's life holds valuable lessons for everyone, "A lot of what you show in your book gives a lot of hope to many of us who look at Pakistan as a series of challenges, but you've shown us how they are in fact opportunities."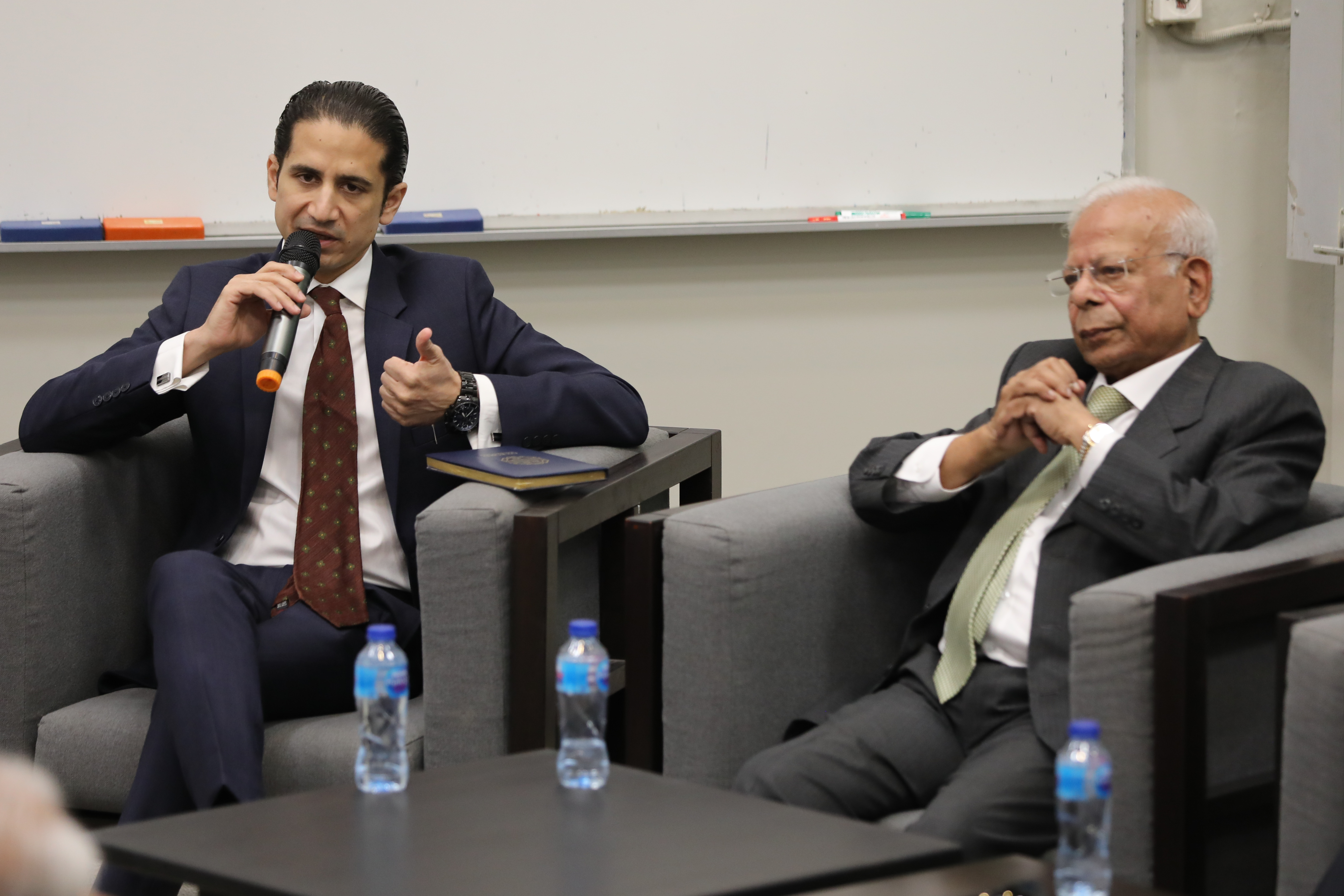 During the panel discussion, Mr. Naqvi talked about how he came up with the name of the book. The phrase 'Gordion Knot' has its origins in Greek mythology and has become a metaphor for a complex problem that requires a creative solution. Mr. Naqvi explains, "At every stage, Mr. Husain was faced with great challenges - these 'Gordion Knots'. But unlike Alexander the Great, he did not slash the knots, but rather, like a surgeon, unravelled them slowly."
Talking about his motivations for writing the book, he shared that he believes Dr. Husain is a source of inspiration, and he wanted to convey that to the youth of Pakistan. "We live in a cynical age," he said, "We desperately need people like Dr. Husain who we can unabashedly admire."
Dr. Husain was candid about his life experiences and shared how he had been bullied as a child. "I could have given up and said life is cruel. But I decided to prove my bullies wrong." He chose to become a debater, as he felt it would help him overcome his weaknesses. Just a few years later, the people who ridiculed him ended up electing him as their College Union's Vice President.
This spirit of determination carried him through his career. When he joined the State Bank, the organisation was in poor shape. "I took it up as a challenge because I wanted to prove that you can do justice with a public sector institution," said Dr. Husain. His hard work and perseverance paid off, and he believes that even today, it is the strongest institution in the public sector.
Dr. Husain also spoke about his tenure as Dean and Director at the Institute of Business Administration (IBA). He recalled that many wondered why he would take up the role after holding senior positions such as Governor. He would respond by saying, "That was my job. This is my passion." He appreciated Syed Babar Ali's vision for LUMS and noted that they inspired initiatives at IBA.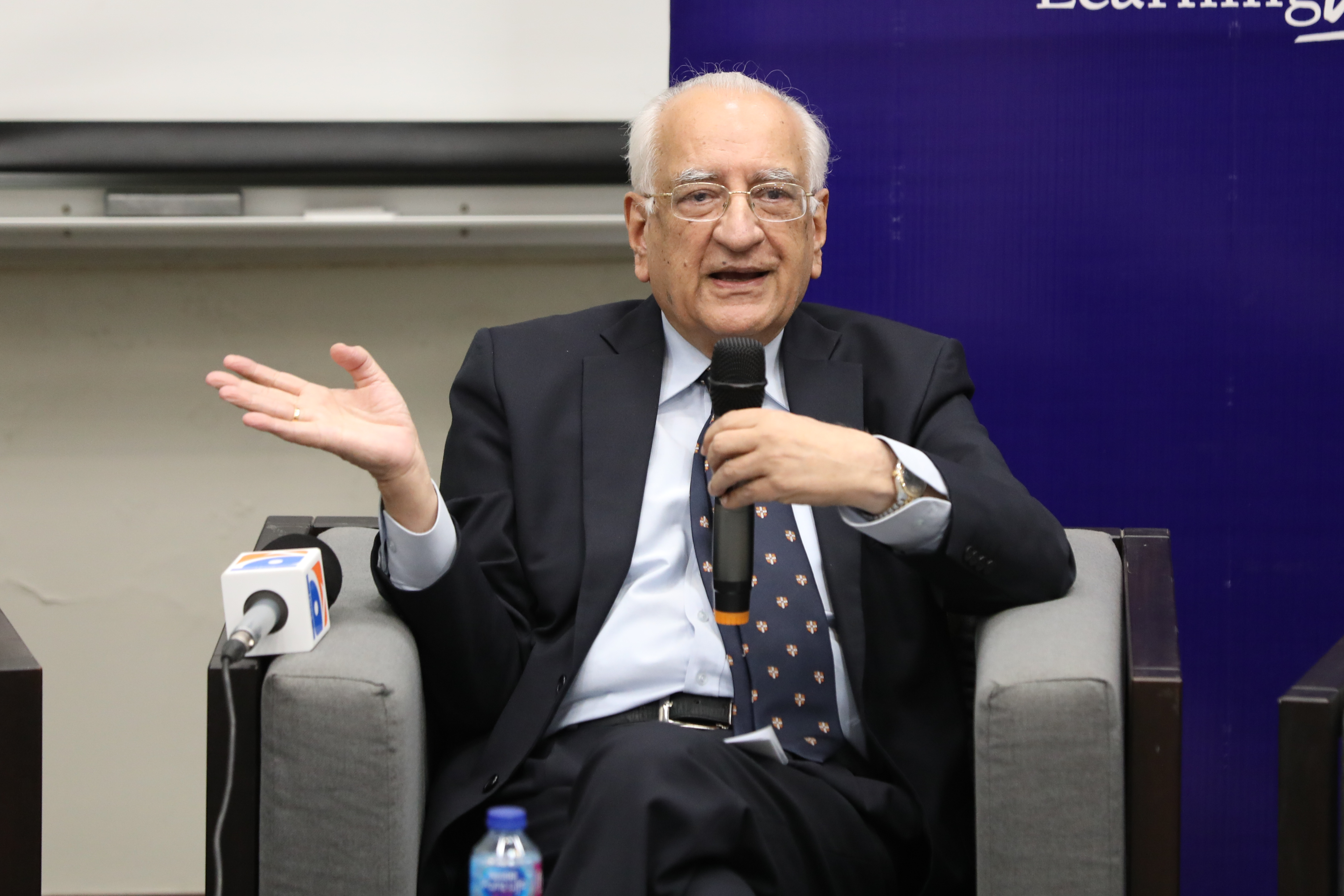 Mr. Hamid also shared anecdotes from his lifelong friendship with Dr. Husain. He narrated a few stories about their time together and noted that the values of truthfulness and honesty remained a constant. 
"He brings out the best in young people," said Ms. Zaffer. "He taught me that if you want to make a difference, you have to collect data and that evidence matters."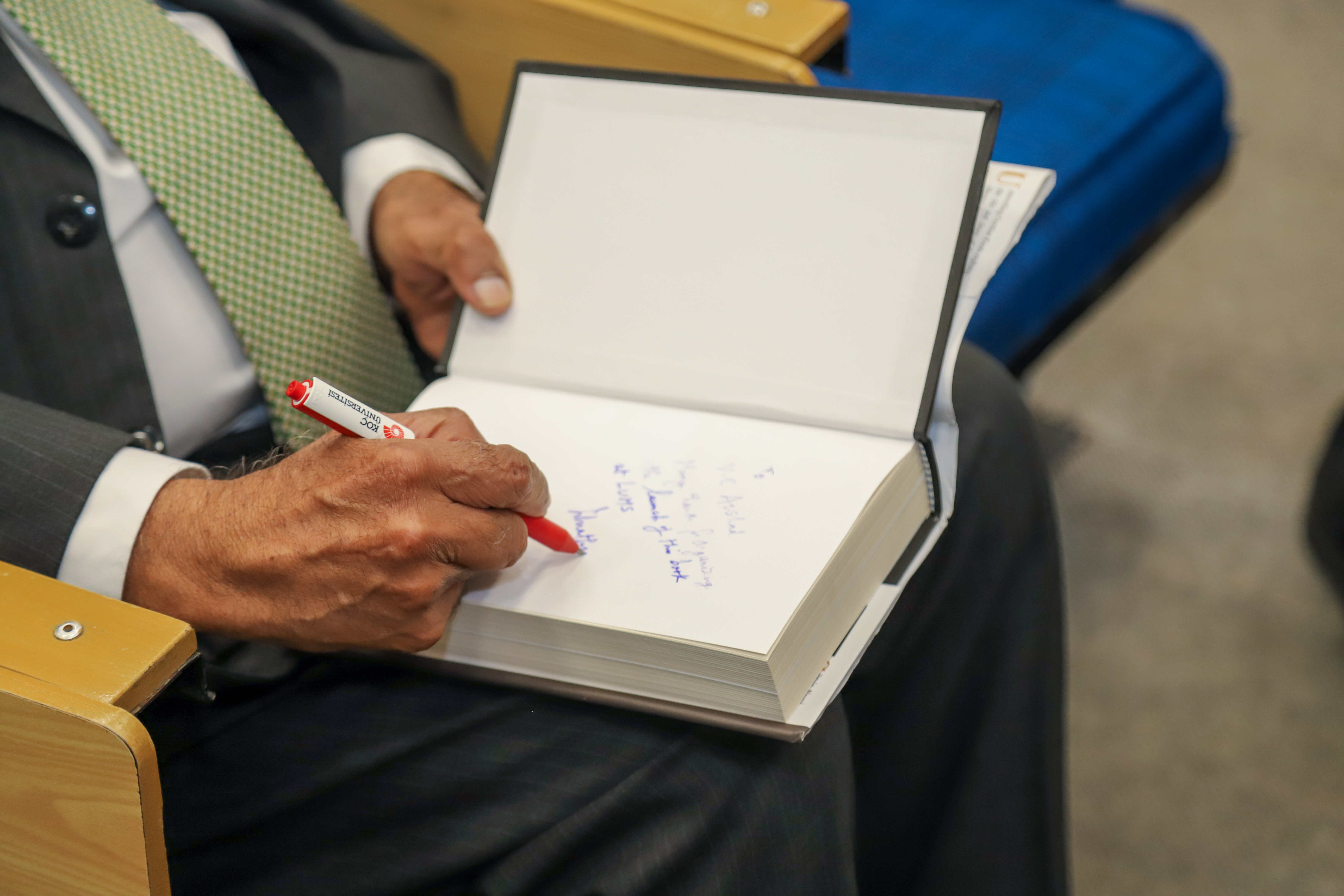 The audience also had the opportunity to ask the panel questions and get their books signed. Dr. Husain's life and stories left the attendees inspired. Ms. Zaffer summed it up best by saying, "Learning from him is the message of hope. Even in the worst of times, you can find the light that will ignite the fire"