LUMS Proposes to Strengthen Industry-academia Partnerships
A series of events to engage with industry were lately hosted by LUMS in Karachi, Islamabad and Lahore. These provided an opportunity for the University's leadership and corporate leaders to connect with each other and discuss prospective future collaborations. Members representing LUMS leadership included Pro Chancellor, Mr. Abdul Razak Dawood, Rector, Mr. Shahid Hussain, Vice Chancellor, Dr. Arshad Ahmad, Members of the Management Committee, Mr. Osman Khalid Waheed and Mr. Faisal Dawood and Director of Advancement, Ms. Nuzhat Kamran. 
A series of discussions and presentations apprised the guests of the recent achievements of the University and its high- impact initiatives in the areas of innovation, knowledge creation, and community development. The sessions also emphasised that strong industry-academia partnerships and investment in research-based solutions are the only effective ways of tackling local and regional challenges.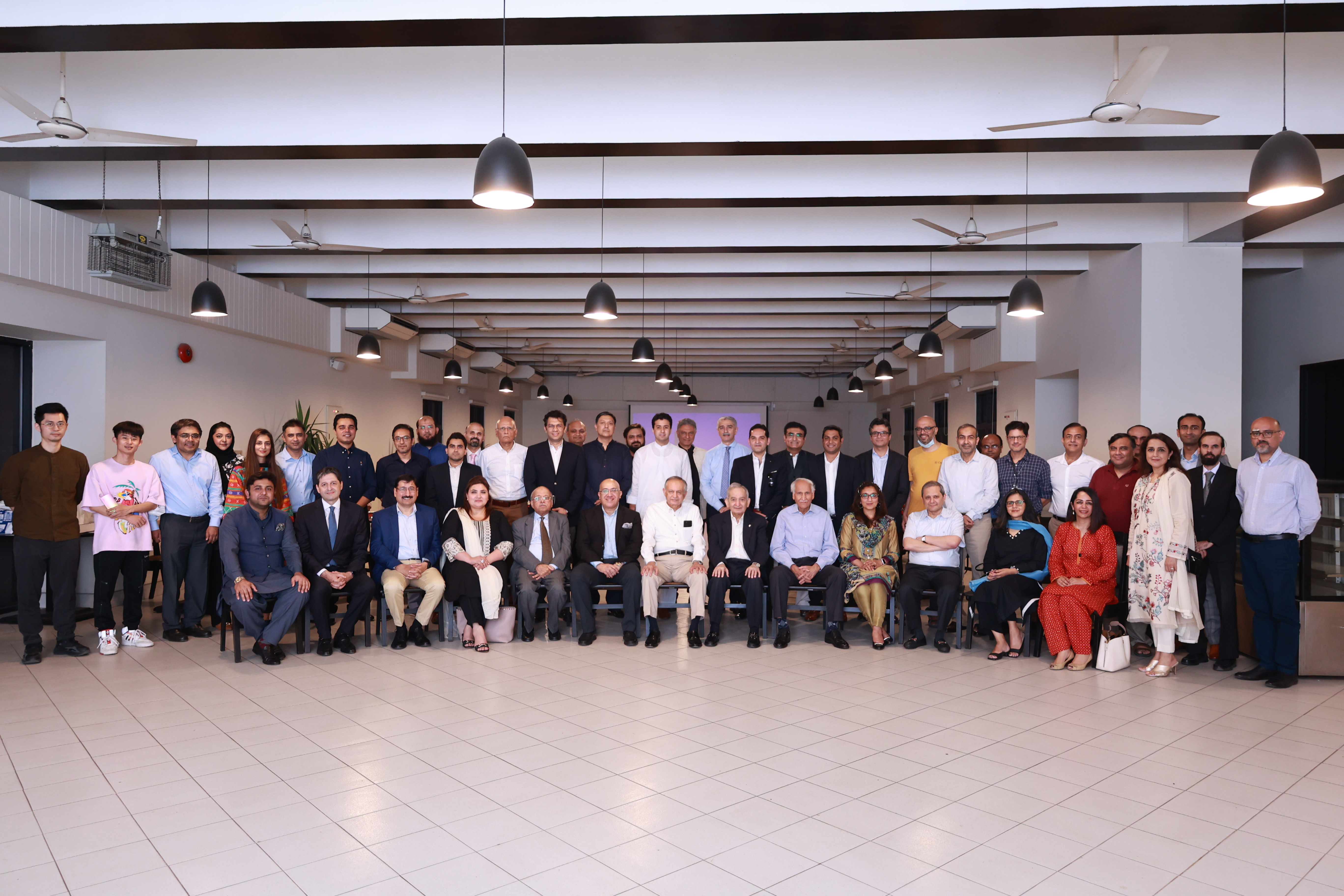 While addressing guests in Lahore, Pro Chancellor, Mr. Dawood acknowledged the University's industry partners for their generous support towards the LUMS mission to promote access to high-quality education in Pakistan. He further added that these partnerships enabled the University to continue its work of transforming higher education and learning through high-quality research and innovation. 
Mr. Hussain highlighted the achievements of LUMS and said, "In a short time of 35 years, LUMS has become a hallmark of higher education standards in Pakistan. During this period, we have reached a milestone in the number of students and programmes offered at LUMS. We are also privileged to have an extremely qualified faculty who are exceptionally motivated. The University has had a great impact on society in more than one way including initiatives such as the National Outreach Programme which has inspired students in different districts and regions across Pakistan to do better and uplift their communities. We have had the good fortune of receiving good advice from all the major education centers across the world and that has been possible due to the values, merit system, diversity, inclusion, and financial support structure that is showcased here at this institution."
While reiterating that the University's progress would not have been possible without its donors and industry partners, Dr. Ahmad said, "We are here not only to thank you but to learn from you. We are exploring non-traditional bridges that will ultimately break new ground so we co-design outcomes for LUMS in partnership with our industry patrons. While we aim to increase the level of student inclusion, we also want to do more in terms of our product offerings as well." He concluded his remarks by proposing a firm industry-academia partnership framework to strengthen efforts for collaboration.
Ms. Kamran led the main presentation during all the events, sharing important updates from the University. She explained that LUMS is home to students from all across the country and that the institution is always striving to make the campus more inclusive. Ms. Kamran further shared that the decision to provide 50 % scholarship to women enrolled in graduate programmes at the Suleman Dawood School of Business have increased female enrolment from 12% to 37% and the effort has been recognised by the Association to Advance Collegiate Schools of Business' Innovations that Inspire Initiative 2022. 
The engagements in Karachi, Lahore and Islamabad allowed for a productive exchange with the University's partners. The discussions culminated in exciting ideas for future collaborations within the higher education landscape that can have a far-reaching impact in the progress and development of the country.