LUMS Senior Management Meets Members of the Sialkot Chamber of Commerce & Industry
The senior management of LUMS was invited to visit the Sialkot Chamber of Commerce and Industry (SCCI)—the premier trade body representing the export-oriented industry of Sialkot. The Chamber was established in 1982 with late Mr. A. D. Bhutta as its Founding President. The current office bearers include incumbent President, Mr. Qaiser Iqbal Baryar (Talon Sports), Senior Vice President, Mr. Khurram Aslam Butt (Mukhtar Exports) and Vice President, Mr. Ansar Aziz Puri (Newwings Industries).
Organised by Mr. Khawar Khawaja, CEO, Grays of Cambridge, the event took place on September 14, 2021. Representing LUMS at the event were Syed Babar Ali, Founding Pro Chancellor; Mr. Shahid Hussain, Rector; Dr. Arshad Ahmad, Vice Chancellor; Dr. Alnoor Bhimani, Dean, Suleman Dawood School of Business; Dr. Sabieh Anwar, Dean, Syed Babar Ali School of Science and Engineering and Ms. Nuzhat Kamran, Director, Office of Advancement. Members of the LUMS Sialkot Alumni Chapter were also in attendance.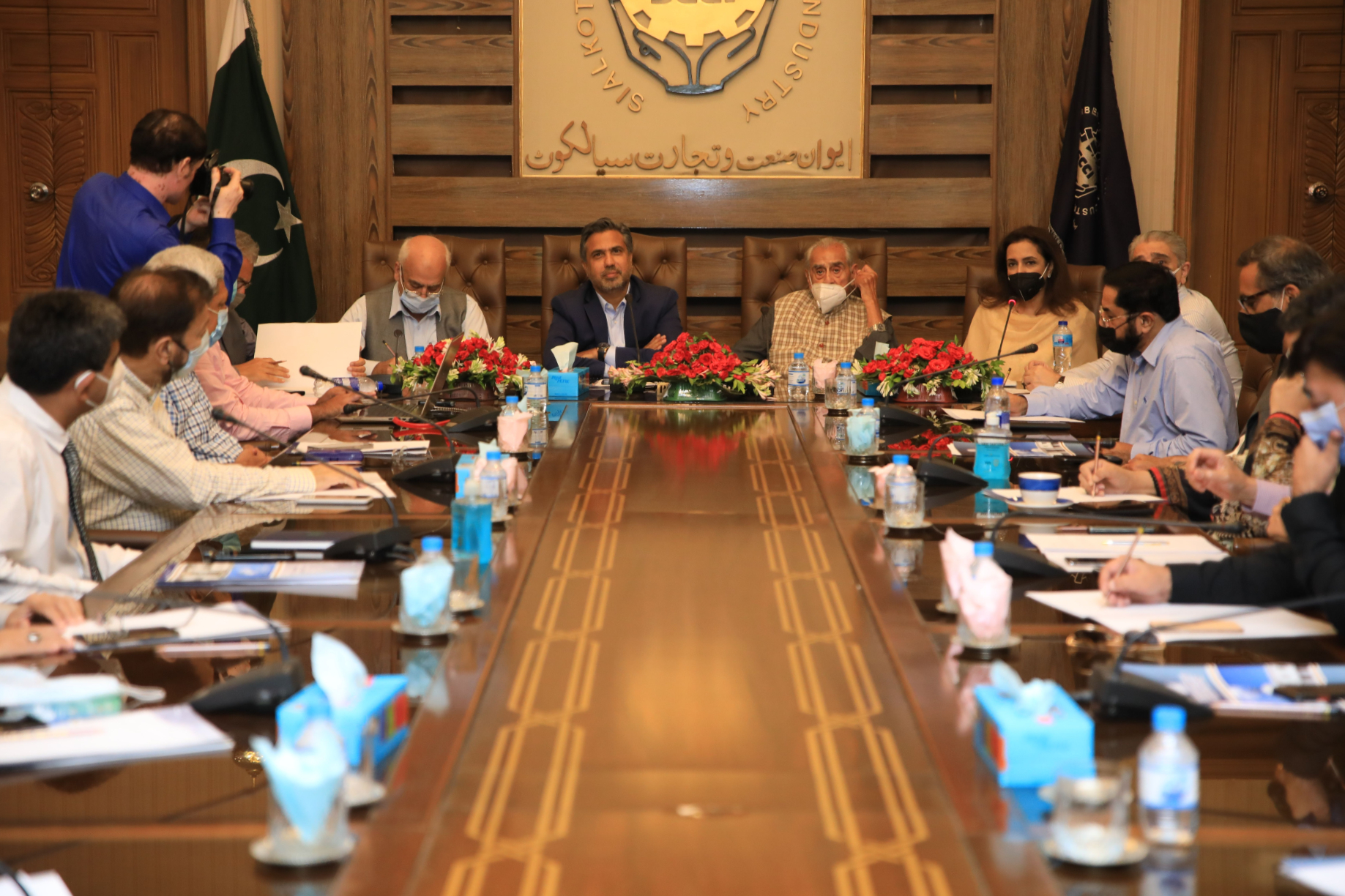 The meeting was initiated with an introductory speech by the SCCI President, Mr. Baryar, followed by a presentation on LUMS, conducted by Ms. Kamran, Dr. Anwar and Dr. Bhimani. The presentation highlighted all the key achievements of the University, specifically focusing on the research centres at LUMS that are working actively with the industry in areas such as water informatics, big data, energy and artificial intelligence.
Mr. Hussain spoke about the various ways through which LUMS has innovated and contributed towards the education landscape of the country. He specifically elaborated on the four-year Bachelor's degree at LUMS, the pioneering five-year, BA-LL.B programme as well as the Science and Engineering programmes. He said, "The Sialkot industry has demonstrated tremendous entrepreneurial spirit, and LUMS is another example of the same. Right from the first day, our objective was to do things that Pakistan needs, for which we have initiated various teaching methodologies. We would like to extend a warm welcome to the chamber to visit LUMS and discuss different opportunities to collaborate with entrepreneurs in Sialkot, which would be beneficial to both the academia and the industry."
Dr. Arshad Ahmad discussed the LUMS experience and initiatives undertaken at the University. He introduced the National Outreach Programme and highlighted how it impacts the lives of the students as well as their communities. He also invited the Chamber to build a long-standing relationship with LUMS and visit the University to see the work happening within its various centres as well as explore the opportunities available at the Rausing Executive Development Centre (REDC) at LUMS.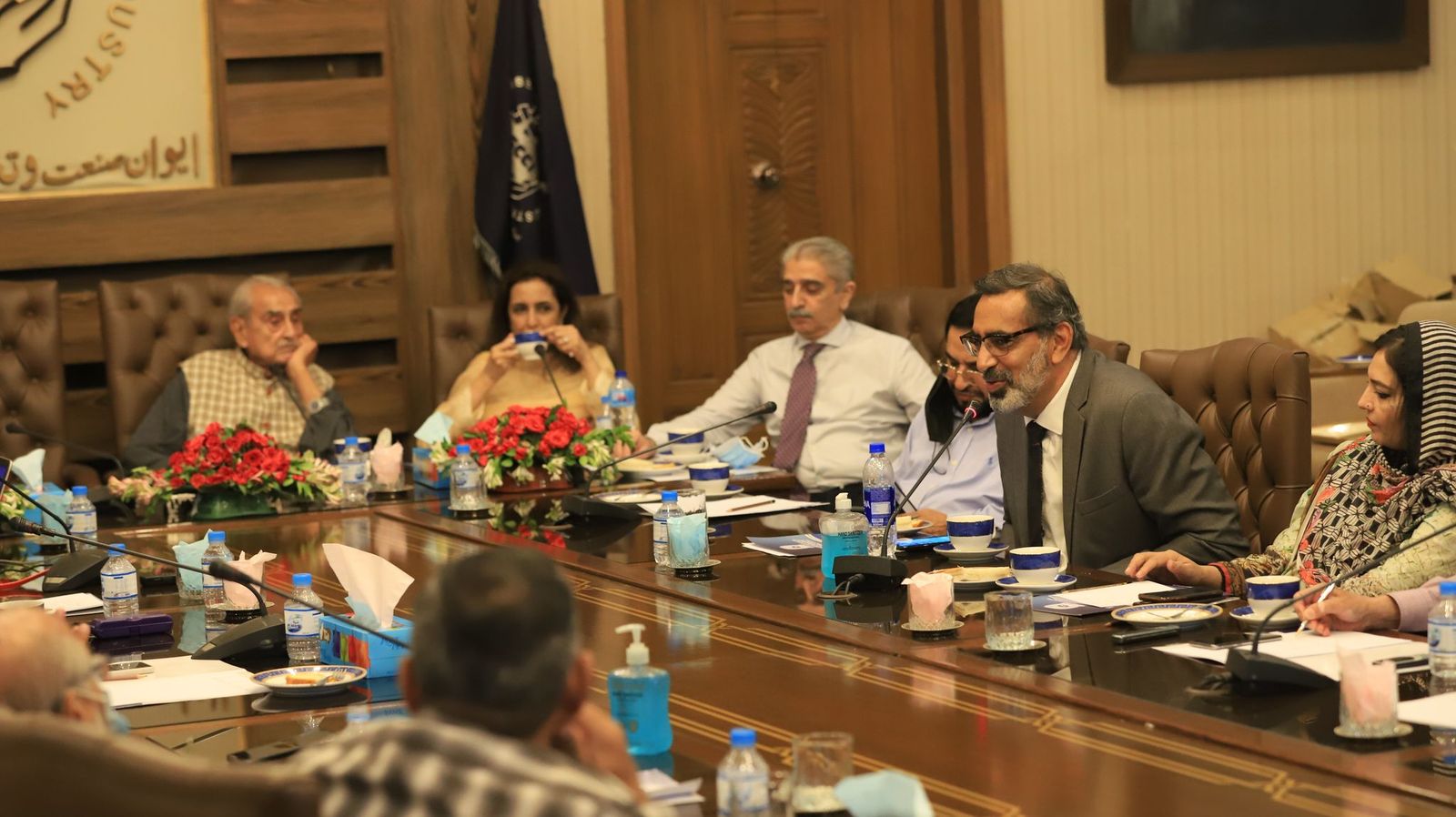 Syed Babar Ali appreciated the team for organising the event, and stated, "I salute the members of this chamber who have taken so much initiative in turning Sialkot into a modern city and also, in creating a new paradigm in the management of the infrastructure." He spoke to the Sialkot community about the importance of corporatising family businesses and encouraged them to collaborate with other districts and industries. He also emphasised the importance of treating employees well in order to make a business flourish. Upon hearing that Sialkot is planning to open up a technical institute, he said, "We at LUMS would like to help you learn from our experiences and would be willing to share our courses and teaching methodologies with you. We also have advisory boards at LUMS who inform us of the best practices in universities worldwide, and we can extend the same services to the institute in Sialkot."
Mian Naeem Javed, Former President, SCCI, agreed with Syed Babar Ali, stating "There is tremendous potential that we can tap into in Sialkot if we follow the advice of individuals such as Babar Saab. We would need support from LUMS in expanding our industries."
Mr. Khurram Aslam Butt, member SCCI, also shared the same sentiment and added, "Since our first conversation with Syed Babar Ali, we have constantly been in touch with the LUMS management. I believe that we should sign a formal MoU with LUMS so that they can provide us with the capacity building that our industries need in terms of marketing, production and development. This will be a great opportunity for us if we start to do this in a more formal manner."