LUMS Student Becomes First Pakistani Woman to Summit Gondogoro Peak
On September 2, 2021, at 1:43 pm, Saba Haleem (BSc Economics 2022), President LUMS Adventure Society (LAS) successfully summited Gondogoro Peak in the Hushe Valley at Skardu, becoming the first woman from Pakistan to do so. Journeying alongside her were four other members of LAS, Syed Qasim Shah (BSc Economics and Politics 2022), Hamza Farooq (Bsc Economics and Politics 2022), Ahmed Qazi (BSc Computer Science 2022), and Muhammad Ateeque (BSc Economics and Politics 2022). The group also became the first-ever student-led expedition to the Peak.
The Gondogoro Peak is a technical snow-capped climbing peak of the Karakorum Range situated in the north of Hushe valley, and is surrounded by K2, the world's second-highest peak. The Gondogoro Peak summit is well-known amongst the international mountaineering community as a tough expedition.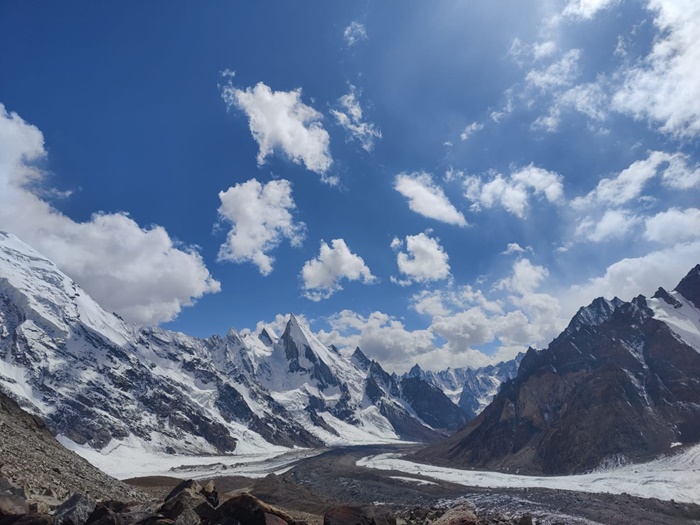 Exploring unchartered territories in Pakistan, however, is one of the main motives of LAS. The Society provides its members the opportunity to challenge themselves and scale new heights. This current feat required months of preparation as the LAS team spent their summer training and building up strength and stamina. For Saba, mental fitness was an equally important aspect of the preparation, if not more. "I feel these expeditions are a bigger challenge mentally. You have to tell yourself that you're going to walk long hours and there will be difficulties along the way. Physical fitness can help you to some extent, but it's your mind and your thinking that will actually lead you to the achievement."
During the expedition, the team was joined by Mr. Rozi Ali, a senior mountain climber who has summited all of Pakistan's 8000m peaks including Gasherbrum, Broadpeak and Nanga Parbat. A legend in his own right, he was also the mentor of the late Ali Sadpara. 
Along with Mr. Ali, Yousuf Bhai, a high-altitude porter and Hatim bhai, the team's guide, also accompanied the group. "They played a huge part in making the expedition a success and LAS is grateful for their efforts, support and beautiful company throughout the expedition," expressed Saba. 
The trek to the top of Gondogoro peak took the group five days. Saba shared that it was the last leg of the trek that was the most difficult. "We had to climb an 80-degree ice wall with a rope, and the rope kept slipping because of the snow and ice. It was really hard to push yourself up, but my teammates kept encouraging me. When we reached the summit all of us started crying because we finally did it after all the hard work."
It was when Saba was on summit that she came to know she was the first woman to have achieved this milestone from Pakistan. "Even though Hatim bhai kept on saying throughout the trek that if we do this peak it'll be a great achievement, we didn't realise what it meant. But when he told me on the summit that I was the first Pakistani woman to do reach this peak, I was amazed." She added that as the president of LAS, it was important for her to do this so that she could show to all the young woman who wanted to achieve something big that they could do what whatever they set their minds to.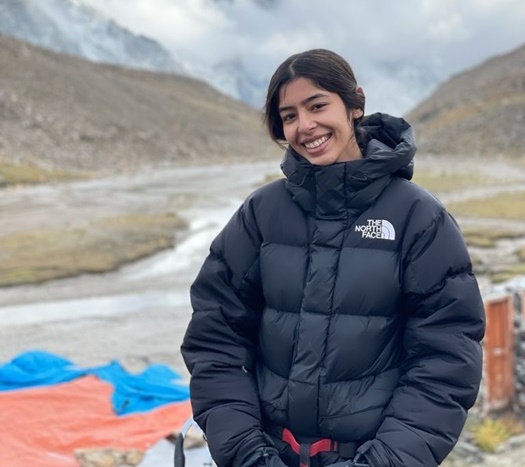 Saba gives the LUMS Adventure Society and its members a lot of credit for providing her with the support and platform to explore her passion for adventure, in turn making an achievement like this possible. "Our society is really small and we're a family. We keep on encouraging each other. If I wasn't part of this dynamic community, I wouldn't be able to achieve this. I owe it all to LAS."
The next major goal for Saba is to climb an unclimbed peak. She also hopes that the trekking community will continue to get more attention and people like Mr. Rozi Ali, Yusuf bhai and Hatim bhai are recognised for their accomplishments. "Rozee bhai told us some stories about his life and his experiences that were so inspiring. They have all done 8000 metres, which is an amazing feat. I want this trekking community to be recognised, because they have so much talent."