Mahmood Group to Sponsor a National Outreach Programme Scholar at LUMS
Mahmood Group has committed to sponsoring one National Outreach Programme (NOP) scholar at LUMS. The Group's partnership with LUMS was formalised at an MoU signing ceremony held on April 10, 2023, where Dr. Arshad Ahmad, Vice Chancellor, LUMS, and Mr. Anees Khawaja, CEO, Mahmood Group signed the agreement. Ms. Kehkeshan Usman, Head of Business Affairs and Sustainability, Mahmood Group, was also present at the ceremony. Representing LUMS were Mr. Shahid Hussain, Rector; Dr. Muhammad Sabieh Anwar, Ahmad Dawood Chair and Dean, Syed Babar Ali School of Science and Engineering; Dr. Tauqeer Abbas, Associate Professor, Chemical Engineering and Ms. Nuzhat Kamran, Director, Office of Advancement.
The Mahmood Group is a conglomerate that was founded in 1935 and has served various industries and verticals with a diverse portfolio over the last 86 years. The Group is the 10th largest exporter of Pakistan with a presence in over 70 countries. Apart from textiles, it has also catered to industries like hospitality, leather, food, energy, trading, and real estate. 
Mr. Hussain appreciated Mahmood Group for its support for accessible education and said, "We provide financial assistance to everybody who needs it. Depending on the student's need, it could range from 20% to 100% provided in the form of grants as well as interest-free loans. This is an effort in which we hope more individuals and organisations will support us so we can make education accessible for all."
Dr. Ahmad appreciated Mahmood Group's support for the NOP and highlighted the importance of philanthropy. He stated that it is through the generosity of such partners that the University continues to provide access to higher education to talented students in Pakistan. He said, "Providing students with accessible opportunities is our priority at LUMS as a part of our 'Learning Without Borders' philosophy. Through the support of our industry partners, we will continue to provide these students with a chance to achieve their goals and dreams."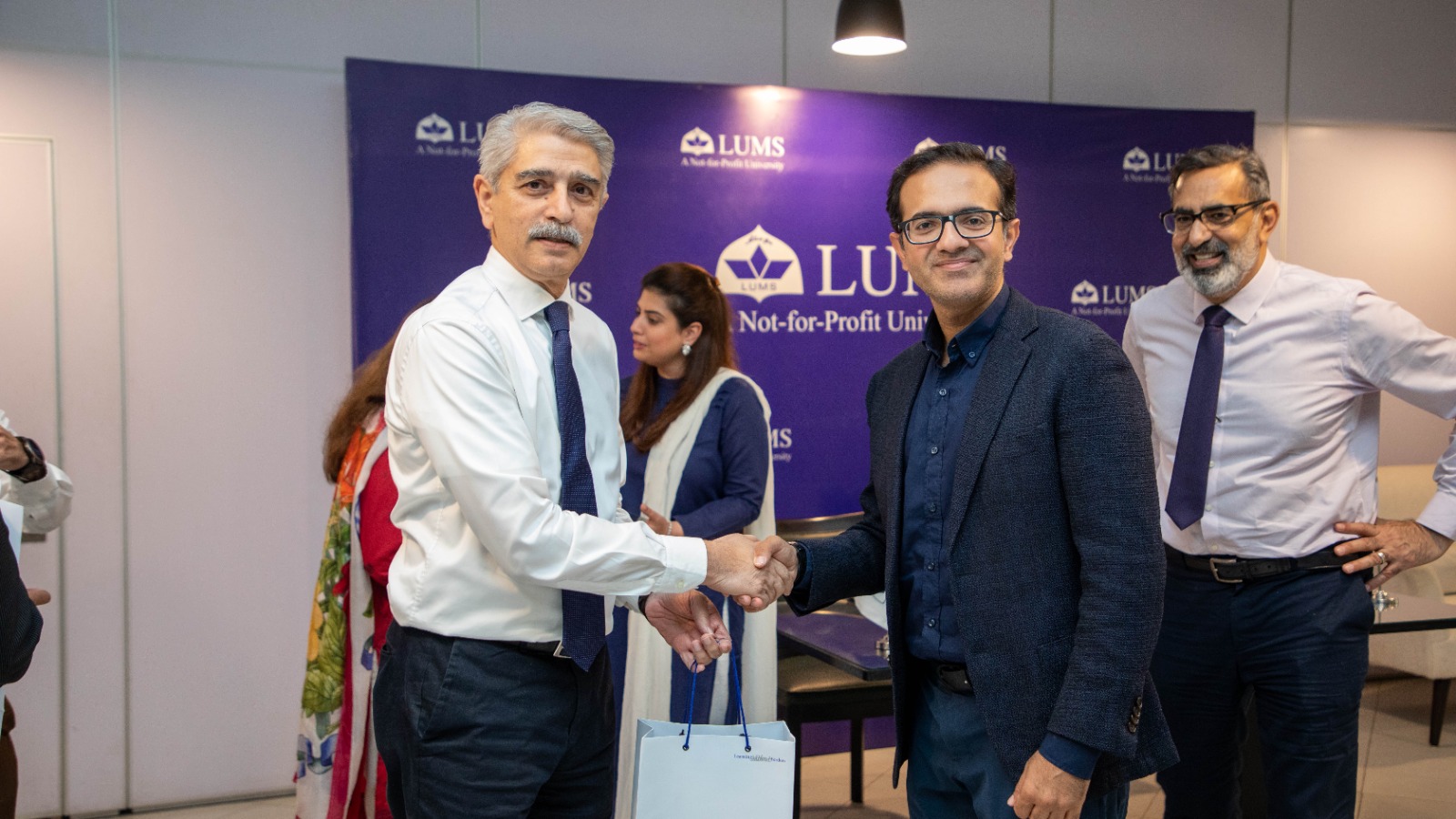 Mr. Khawaja also spoke about the partnership. "We believe in giving back to the community and providing opportunities to others. With this scholarship, we aim to assist with the development of future leaders who will contribute to the industry and the country."
Dr. Anwar provided an overview of the Syed Babar Ali School of Science and Engineering and its research projects. He highlighted the School's commitment to promoting sustainability and innovation in research and education. The discussion also included the issue of water conservation. Dr. Abbas briefed the attendees on the proposed Water Quality Lab at LUMS which will be equipped with state-of-the-art technology.