Maths Can Actually Be Fun if Taught the Right Way!
A PhD teacher hands out sheets of A4 paper to small groups of seven to 16-year-olds. "Anyone who can fold the paper ten times will be given a gift," he adds. The class is abuzz with energetic kids, ready to take up the challenge. Each group tries hard to win but at the eighth fold, there is a roadblock. No one can go further than this. One student asks for tissue paper and says he can do it. Another asks for a newspaper. But still, they fail. "Strange, isn't it!" comments the teacher. Yes, obviously but why? All of the people in the room are perplexed and wish to know the answer.  
This is when the teacher takes centre stage and explains the concept of infinity. Pure creativity at its best, he explains that there is a sequence that exists and that is why if an A4 sized paper with 42 folds (not possible physically) will be equal to the distance between the earth and the moon. "This is the sort of power Maths has; when we can't do something practically, Maths gives you the power to solve and explain it," says Dr.  Imran Anwar, Chair and Associate Professor, Department of Mathematics, Syed Babar Ali School of Science and Engineering (SBASSE), LUMS.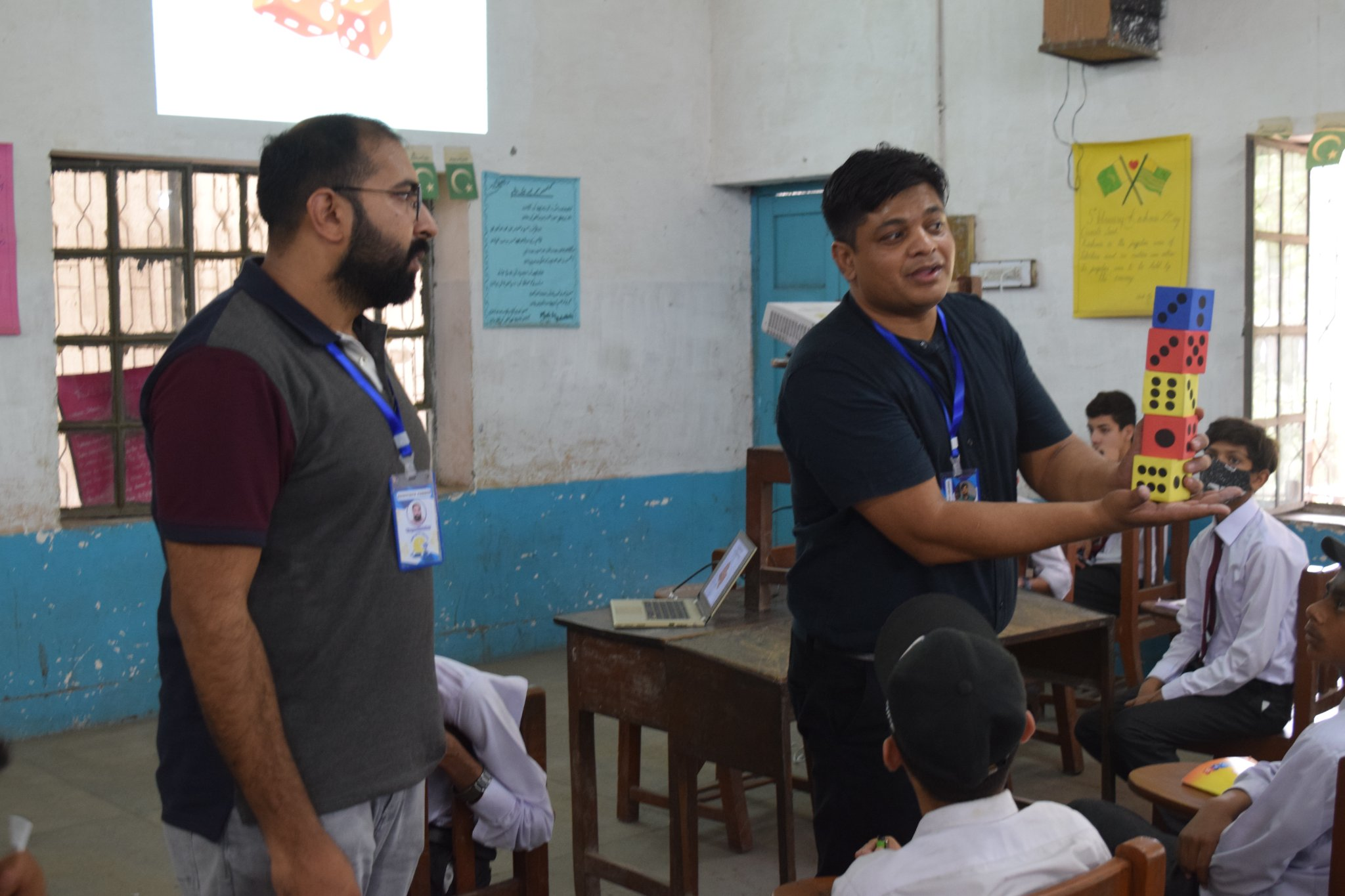 The seeds for the project were laid when Dr. Anwar visited Canada in 2018. While having a discussion with his co-researcher, he heard students playing at the Department of Mathematics at Dalhousie University, Canada. "I was amazed that in a peaceful sophisticated department, there were kids running around, having a ball of a time at five in the evening," adds Anwar. He inquired his host Dr. Sara Faridi, about it and she told her that the Maths Circle was being conducted in the adjacent classroom. Dr. Anwar, who was clueless, was taken by his host to sit through a class for a few minutes. Within those five minutes, he realised that this was something he wanted to replicate in Pakistan. 
"One thing that was even more shocking to me was that the instructor, who worked in the area of analysis, had picked a very technical theorem and chopped it into small steps in the form of a worksheet, just like a fun game. All of a sudden, he gave a very difficult question based on applying that theorem, which most university students would not be able to answer, but that group of young kids did it. They were doing Maths like they were singing and playing," explains Dr. Anwar. 
After this, he visited the Director of the Maths Circle, Dr. Mayada Shahada and signed up for the next Maths Circle and accompanied the team to a regional school. Here he got the chance to see the schools and structure. In the same visit, he got the opportunity to conduct the math circle in a class and thoroughly enjoyed it. 
At that time, Dr. Anwar was affiliated with the Abdus Salam School of Mathematical Sciences (ASSMS), an institute mainly dealing with the research and graduate teaching in mathematical sciences. After returning to Pakistan, he put forward the idea of launching Maths Circle there. It was, however, shot down since the institute's leadership was of the opinion that it did not match with their research ideology. Later he joined LUMS in 2021, where he got the opportunity and this sparked a lot of conversations and finally the project was started. "Colleagues at LUMS provided the encouragement, and were very receptive to the idea," says Dr. Anwar.
A thoroughly passionate brilliant A-Levels student Shezreen Shah prepared a questionnaire, collected data and defined the road map to set up the Math circles at LUMS. Within two weeks, nearly 20 schools were willing to participate and come to LUMS. A dedicated website was built and the project was launched.
"We always complain about the lack of structures in our schools. There is a lot of hue and cry about the quality of Math education at the grassroots level. Math anxiety is a reality that must be dealt with. Maths Circle at LUMS answers and provides solutions to all these," explains Dr. Anwar.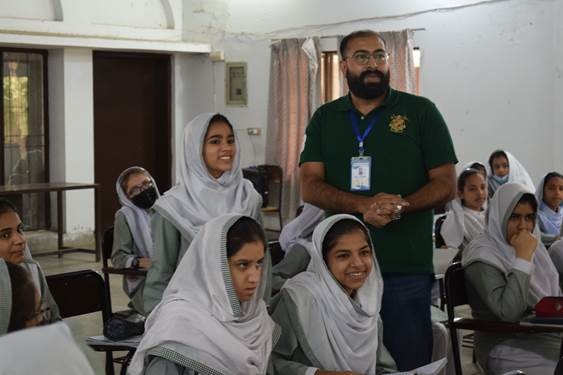 On average, 35 to 40 students are enrolled to a class. To date, 14 Maths Circles have been conducted. The topics and activities for no two classes have been the same so far. Most of the faculty at SBASSE are involved in the sessions and come up with innovative and exciting games and activities. A circle is conducted by two teachers so that the students do not get the impression of a routine lecture, two instructors make it more interactive. Parents are also allowed to take part in these sessions. Sometimes they get involved and have fun with the kids. From the very first day, there has been no restriction on the type of school or the social strata the kids belong to. "We have students from government schools, trust schools and private institutions attending these sessions," explains Dr. Anwar. 
No registration fee is charged from the participants. Instead, each participant gets a participation certificate with a box of doughnuts (an important mathematical shape). Since the students belong to grades six to 12, we keep the teaching style very engaging, easy to comprehend and bi-lingual so no one feels left out. A lot of historical aspects are discussed and rediscovered in these sessions; for instance how Al-Beruni used trigonometry to calculate the diameter of the earth. "Today, NASA uses a similar technique to measure the distance between stars and the earth. We must educate our younger generation to entice their curiosity to know more and read more," insists Dr. Anwar.
Interestingly, a principal of a private institute in Nankana Sahib has been making special arrangements for the transport of students and teachers to attend these sessions in LUMS. The good mix of students makes the Maths Circles a very interesting project and funding from different sources has also started to pour in.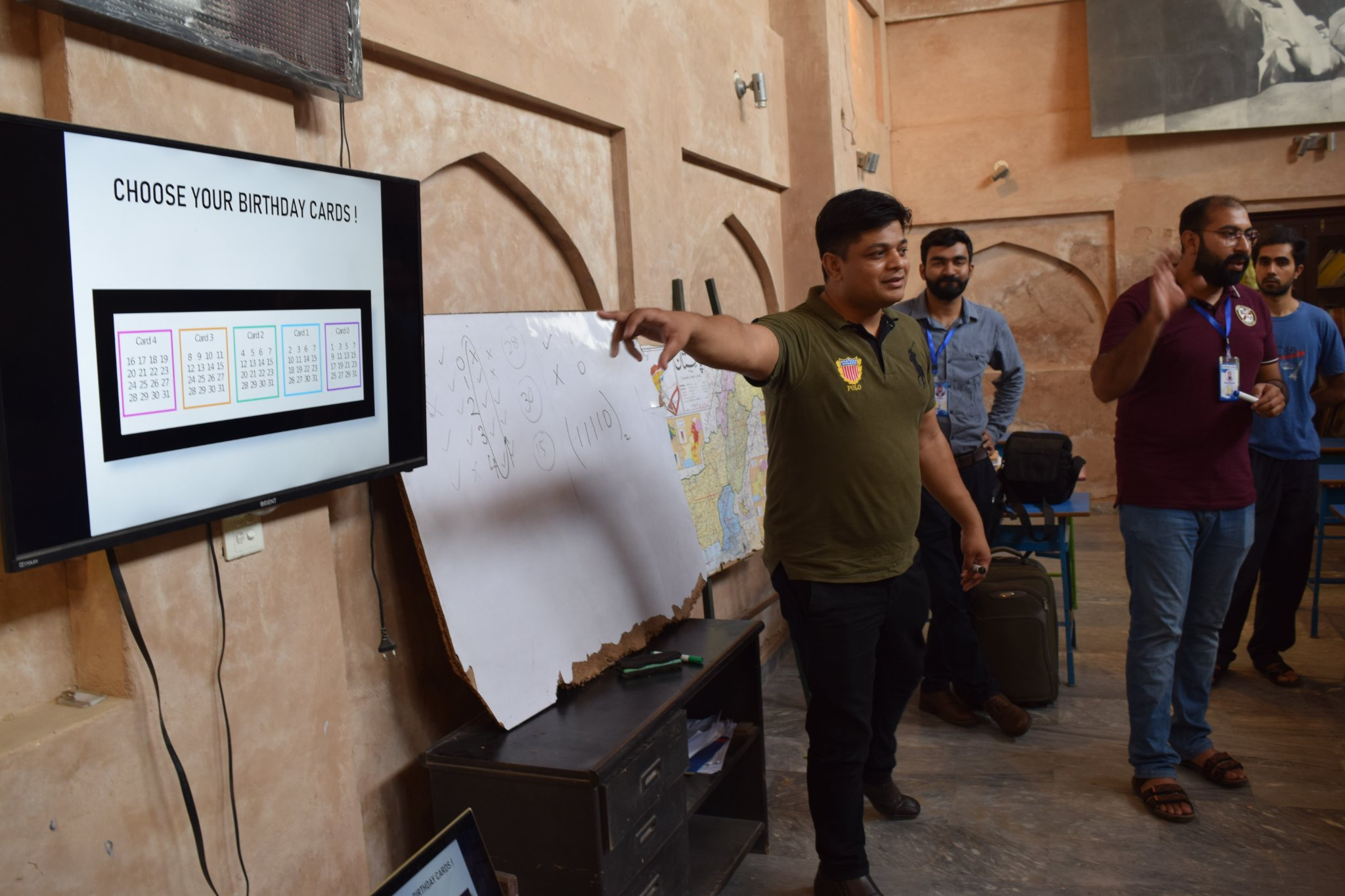 The next step should be to expand these circles. Sources like the Pakistan Alliance for Maths and Sciences (PAMS) have approached Dr. Anwar and given funds for taking the Math Circles to different schools. However, ample funds are still required for expanding these circles. Lots of leading private schools have approached Dr. Anwar and showed their interest to host Maths Circles in their schools. 
At international universities, PhD students compete to lead Maths Circle but no such culture exists in Pakistan as yet. The government officials from the federal ministry had shown keen interest in establishing Math Circles in other universities and institutes in Pakistan. "Math Circles is a great platform to train teachers. We could have centres housed in the universities and open up our resources on a website for anyone and everyone interested in Maths Circle," says Dr. Anwar. So far, Vice Chancellors of around 20 universities across Pakistan have signed up to launch Math Circles in their institutions.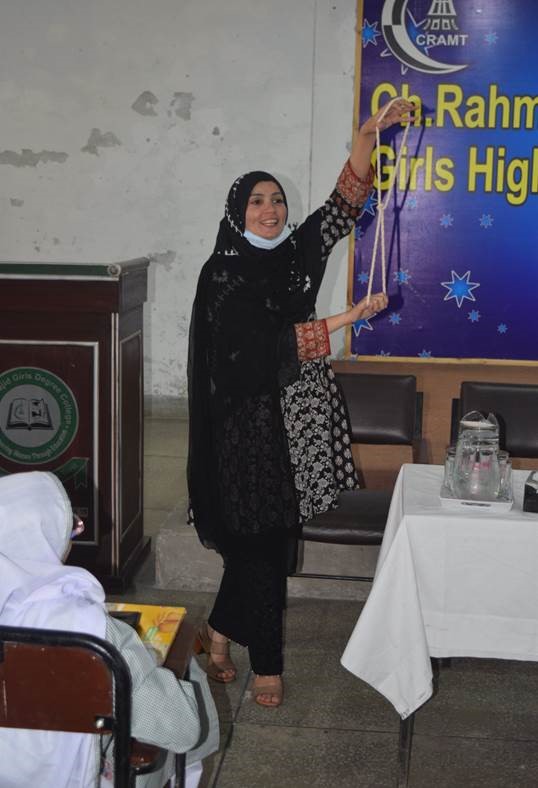 In June this year, LUMS, along with PAMS is going to host the first-ever workshop. Foreign experts in this field have agreed to be part of the workshop, a few online and some in person. "The idea is to spread this amazing culture in the Sub-continent and the Middle East, create a network among universities, put up resources on a website that will also serve as a space where those involved can share experiences and learn from each other. It's a revolution that is waiting to happen," says a confident Dr. Anwar.