Microbiology Lab Named After LUMS Alum, Late Muhammad Zaka-ur-Rehman
The 'Muhammad Zaka-ur-Rehman Microbial Genomic and Multidrug Resistance (MDR) Laboratory' was announced on January 12, 2022. The microbiology laboratory at the Syed Babar Ali School of Science and Engineering at LUMS, has been named in memory of late Muhammad Zaka-ur-Rehman, LUMS MBA '91 and former CEO of Schazoo Zaka. This laboratory will produce high impact research in areas crucial to the pharmaceutical industry like drug discovery and antimicrobial resistance.
The laboratory has been funded by the family of late Mr. Zaka-ur-Rehman, 14 members of the pharmaceutical industry in Pakistan, and alumni of the LUMS MBA Class of 1991. Attendees of the event included Mr. Zaka-ur-Rehman's family members, and pharmaceutical sector representatives from across Pakistan, including CCL Pharmaceuticals, English Pharmaceutical Industries, Ferozesons, GlaxoSmithKline, Hilton Pharma, Indus Pharma, Medipak Limited, PharmEvo, Popular Chemicals, Remington Pharma, Medisure Laboratories, The Searle Company Limited, Pakistan Pharmaceutical Manufacturing Association, and Pharma Bureau.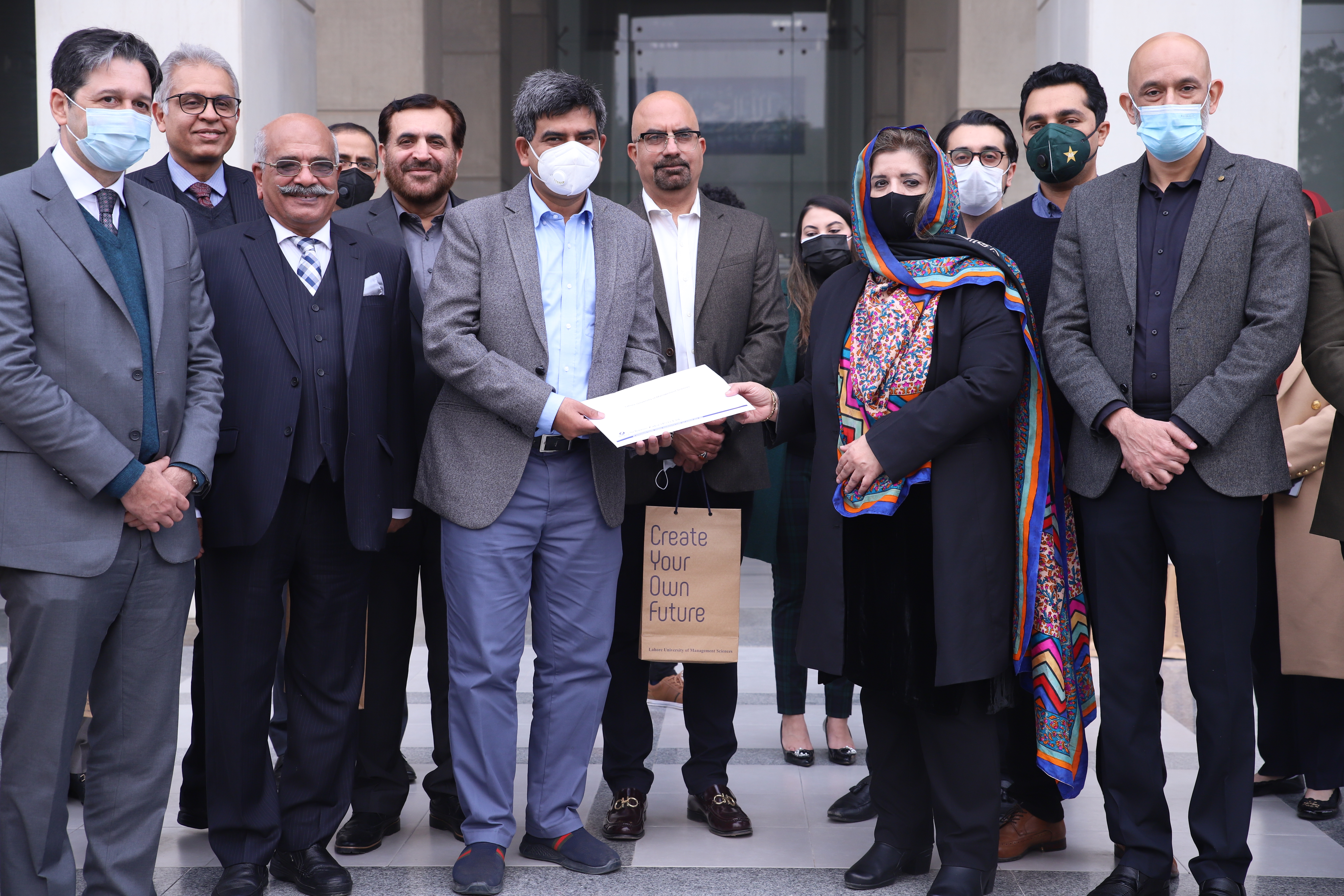 During the event, LUMS Management Committee Member, Mr. Osman Khalid Waheed paid tribute to Muhammad Zaka-ur-Rehman. "He not only represented the best of the pharma industry, but the best of human values that all of us should aspire to. It is in his memory today that over 14 of our leading pharmaceutical companies have collaborated towards the Muhammad Zaka-ur-Rehman Microbial Genomic and Multidrug Resistance Laboratory at LUMS." 
Mr. Ahmed Zaka ur Rehman (MBA Class of 1991), Director Marketing, Schazoo Zaka (Pvt.) Limited, shared memories of his brother and referred to the time they spent together at LUMS as the best years of his life. "My brother always saw the positive side of situations and the country," he added. Speaking about the work being done at Schazoo Zaka. "The company has been at the forefront of treatment of tuberculosis and we ensure that research is done in Pakistan, because the strains found in the country are slightly different from the rest of the world. As a result, people are not being treated properly." 
LUMS Vice Chancellor, Dr. Arshad Ahmad commented on the value alumni bring to their alma mater. "We have to recognise that the future of LUMS is in the hands of its alumni. We already have a generous alumni body of almost 16 thousand around the world and their generosity will sustain LUMS and the resources it needs for growth. We see the role of alumni being highly impactful in directing LUMS." He added that SBASSE has given a vision for the way forward in order to unify the various disciplines at LUMS. "The School was forged with a no borders philosophy, and faculty and students together cross inter-disciplinary boundaries. This is the need of the hour as none of the grand challenges facing Pakistan can be solved by one discipline." 
Dean, SBASSE, Dr. Sabieh Anwar said that the mission of the school is to make an impact. "We want to transform the lives of our students, faculty and staff, as well as the society at large." 
Mr. Muhammad Zaka-ur-Rehman was an important contributor to Pakistan's pharmaceutical landscape and the former CEO of Schazoo Zaka, which was established in 1951 to design, develop and manufacture pharmaceutical products. The Muhammad Zaka-ur-Rehman Microbial Genomic and Multidrug Resistance (MDR) Laboratory at LUMS will forward his legacy and produce high impact research in areas crucial to the pharmaceutical industry like drug discovery and antimicrobial resistance