NICL Start-up, InstaCare Founder Wins Commonwealth Youth COVID-19 Hero Award
The National Incubation Centre Lahore (NICL) at LUMS is a hub of radical thinkers who tread the path of innovation and entrepreneurship. These individuals then go on to impact communities in high-impact areas including education, healthcare, agriculture, finance, and the environment. One such success story coming from NICL is that of Bilal Amjad, part of the Centre's first cohort, who has recently been conferred the 'Commonwealth Youth COVID-19 Hero Award' in recognition of his healthcare start-up, InstaCare.
InstaCare was shortlisted for launching a response unit to provide free online medical consultations to communities in Pakistan during the pandemic. Currently, over 300 doctors have provided over 10,000 consultations through the platform. InstaCare also partnered with private institutions to provide telemedicine services to the public including universities and hospitals.
Amjad believes that InstaCare is all about accessible, quality healthcare. However, he does share his frustration at the inequality at play in the realm of healthcare. "How would you feel if I tell you that over 100 million Pakistanis are frustrated by the efforts it takes to access basic healthcare? The irony is that Pakistan has over 500 pharmaceutical companies, more than 1,000 pharmacies, over 500 medical labs, and more than 250 thousand doctors but still healthcare is limited to the metropolitan areas. InstaCare is my way of serving my country by providing a platform that not just makes healthcare accessible but convenient and efficient as well."
Before InstaCare, Amjad was working at the tech giant Microsoft, where he was declared the 'Most Valuable Professional' for four years. Side-by-side, he was working on InstaCare. Since its inception in 2018, InstaCare has grown and has connected the unlinked healthcare industry with simple but powerful execution. "Over the past 12 months, we have transformed over 0.5 million patient visits in over 3,000 healthcare practices. We are working closely with healthcare professionals to boost their productivity to provide the best healthcare experience to patients through our systems."
The Commonwealth Youth Awards is a step towards the recognition of these effects. "This award acknowledges extraordinary young people whose initiatives are transforming lives in their communities and helping to achieve the Sustainable Development Goals. My recognition as a 'COVID-19 Hero' is a proud moment for the country because out of 1,000+ great initiatives from 50+ Commonwealth countries, only 10 COVID-19 heroes were selected and InstaCare was the one making Pakistan proud."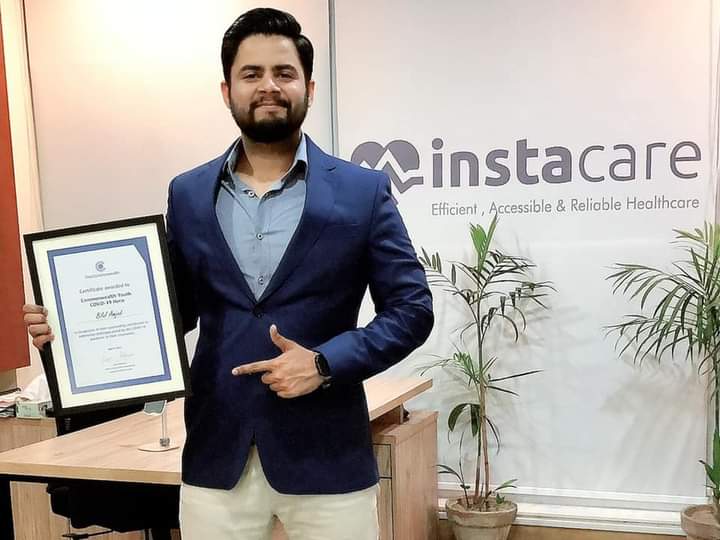 His journey and success would not have been possible without the support of LUMS and NICL. "When I started InstaCare, I got rejections from the country's biggest accelerators. However, it was NICL and LUMS who believed in my idea. They helped to transform the idea into reality. From transforming the business models, providing office space to raising my seed investment, NICL and LUMS have provided extraordinary support. And now even after graduation, they are very helpful and available for me whenever I need them."
He also advised future entrepreneurs not to consider this track as fancy and be ready for the hard work it needs. "The life of an entrepreneur is always a roller-coaster. It's really important to believe in yourself. You have to be crazy about your idea and passionate about your dream because you have the power to transform them into reality."