P&G Conducts Virtual Recruitment Drive at LUMS
P&G conducted a virtual recruitment drive on Thursday, March 25, 2021. The session was aimed at third year undergraduate students, first year Masters or MBA students, and fourth and fifth year BA-LL.B students.
 
Rahat Mirza, HR Manager, P&G, and a LUMS alumna, initiated the session with a brief introduction of the company and her team members. She shared that P&G Pakistan, since its first shipment in August 1991, has grown to be amongst the top fast moving consumer goods products companies in the country. She also showed a video explaining the organisation's future plans. This was followed by an overview of their different initiatives, such as their Clean Drinking Water Programme, Gender Equality Programme, and Educate a Child Programme.
Zeeshan Aamir, Finance & Commercial Director, P&G, and a LUMS graduate, shared his learning and growth experience at the company, while Ms. Najam explained how women empowerment has always been the organisation's priority.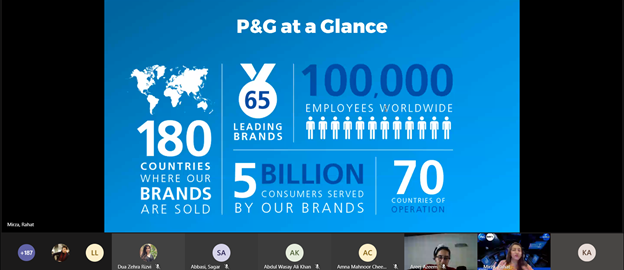 Haris Khan, Country Business Operations Planning Leader, P&G, shared details about the benefits that are given to employees. He explained that international assignments are given, which include trips abroad to places such Singapore, Dubai, and Australia. Later, Jaffar Hashim, Brand Director Fabric Care, and LUMS alumni, talked about his experience. He showed exciting videos to convey how the firm's environment motivates employees and gives them the opportunity to work with different brands.
Towards the end of the session, Ms. Rahat shared the perks and benefits of working at P&G. She shared a video of how things were at the firm before COVID-19, and how the company facilitated employees during the pandemic. She explained that virtual events and engagement activities keep employees engaged even while working from home.

The session concluded with an interactive questions and answers session.