President of Pakistan and LUMS Leadership Discuss the Future of Higher Education in Pakistan
The President of Pakistan and Chancellor, LUMS, Dr. Arif Alvi, visited the University on January 27, 2023 to meet the LUMS leadership.
He was welcomed by Mr. Abdul Razak Dawood, Pro Chancellor, LUMS; Mr. Shahid Hussain, Rector; Members of the Management Committee; Dr. Arshad Ahmad, Vice Chancellor, LUMS; Dr. Tariq Jadoon, Provost, LUMS and Dr. Muhammad Sabieh Anwar, Ahmed Dawood Chair, Dean, Syed Babar Ali School of Science and Engineering.
Ms. Nuzhat Kamran, Director, Office of Advancement apprised the President of the University's strategic priorities, latest accolades, and the impactful research being conducted. Dr. Alvi appreciated the work being done at LUMS and assured the leadership of his support for the University's effort to promote quality education in the country.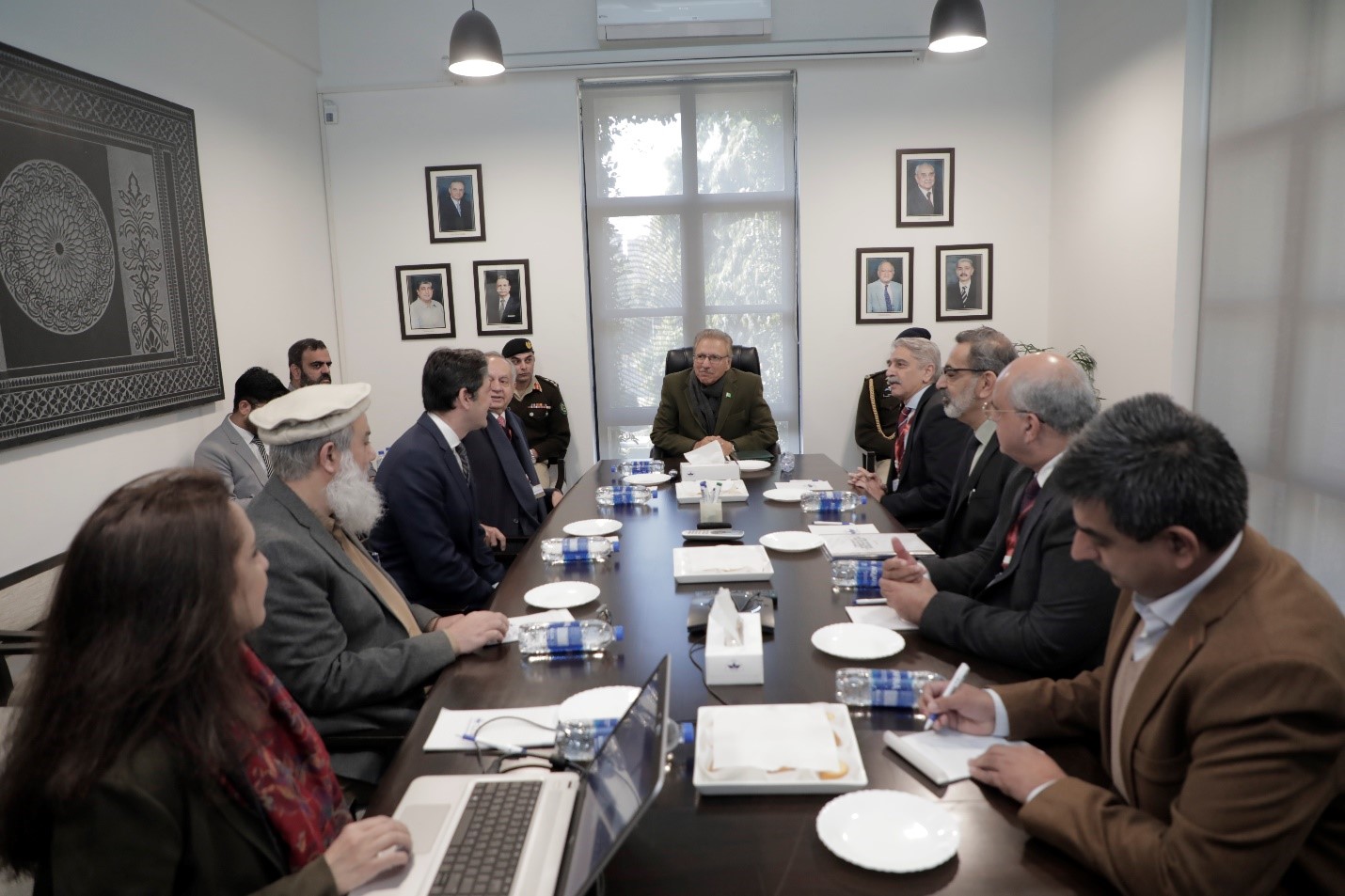 Dr. Alvi also met Founding Pro Chancellor, Syed Babar Ali, and members of the University Advisory Board. They exchanged ideas on the current state of higher education in Pakistan and what learning must entail at this level. They also discussed the role of LUMS in the country's progress over the next decade.
The UAB members present at the meeting included, Dr. Nancy J. Adler, Professor Emerita of Organisational Behaviour, and Samuel Bronfman Chair Emerita in Management, McGill University; Dr. Denise Chalmers, OLT Senior National Teaching Fellow, Emeritus Professor, University of Western Australia; Dr. Philip Altbach, Founding Director, Boston College, Center for International Higher Education; Dr. Khalid Aziz, Otto N. Miller Professor Emeritus of Energy Resources Engineering, Stanford University; Dr. Greg Moran, Provost-Emeritus, University of Western Ontario, Former Provost, AKU and Executive Director, Academics Without Borders, Canada; Ms. Leah Rosovsky, Stanford Calderwood Director, Boston Athenaeum Library, Museum, and Cultural Center, USA, and Dr. David Wilkinson, Distinguished University Professor, Provost Emeritus and VP Academic, McMaster University.