Road to Empowerment: LUMS and Atlas Honda Collaborate for Women's Mobility
The Office of Human Resources and Atlas Honda Limited collaborated to launch the "Women on Wheels" initiative at LUMS on May 18, 2023. This collaborative effort aims to empower women by equipping them with the necessary skills to learn how to ride a bike. 
The initiative achieved this goal by engaging participants in a Real-Time Simulation activity that enhanced both their understanding and skills. Following the simulation, a practical bike riding training boot camp was conducted to further develop their innate potential and refine their abilities.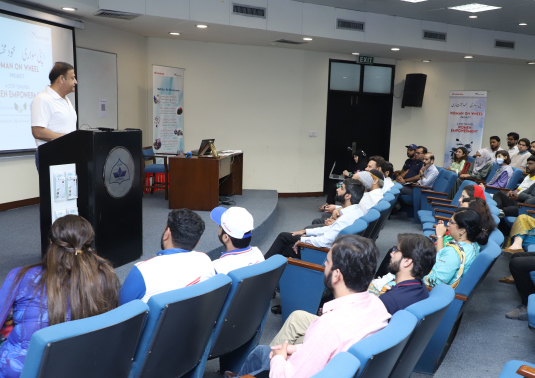 The initiative commenced with an inaugural session that marked the importance of women empowerment, prioritising and highlighting the significance of road safety, and fostering independence, particularly through enhanced mobility. Mr. Muhammad Zafar Iqbal, General Manager, After Sales, Atlas Honda, delivered a keynote speech appreciating the determination and efforts of both organisations in ensuring the success of this initiative. He highlighted Atlas Honda's commitment to social responsibility, particularly their engagement in the promotion of safety at various institutional levels. He also highlighted that their programme has successfully trained over 5,000 women demonstrating the monumental impact the initiative has had on the mobility and empowerment of women. 
Various aspects such as road safety, including the identification of major causes of accidents, were covered extensively in the session. Participants learned about response times, the proper use of lights and indicators, the significance of wearing helmets, and the importance of peripheral vision while driving.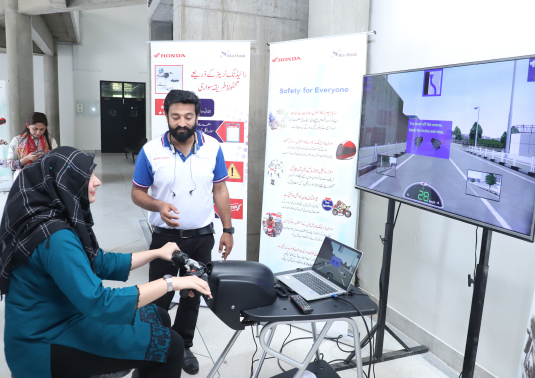 The event concluded with a dynamic question-and-answer session, facilitating an in depth and meaningful interaction among the participants. Mr. Amer Khan Durrani, the Director of General Administration & Services, took this opportunity to commend Atlas Honda for their unwavering dedication and extended good wishes for all their future endeavours. 
As a gesture of support to the LUMS community, special benefits were provided by Atlas Honda, including discounts on bike and car oil changes, as well as other free services for bike users.