TransKarachi and LUMS to Collaborate on Addressing Urban Mobility Issues
CEO, Mr. Wasif Ijlal and Gender Specialist, Barrister Maham Durrani, from TransKarachi (Red Line Bus Rapid Transit), visited LUMS on August 22, for an MoU signing ceremony. The collaboration between TransKarachi and LUMS is in the space of Gender and Urban Mobility through the lens of technology. 
This association has been formed for joint technological interventions, research, trainings, and seminars. The topics of focus will be around urban mobility issues including gender mainstreaming in public transport. This collaboration will also allow the execution of joint surveys, focused group discussions, interviews, and awareness campaigns. 
Associate Professor, Dr. Momin Uppal, the Principal Investigator for the Grand Challenge Fund (UrbanTech Pakistan) project, shared the progress of the overall project and possible avenues where LUMS can support TransKarachi, keeping in view mutual goals. This project is backed by the Higher Education Commission of Pakistan, and its broader goal is to create technological foundations of data-driven policymaking for sustainable urban development.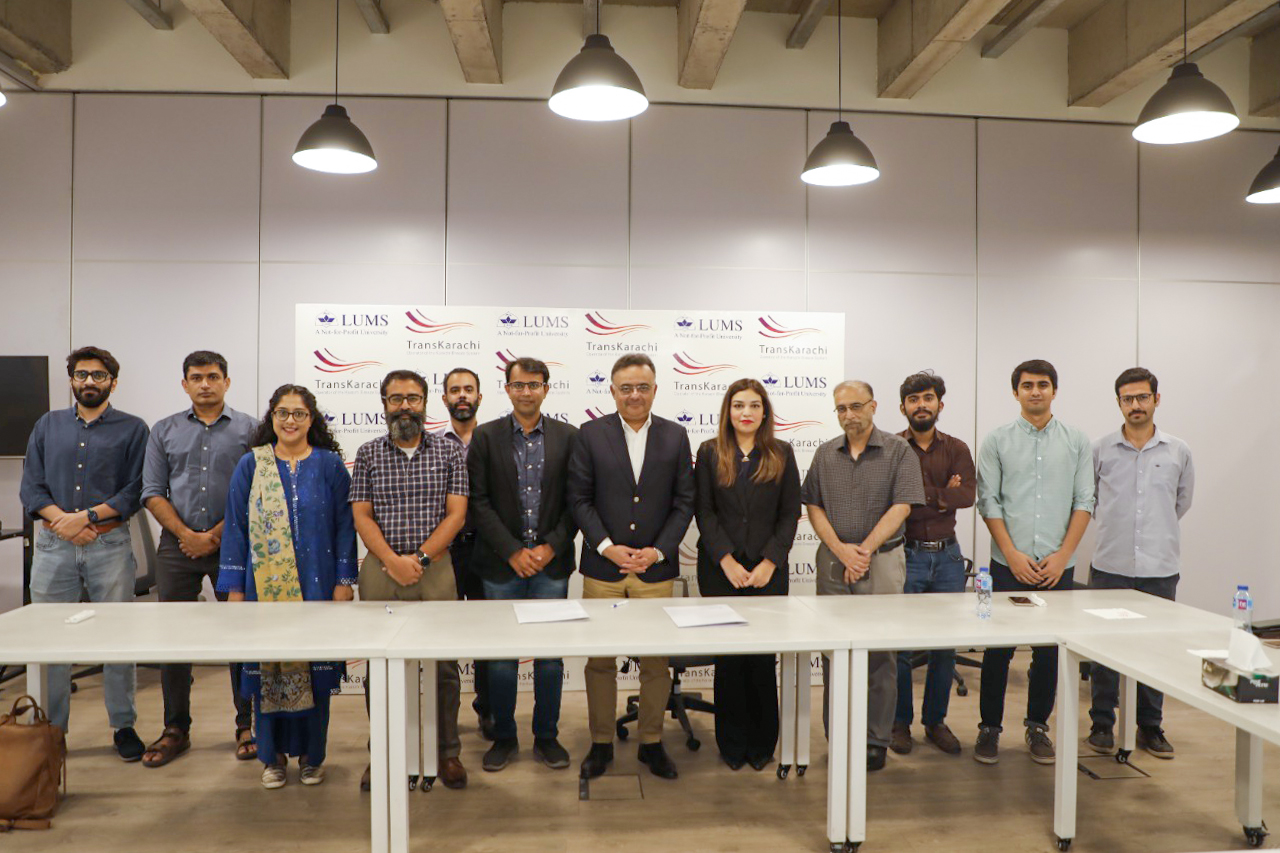 Director, LUMS Learning Institute, Dr. Suleman Shahid, one of the co-Principal Investigators of the project, lead the discussion on the female mobility research thread, 'Urraan: Women in Urban Mobility'. Ms. Sana Riaz, Urban Policy Consultant at LUMS, presented the progress of Urraan. The key objective of the project is to gain an in-depth understanding of the challenges women experience while utilising public transport in Pakistan. It also aims to adopt a more holistic approach to what might constitute an ideal public transport experience for women. This may be possible via concrete interventions that can easily be replicated across the region, and through broad awareness campaigns that highlight lesser-known issues regarding women's travel experiences.
Mr. Ijlal shared the mandates and plans of TransKarachi and the operations of the Karachi Breeze System. Socio-economic uplifting is a strong focus of TransKarachi including environmental sustainability and gender mainstreaming. Barrister Maham Durrani presented the gender sensitisation activities being carried out, and in the pipeline, for the new bus rapid transit red line, from workplace anti-harassment trainings to mobile panic button response protocols.  
Also in attendance were Project Co-PIs Drs. Syed M Hasan, Muhammad Tahir and Zubair Khalid. 
For more details on the project, please follow:
https://www.linkedin.com/company/team-urbantech-pakistan/
https://www.linkedin.com/company/urraan-mobility/
https://www.linkedin.com/company/tkarachi/
https://www.facebook.com/urraan.mobility