University Leadership Discuss Future Initiatives at LUMS Board Meeting
2021-22 marked the 35th anniversary of the founding of LUMS, and at the 85th Board meeting, the discussion revolved around how the University will need to evolve and grow to compete regionally and globally. 
Members of the LUMS Board of Trustees present at the meeting included Founding Pro Chancellor, Syed Babar Ali, Rector, Mr. Shahid Hussain, and Management Committee Member, Osman Khalid Waheed. Vice Chancellor, Dr. Arshad Ahmad and Interim Provost, Dr. Tariq Jadoon shared the stories of resilience and the spirit of innovation to deliver excellence in research, teaching, and learning.
Dr. Ahmad said that the University is working towards evolving the curriculum to increase the number of graduate programmes. Another priority looking forward to is complementing in-person learning with online and hybrid alternatives in the form of courses, certificates, diplomas, and degrees. "We must continue to grow through hybrid and online learning. The pandemic made us realise we can have quality interventions online and a different kind of pedagogy and engagement. This will be high on our agenda, and we look at developing massive open online courses which anyone can take."
Achieving a greater degree of internationalisation to increase the diversity of the study body at LUMS is another strategic priority of the University, he added.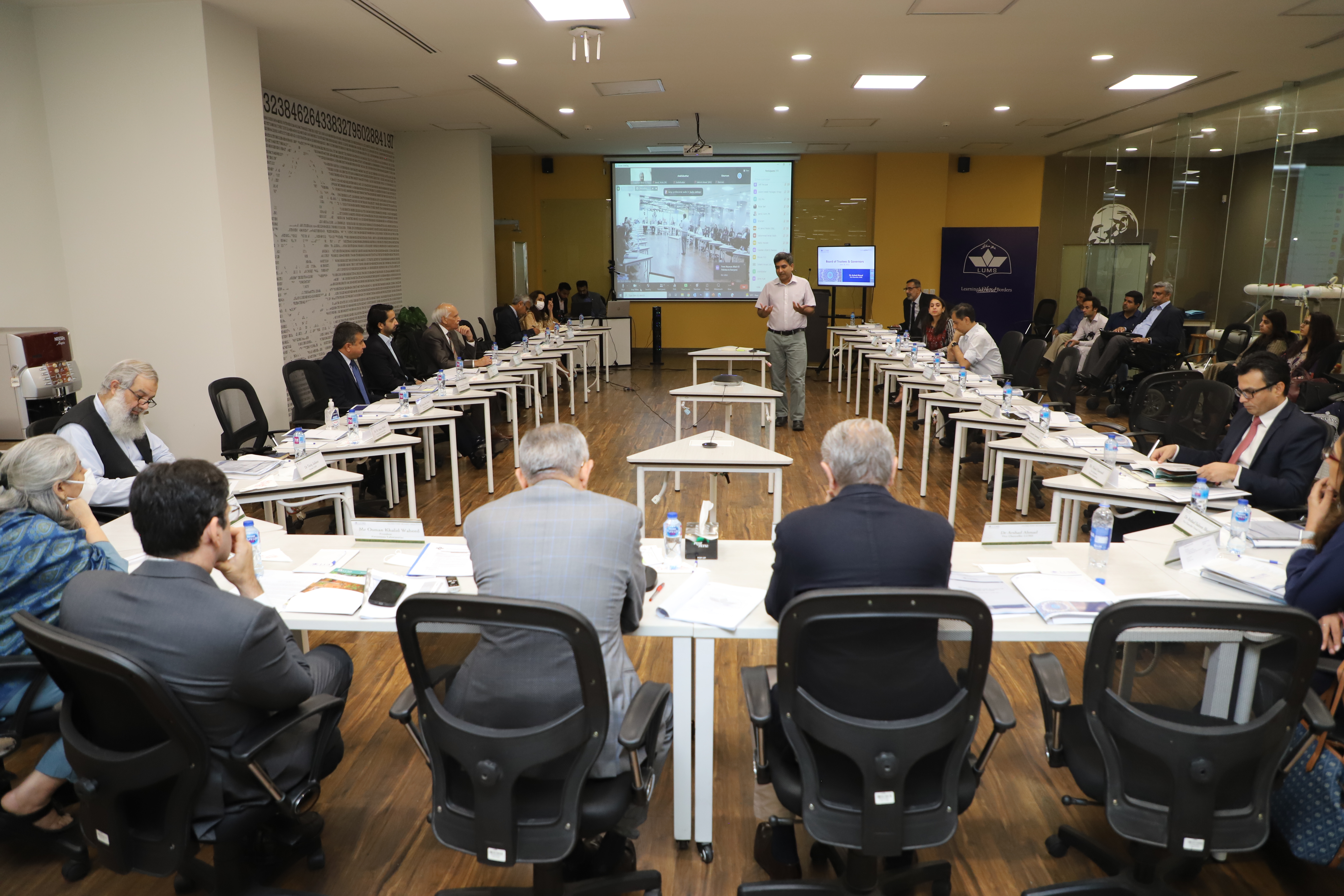 Dr. Ahmad also shared the different international recognition. LUMS has been announced as the 50th Best Small University in the world in 2021 by Times Higher Education. LUMS has won the global Council for Advancement and Support of Education (CASE) Platinum Award 2021 in the 'Best Practices in Diversity, Equity, and Inclusion' category for its National Outreach Programme (NOP). The NOP is LUMS' signature initiative to make quality education accessible to all. Students from over 130 disadvantaged areas of Pakistan have been provided full scholarships including all living expenses. 
Dr. Jadoon shared the new academic programmes that have been approved by the University Council which include a PhD Chemical & Environmental Engineering, MS Power Engineering & Smart Grids, and MS Embedded & Digital Systems. Also, a major in Comparative Literary & Cultural Studies will be offered as well as minors in Environmental Studies and Education.