USAID Pakistan's Director of Education Visits LUMS
USAID Pakistan's Director of Education, Ms. Anne Flaker visited LUMS on August 15, 2022, to meet LUMS leadership, and have an interactive session with USAID-funded Merit and Needs-Based Scholarship Program (MNBSP) beneficiaries. 
The MNBSP, in partnership with the Higher Education Commission, Pakistan, helps talented yet financially disadvantaged young Pakistani scholars pursue education in the country's top universities. LUMS is one of their partner institutions and so far, more than 80 students at LUMS have benefitted through the second phase of this scheme. Ms. Flaker visited LUMS to hear the stories of alumni and students who have benefitted from the programme, and to mentor them for future endeavours.
Also present at the event were Mr. Muhammad Azhar Ali Khan, Programme Director, MNBSP; Ms. Aayesha Ikram, Director General HRD, Higher Education Commission, Pakistan; Mr. Saqib Ali Khan, Project Management Specialist, USAID Pakistan and Mr. Haroon Raheem, Project Management Specialist, USAID Pakistan. LUMS was represented by Dr. Faisal Bari, Dean, Syed Ahsan Ali and Syed Maratib Ali School of Education; Dr. Muhammad Sabieh Anwar, Dean, Syed Babar Ali School of Science and Engineering and Dr. Furrukh A. Khan, Director, Office of International Affairs. 
The event started with a presentation by the Advancement Team which introduced LUMS, the National Outreach Programme (NOP), and the various outreach activities and initiatives by the NOP team. 
The USAID representatives also conducted an interactive session with the USAID beneficiaries, both current students as well as alumni. The students talked about their recent activities, their experiences at LUMS, and the lasting impact of the USAID scholarship that they received.
While thanking the students for sharing their stories, Ms. Flaker commented, "I appreciate the gratitude of students for USAID, and it is a small gift from us to help you and lift the weight off your shoulders. Today, I have learned that when you educate a student, you educate a whole community and I know that each of you will make a difference in the years to come. Working in the education sector, you get to see what a difference education is making in communities and countries."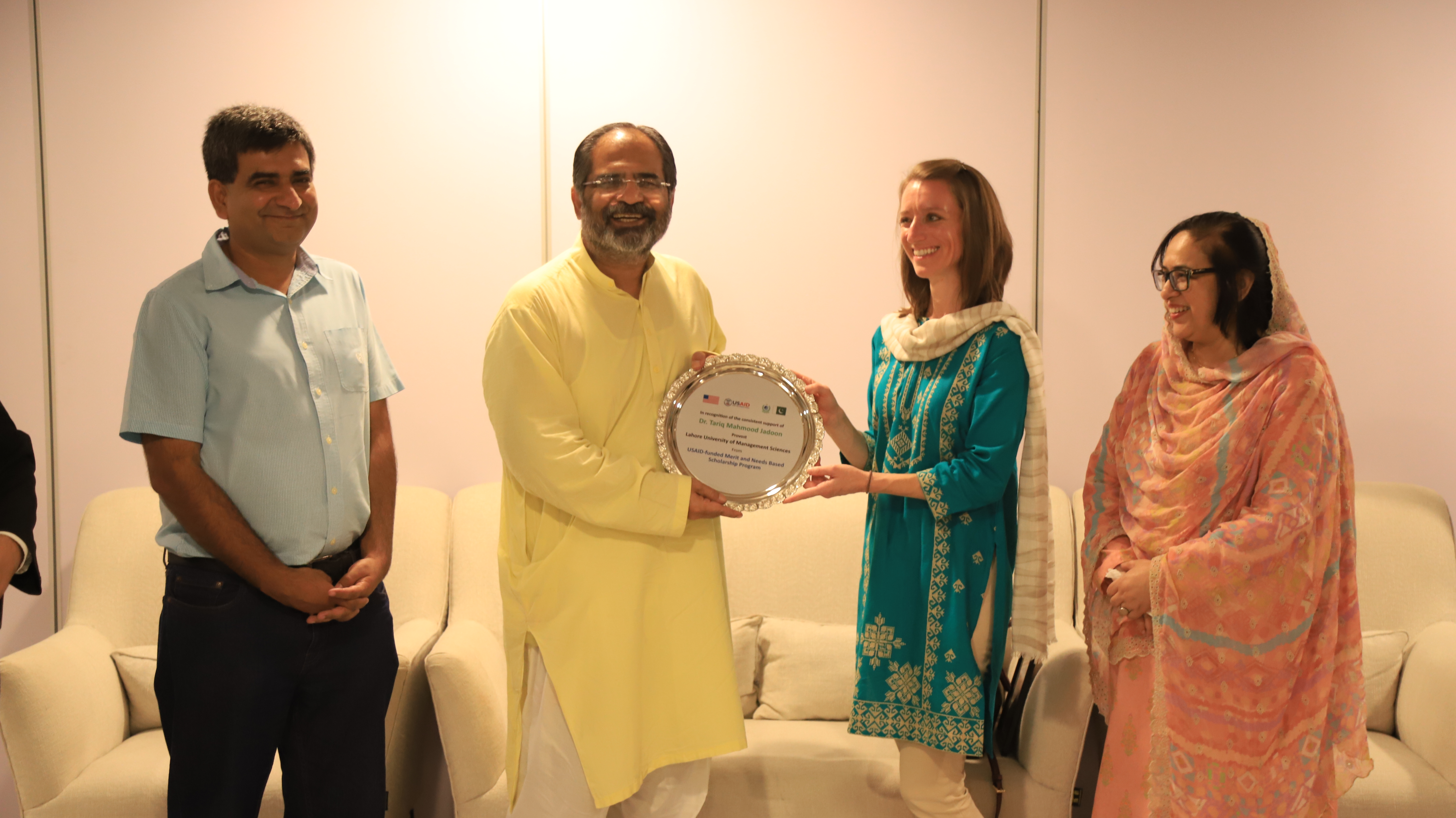 After the interactive session, the guests were presented with souvenirs as a token of appreciation. Following the session, the USAID representatives visited the National Incubation Centre Lahore (NICL). The guests were given a tour of the different facilities including state-of-the-art prototyping workshops, where virtual and augmented reality solutions come to life, and a co-working space, featuring a plug-and-play set-up. They exchanged insights with Edtech entrepreneurs from NICL's graduated start-ups as well as those currently in incubation and participated in a roundtable discussion with the NICL team.
USAID has had a long-standing relationship with LUMS. The agency contributed generously during the early years of LUMS to construct the new campus. The MNBSP has played an integral role in supporting LUMS to make quality education attainable for talented students. Apart from this, USAID in partnership with HEC has also funded various research projects across different schools at LUMS.