Working Towards an Accessible and Inclusive World
The Office of Accessibility and Inclusion (OAI) at LUMS in collaboration with Sightsavers International organised the 'Conference on the Rights of Persons with Disabilities' from March 19-20, at the Shaikh Ahmad Hassan School of Law. Sightsavers International, an organisation with over 70 years of experience, is leading the way in protecting sight or avoidable blindness, treating or preventing debilitating diseases and ensuring that people with disabilities can participate equally in society. 
The two-day conference included open discussions, inclusive dialogues, and interdisciplinary interactions between academia, community organisers, social and legal activists, and government representatives. The sessions aimed to break stigmas associated with disabilities, and also serve as a platform to foster collaboration, debate policy proposals, and increase understanding of accessibility, safe spaces, and disability rights. The Conference itself benefited from the services of sign language interpreters and translators from English to Urdu.
Panellists included Atif Sheikh (Executive Director of STEP), Munazza Gillani (Country Director, Sightsavers Pakistan), Gertrude Oforiwa Fefoame (Member of the UNCRPD committee at UN HQ), Ali Shabbar (CEO - Deaf Tawk), Honourable Justice Mansoor Ali Shah, Sana Khurshid (Disability Rights Activist/Lawyer), Mudassir Riaz Malik (Director-General, Department of Social Welfare, Bait-ul-Maal, Government of Punjab), Baela Raza Jamil (IDARA-E-TALEEM-O-AGAHI) Irfan Gondal (Director, Punjab Council for Disabled Persons), Abia Akram, Sophia-Layla Asfar and many others who work in the field of disability rights. Students with disabilities were also present at the conference and shared their experiences of the different barriers they faced in their education. 
Disability and Identity Around the World, The Role of Technology in Increasing Accessibility and Promoting Inclusion, Gendered Disabilities and Feminist Approaches to Disability, Community Activism and Policy Making around Disability Rights, were some of the core themes of the Conference. 
Interim Provost, LUMS, Dr. Tariq Jadoon, in his opening statement expressed that it is our collective responsibility to maintain an equitable society that provides equal opportunity to all citizens. He stated that the purpose of the Conference was not just to bring all stakeholders together, but also to ensure that the voices of people with disabilities are heard at the decision-making table.
Ms. Gillani of Sightsavers International elaborated upon the purpose of the Conference including the identification of gaps and development of solutions to address the difficulties that persons with disabilities experience in society. She expressed that the learnings, as well as the main proposals and related solutions would provide a powerful boost to the empowerment of Persons with Disabilities. She added that the conference's lessons will be incorporated in the upcoming Voluntary National Report, which will be presented at the United Nations' High-Level Political Forum.
During a panel discussion, the Honourable Justice Mansoor Ali Shah, a long-time advocate of disability rights, underlined the importance of using sensitive terminology for the disabled community. Mr. Riaz, Director General of Punjab's Social Welfare Department, later announced that the Punjab Disability Bill had been submitted and will be tabled in the provincial assembly for approval soon. He explained that for people with disabilities, an internet gateway had also been created where they can register for a disability certificate at their convenience.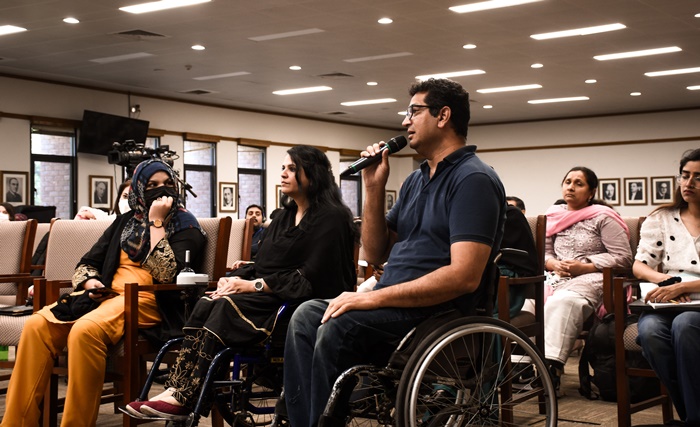 Speakers, some of whom participated virtually, stressed the implications of living in a non-inclusive community for people with physical, intellectual, and psychosocial disabilities. Some of the experts discussed their personal experiences and examined case studies focused on human rights, dignity, quality of life, health, access to education, autonomy, and social inclusion. Provincial and federal government legislations were also highlighted with regard to the protection of the rights of persons with disabilities.
The role that technology can play in increasing accessibility and promoting inclusion was also a major theme at the conference. It was stressed that assistive technology was the need of the hour and efforts needed to be made for greater access to these technologies as well as the relevant training.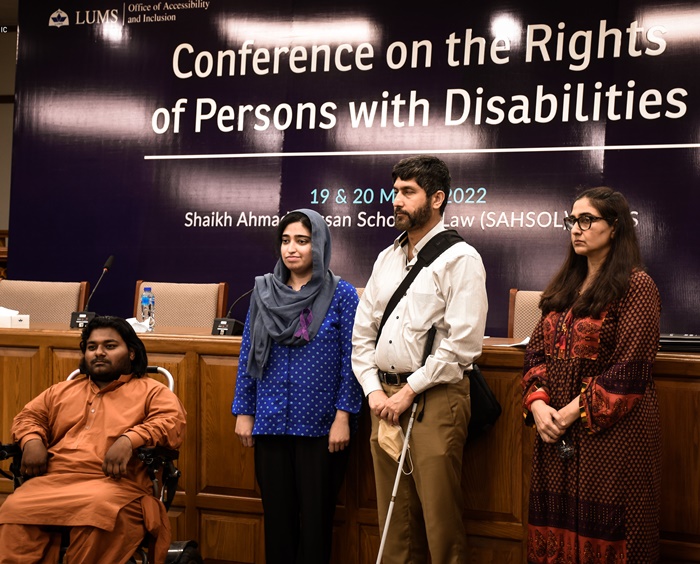 The Conference emerged as an important platform to outline effective strategies for the implementation of fundamental human rights for persons with disabilities as set out in the UN standards. It also provided the environment for fostering collaborations between various stakeholders to increase understanding of accessibility and create more inclusive spaces for persons with disabilities. All the participants expressed their hope that the dialogues and discussions that were made possible due to the conference would pave the way forward for a more inclusive future for PWDs.