Fakir Syed Ayazuddin Establishes Endowment Fund to Support National Outreach Programme Scholars
Honorary Consul Portugal, industrialist and political analyst, Fakir Syed Ayazuddin has signed an MoU to establish the 'Fakir Syed Waheeduddin Endowment Fund' in memory of his late father. The Fund will support National Outreach Programme (NOP) scholars studying at the Syed Babar Ali School of Science and Engineering (SBASSE) at LUMS.
Mr. Ayazuddin was born in 1938 in Lahore and studied at the prestigious Aitchison College. He went on to pursue his higher studies at Berkhamsted School, England and later Trinity College, Dublin. He is a former columnist and author of Pakistan - Victim of Democracy. The Fakir family has been living in Punjab for over 200 years and is one of the oldest families in the region. Mr. Ayazuddin's father, Fakir Syed Waheeduddin, is a descendant of Fakir Nooruddin, prime minister at the court of Maharajah Ranjit Singh in the 1800s. 
The Fakir family's pledge to establish an endowment was formalised at an MoU signing ceremony on November 19, 2022. Mr. Fakir's son, Syed Aminuddin Fakir; his brother, Fakir Syed Aijazuddin and other close family members were also present at the occasion. Representing LUMS were members of senior leadership and Deans including Founding Pro Chancellor, Syed Babar Ali; Pro Chancellor, Mr. Abdul Razak Dawood; Member, LUMS Board of Trustees, Mr. Osman Khalid Waheed, and Vice Chancellor, Dr. Arshad Ahmad. 
Ms. Nuzhat Kamran, Director, Office of Advancement, also an alumna of the University, addressed the gathering and spoke of the transformational experience of being a LUMS student and how over 17,000 alumni across the globe are making their alma mater proud. She highlighted the University's efforts to provide accessible education. She shared that the NOP is a highly prestigious scholarship, providing full tuition waivers and additional support for meritorious scholars to facilitate their education at LUMS, and it received the CASE Platinum Award for the 'Best Practices in Diversity, Equity, and Inclusion' category in 2021.
Mr. Ayazuddin spoke about his motivation towards giving to LUMS. "The National Outreach Programme is a brilliant vehicle to help talented students gain quality education and bridge economic disparity. The Programme takes LUMS forward in its mission of offering an outstanding educational experience to talented scholars regardless of financial and social constraints."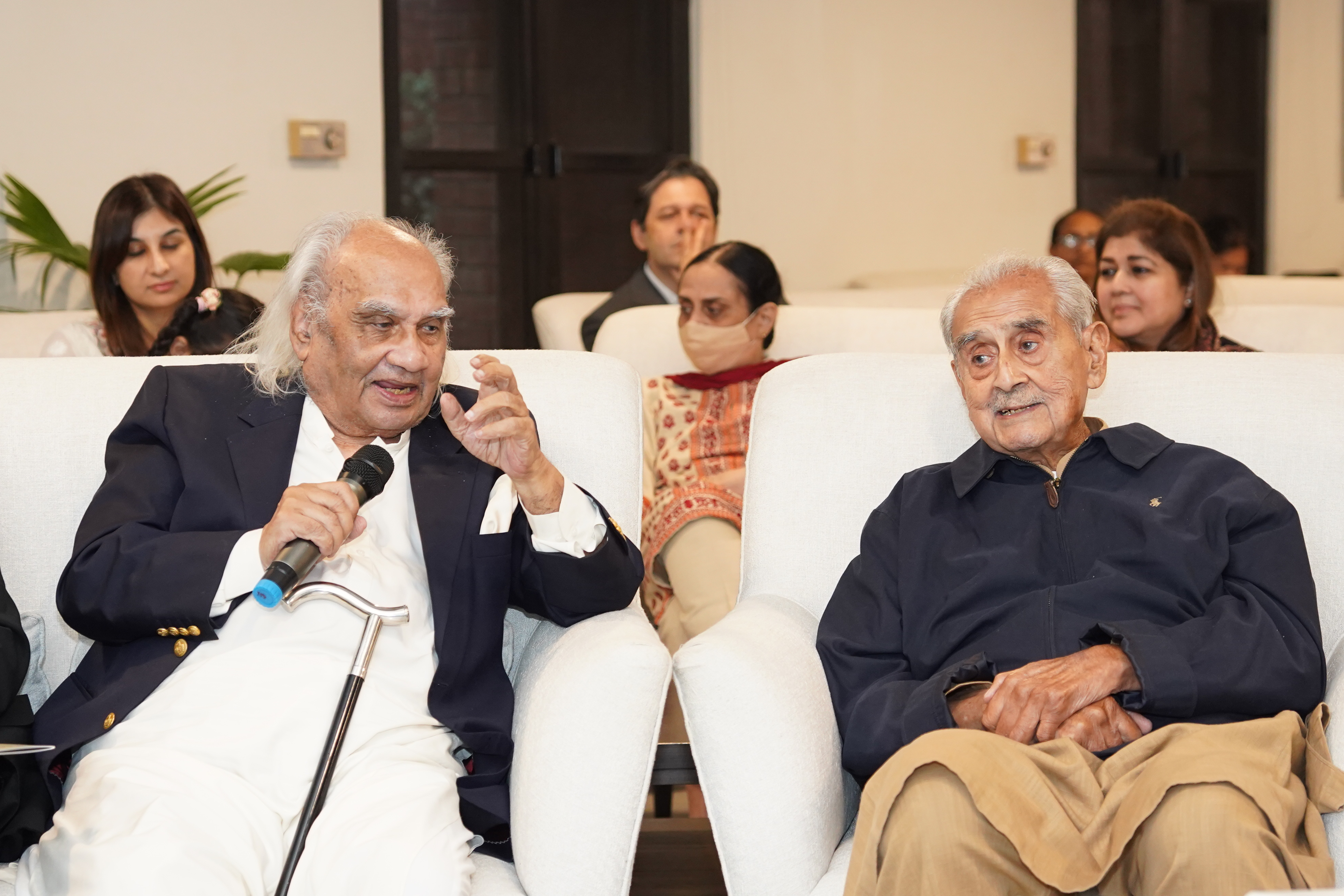 Founding Pro Chancellor, Syed Babar Ali appreciated Mr. Ayazuddin for his generosity. Talking about the transformative impact of the NOP, he shared that during his recent trip overseas, he met several NOP scholars who have now graduated and are studying at top universities in the USA. "They told me how their lives were transformed as a result of the Programme. Thank you, Mr. Ayazuddin; I am sure that with your generosity, we will be able to support many more talented, deserving students and make their dreams come true," he said. 
Pro Chancellor, Mr. Dawood also thanked the Fakir family for establishing the endowment. "It is our priority to provide students with accessible opportunities at LUMS, and with the help of our partners, we will continue to provide these students with a chance to achieve their ambitions," he said.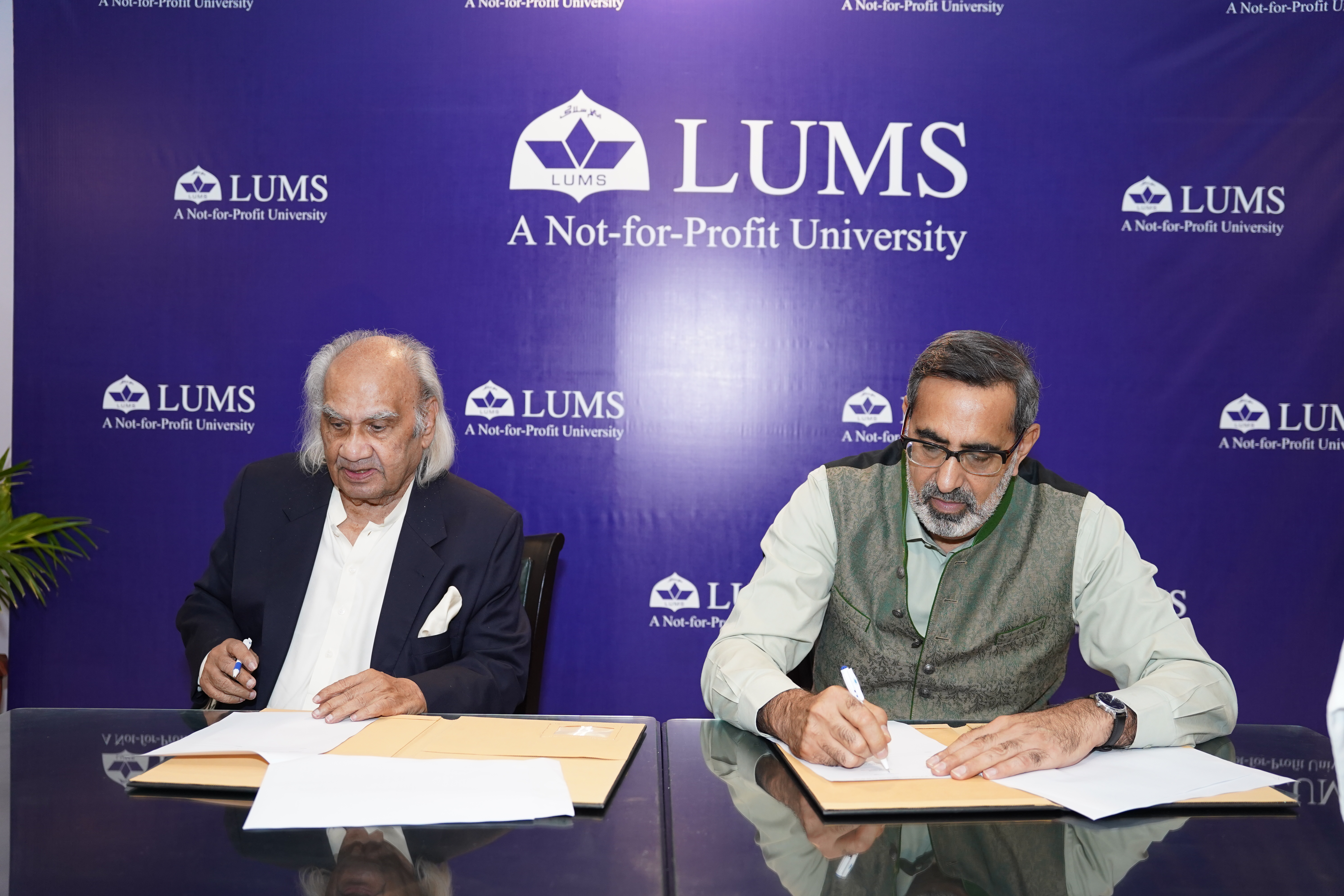 Vice Chancellor, Dr. Ahmad appreciated Mr. Ayazuddin and his family's support for the NOP. He stated that it is through the generosity of such partners that the University continues to provide access to higher education to talented students across Pakistan. He said, "I want to thank you and your family for giving so generously to LUMS, to our signature scholarship initiative, the National Outreach Programme. We look forward to many more collaborations with you."
To learn more about the NOP, click here.