Meet the 2022 Winners of the Vice Chancellor's Alumni Achievement Awards
The Vice Chancellor's Alumni Achievement Awards (VC AAA) recognise outstanding alumni for their exemplary accomplishments across sectors, including contributions made and services rendered in communities locally and around the world, with a commitment that reflects the LUMS spirit.
From scoring big in academia and leading global organisations, to spearheading social change in Pakistan, this year's VC AAA winners continue to make LUMS proud on an international scale. 
Learn about the impactful work they are doing and explore their inspiring journeys.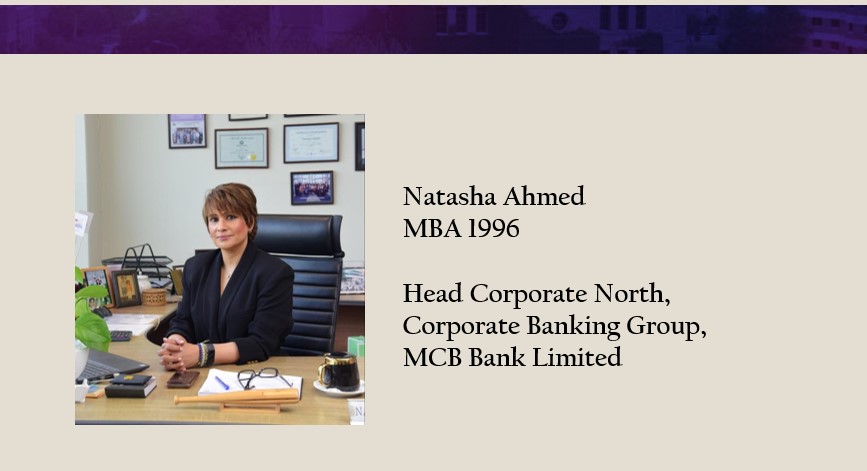 Ahmed is an example of professionalism and hard work. Since graduating in 1996, she has worked for several internationally renowned institutions including WI Carr Securities, The World Bank, Faysal Bank and MCB Ltd. She has held senior management positions in the corporate banking coverage space. She started as a coverage banker in Islamabad and has successfully risen through the ranks to her current position as an Executive Vice President heading Corporate Banking for the Central and Northern regions for Pakistan at MCB. Ahmed has taken on very active roles with each of her teams in managing a very large and complex portfolio through the challenging macro-economic environment in Pakistan in recent years. She has been an inspiring mentor for many who have been lucky to work with her, especially young women taking on the challenges in a majority male working environment. She has also volunteered as a mentor for the National Incubation Center Lahore (NICL) at LUMS and was nominated to participate in the Stanford Seed Program. At the beginning of her career, she contributed to a few case studies that became a part of the MBA programme at LUMS.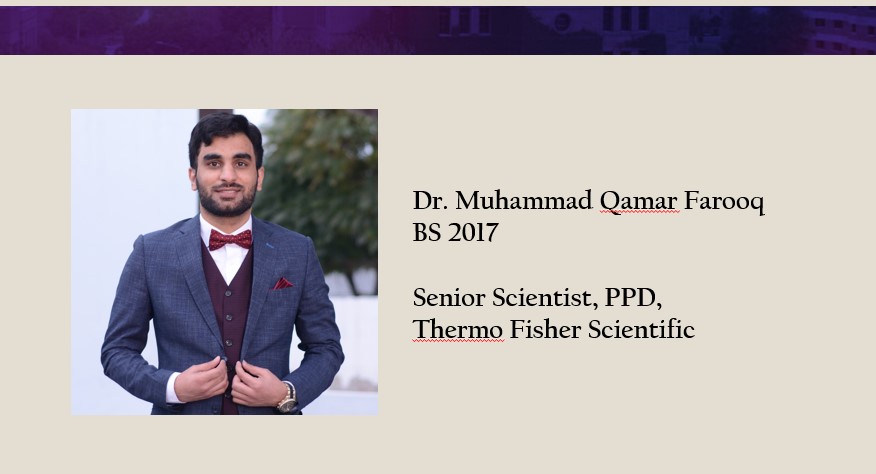 Dr. Farooq's work focuses on the development of analytical methods for analysis of various pharmaceutical drugs. He received his PhD in Analytical Chemistry from Iowa State University in 2022. As a researcher who has made remarkable advancements in the field of separation science, Dr. Farooq played an instrumental role in securing preliminary data needed for the US Department of Energy to award a $2.45 million grant on separation science (funded through Ames National Laboratory) to the Department of Chemistry team at Iowa State University. During the course of his PhD, Dr. Farooq published 16 research papers with seven first-author manuscripts in high impact journals. He has received several awards for excellence in research including the David N. and Minnie I. Wall Graduate Fellowship, Mary and Velmer Fassel Travel Award, and Professional Advancement Grant at Iowa State University. Currently, he also serves as a reviewer for the Journal of Chromatography A and Royal Society of Chemistry. Dr. Farooq actively guides and mentors LUMS students who aspire to pursue graduate studies in the US. He loves boxing, a sport he took on at LUMS, and has competed in several US collegiate boxing nationals. Dr. Farooq is a proud National Outreach Programme (NOP) alumnus of LUMS and dedicates his success to both the LUMS NOP and his parents.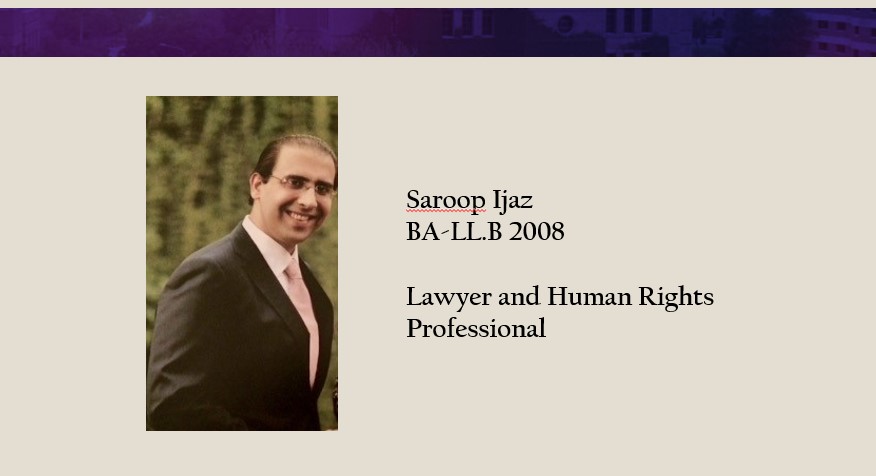 Ijaz is currently Senior Counsel Asia at Human Rights Watch (HRW), the largest human rights organisation in the world. He joined HRW in January 2014 as their Pakistan representative, the youngest country representative for the organisation in almost 90 countries. Ijaz has worked on a diverse range
of issues including the rights of religious minorities in South Asia, Afghan refugees, Pakistanis in Saudi Arabian prisons, and criminal justice reform in Japan, amongst many others. He does regular international advocacy for human rights at the United Nations, European Union and in key forums and capitals around the globe. Ijaz writes for domestic and international publications including Express Tribune, Dawn, Los Angeles Times, The Guardian, The Diplomat, Al Jazeera, Jurist, Open Democracy, and others. He has been appointed as an Amicus Curaie (Friend of the Court) in several important constitutional cases. In his law practice, he has pro-bono represented prisoners from the most marginalised sections of society and has had many prisoners released from death row. In 2014, Ijaz was appointed as the only non-governmental member of the expert group constituted by the Prime Minister on the direction of the Supreme Court to give recommendations on police reforms in Pakistan. He is a member of the Human Rights Commission of Pakistan (HRCP) and serves on the board of several human rights organisations including the Asma Jahangir Foundation, Digital Rights Foundation, and Center for Social Justice.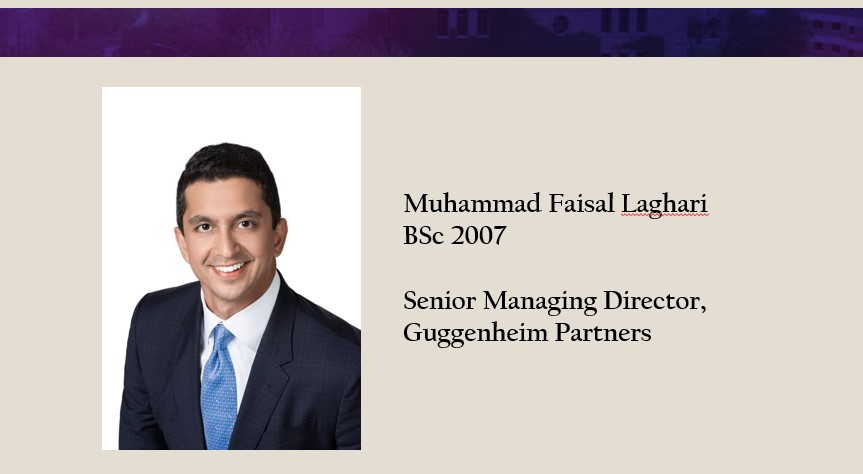 Laghari works in Guggenheim's Energy Investment Banking group and helps lead the firm's energy and energy transition investment banking business. He has over 14 years of investment banking experience and primarily focuses on strategic advisory assignments and financing for companies in the energy
industry. Previously, Laghari worked at Citigroup where he led the firm's North American Upstream
Investment Banking business, representing one of its largest investment banking teams within the Global Energy Group. His experience includes a broad range of strategic advisory and capital markets engagements. He has led several transactions totaling over $140 billion in value and spanning North America, South America, Africa, Asia and Europe. After graduating with honours from LUMS, Laghari earned an MA in Financial Risk Management from the Segal Graduate School of Business at Simon Fraser University. He and his wife, Nadia reside in Houston with their daughters Lyla and Leah.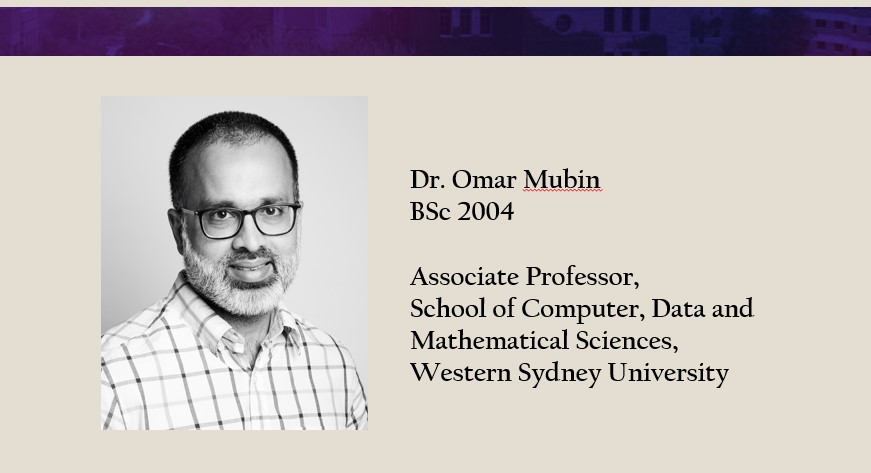 Dr. Mubin is a senior academic and currently Acting Associate Dean, High Degree Research at his Faculty at Western Sydney University. His primary research interests are human-robot interaction and human-computer interaction. Specifically, he studies social robotics and their interaction with humans in education, public spaces and information dissemination scenarios. In the area of health informatics, he has worked on technological interventions for COVID-19, autism, stroke and substance abuse. Dr. Mubin has authored 31 journal publications in the last five years, 14 in Q1 and 15 in Q2 ranked journals. He is involved in teaching and supervising (undergraduate and postgraduate) students in the broader area of human-computer interaction, mobile computing and health informatics. He has already supervised five high-degree research students to completion; four as a principal supervisor and one as co-supervisor. He is currently principal supervisor to a further four research students. In recognition of his expertise in robotics, he also serves as an Associate Editor for the International Journal of Social Robotics.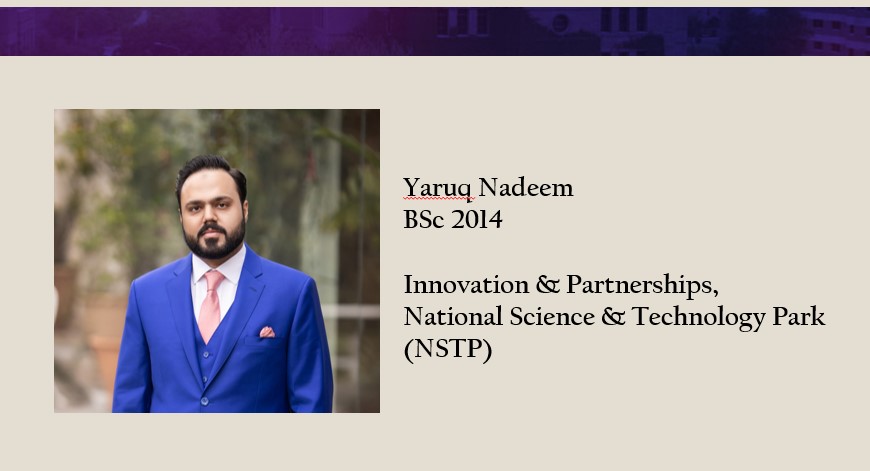 Nadeem is a global expert on innovation, entrepreneurship, business models and product development. He actively mentors founders, aspiring entrepreneurs and students, and consistently strives to inspire, educate and empower the youth towards entrepreneurship. Having played a pivotal role in the launch of Pakistan's first STP, National Science & Technology Park (NSTP), Nadeem is currently spearheading the Innovation & Partnerships there. He has designed the award-winning academia-industry linkage platform 'The Bridge', internationally renowned start-up incubation programmes, TechOne, Cube 8 and Hatch 8, as well as performance evaluation frameworks for the Science Park. In the last few years, his contributions have led to PKR 2.8+ billion in revenue generation, PKR 2.7+billion in start-up funding and creation of 2,800+ jobs. Previously, Nadeem designed the entrepreneurship curriculum for all Schools at the National University of Sciences & Technology (NUST). He is a recipient of the prestigious Commonwealth Scholarship and completed his Masters from Imperial College London. He loves adventure, travel and sports.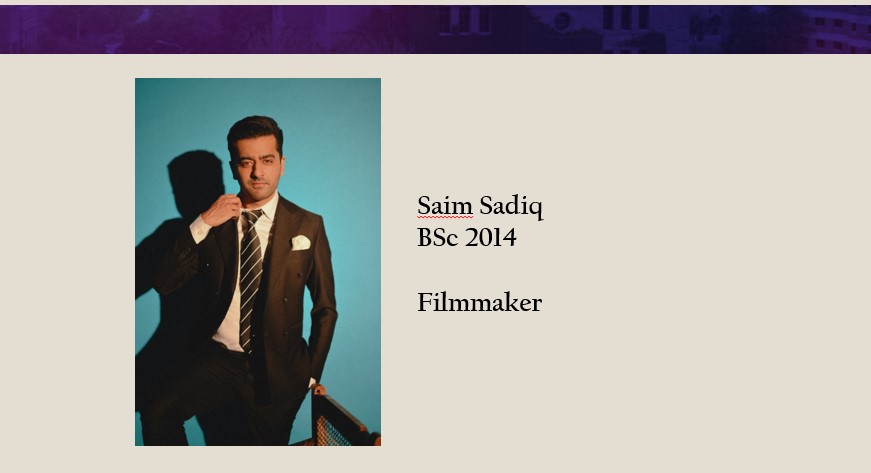 Sadiq holds a graduate degree in Film Directing from Columbia University. His first feature, Joyland, won the Jury Award in the Un Certain Regard section at the Cannes Film Festival in 2022 and became Pakistan's official submission to the 95th Academy Awards. His short film, Darling, which was based on Joyland, won the Best Short Film award at the 76th Venice Film Festival and was an official selection at the Toronto International Film Festival. His short film, Nice Talking to You was an official selection at South by Southwest (SXSW) 2019, Palm Springs International Shortsfest 2019, and won Vimeo's Best Director award at Columbia University Film Festival 2018. The film also made the BAFTA Shortlist for Best Student Film.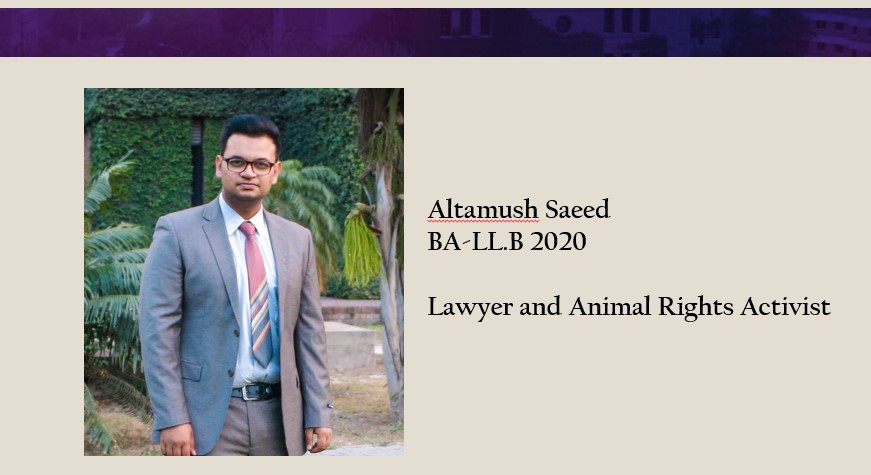 Saeed is Co-founder of Charity Doings Foundation (CDF), a nonprofit established in 2016, and an Animal Welfare Ambassador to Comprehensive Disaster Response Services (CDRS), both incorporated in Pakistan and the USA. CDF is actively investing itself in social responsibility efforts and has successfully executed multiple projects across Pakistan. These projects include over 800 solar water projects, environmental sustainability programmes, sustainable electricity projects, daily food distribution to over 12,000 individuals in a month, economic sustainability programmes, a stray animal feeding programme, supporting a school for special children, and an orphanage. To date, CDF has nationally helped over 10 million humans, and a quarter million animals, and has deployed over $300,000 in infrastructure development. Saeed is currently pursuing an LL.M in Animal Law at the Center for Animal Law Studies, Lewis and Clark Law School as the first Pakistani recipient of the Brooks Institute Animal Rights Law and Policy International Scholarship. He holds an LL.M from the University of Michigan Law School, and is a member of the American Bar Association Animal Law, International Animal Law and the Climate Change & Human Rights Subcommittees, a member of the newly formed Animal Law Working Commission for The Union Internationale des Avocats (UIA). At the University of Michigan, Saeed was the first-ever dual recipient of the Myint Zan LLM Prize and the Outstanding LL.M student for excellence in pro-bono service award, the LL.M Student Council representative for his class and the DEI Chair for the entire law school.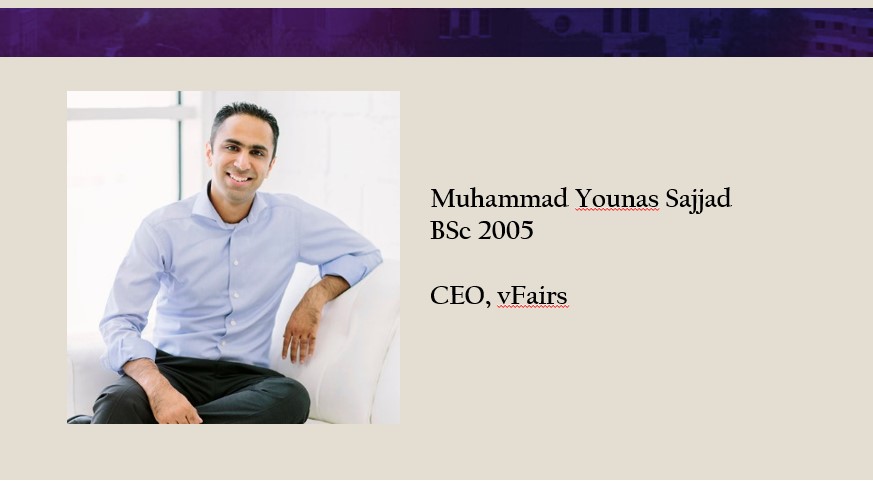 Younas is the founder of vFairs, a leading global virtual, hybrid and in-person events platform. vFairs helps organisations of all sizes, industries and regions conduct memorable online events to achieve real business results. The virtual platform and mobile app offer versatile features and customisation options. The company's exceptional customer support is consistently rated #1 on third-party sites like G2 and Capterra. This is why top organisations around the world such as Nestle, Microsoft, Amazon and more have chosen vFairs to host virtual conferences, online trade shows, job fairs, virtual training and more. vFairs has employees across 10+ countries including the USA, Canada, UAE, Australia, UK, Pakistan, etc. In 2017, Younas also established the Lahore engineering and project management campus for vFairs. In over 5 years, he created job opportunities for the local market and employed 200+ Pakistanis with his staunch belief in the quality of talent. A sizable portion of that employee base hails from LUMS. Younas holds a Masters in Computer Engineering from the University of Texas at Austin. He is a recipient of the Fulbright Scholarship and David Bruton Jr. Fellowship. He lives in Toronto with his wife Mariam (BSc 2007) and daughters, Zoya and Mishaal.